Last updated on 4th May, 2023 at 12:42 am
Heads Up: For the sake of transparency, this post might contain affiliate links. If a sale is made, I will receive a small commission (at no additional charge for you), which helps keep the lights on and helps feed my cats. Please read our disclosure policy for more information.
Back in the day, Google AdSense was the go-to advertising network for website owners looking to monetize their content. However, with the ever-changing landscape of the internet, it's become more difficult to solely rely on AdSense to generate revenue. It's always a good idea to diversify your monetization strategy by exploring AdSense alternatives.
That's where I come in. In this article, I am going to spill the beans on the hottest Google AdSense alternatives that will have you raking in the dough like never before.
No more measly earnings or half-hearted attempts at monetization. We're talking about serious, life-changing revenue potential that will have you doing cartwheels in your living room (if that's your thing).
So, whether you're looking for a backup plan or want to switch to a new network altogether, keep reading to discover the best AdSense alternatives on the market.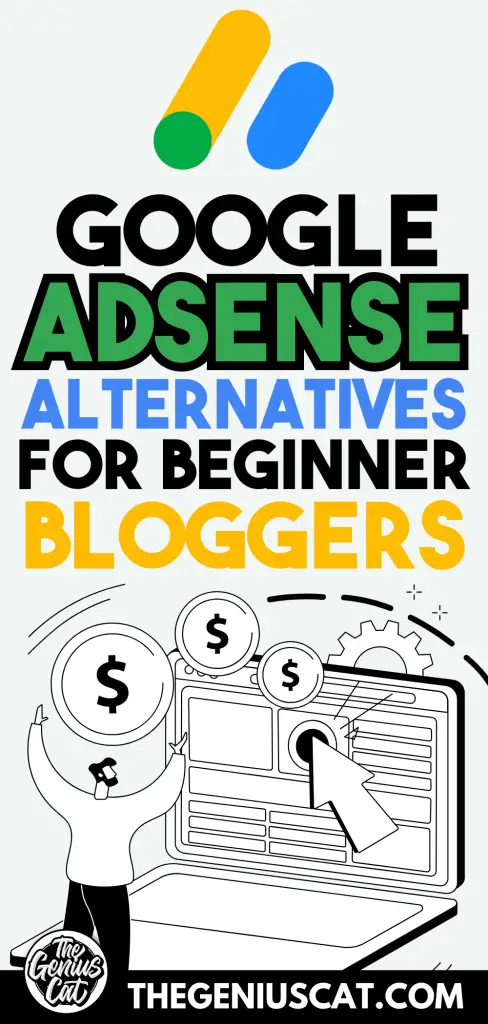 What Is Google AdSense?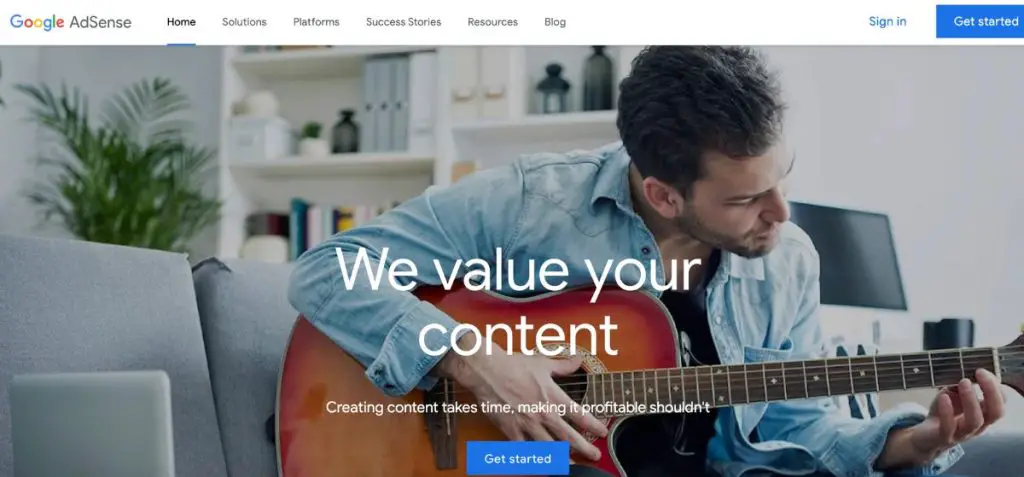 Ever been on a blog and seen ads? That's Google AdSense at work.
It's a service that puts those ads there. It's a way for blog owners to earn money by allowing Google to place ads on their blogs.
Google pays blog owners when people view or click on ads placed on their blog – it's an easy way of making some extra money from your blog.
Why Bloggers Should Consider Google AdSense Alternatives?
If you blog, you'll want to determine the best way to make money. Google AdSense is a great solution, but there are plenty of other options to consider too that might give you more bang for your buck and better control over the ads.
Here are 5 reasons why bloggers should consider Google AdSense alternatives:
1. Diversify Your Income
Relying solely on AdSense for income can be risky, as changes in policies or fluctuations in ad revenue can have a big impact on your earnings. By exploring AdSense alternatives, you can diversify your income streams and reduce your dependence on a single source of revenue.
2. Higher Revenue
AdSense is a great way to get some money rolling in from your website, but you might find other ad networks that are more profitable. It's worth exploring and testing other ad networks that could potentially offer higher returns and better performance for what you specialize in.
3. More Control Over Ads
Compared to AdSense, alternative ad networks give you more control over deciding which ads show up on your website. This can help people find what they're after quickly and increase their likelihood of interacting with the ad, leading to a better user journey and improved click-through rate.
4. Better Targeting
Google AdSense is pretty incredible. Thanks to Google's sophisticated algorithms, it can provide personally tailored ads for each person based on their browsing history. Sounds awesome, right? But there are so many ad networks that offer exact targeting options to maximize the number of clicks and potentially improve your income.
5. Payment Threshold
Every ad network has a minimum payout, which is the revenue threshold you need to reach before you can receive payment. For AdSense, the minimum payout is $100, which may take a while for newer or less established websites to achieve. There are alternative ad networks with lower minimum payouts that could be a better fit for you, especially if you're just starting out.
Start a blog today
Don't have a blog yet? Now is an ideal time to start one! To get you started, I've put together this helpful guide that you can download for free.
8 Best Google AdSense Alternatives For Beginners
If you go for the correct platform, it's easy to monetize your website and start earning money passively.
Newbie bloggers looking for options other than Google AdSense can check out this list of 8 Google AdSense alternatives I've gathered. Take a look to see which one fits your needs.
1. Ezoic

This ad network is #1 on my list for a reason – I'm making money with it on my blog.
Ezoic is a platform that lets blog owners easily add display ads to their pages. Their technology uses artificial intelligence to customize ads for each visitor, ensuring that they only see ads that match their interests.
As a Google Certified Publishing Partner, Ezoic provides access to Google's AdX portfolio of advertisers, which pays higher rates than Google AdSense.
However… it's a bummer that you need to have 10k+ visits on your blog if you want to sign up with Ezoic. 
So what if you're a new blogger and your website hasn't yet reached 10,000 visits?
That's where the Ezoic Access Now program comes into play. It allows you to sign up even if your blog doesn't get at least 10k visits yet.
Ezoic Access Now program grants blog/website owners access to a variety of tools designed to amp up the user experience, optimize their website performance, and maximize revenue.
Ezoic's AI technology helps website owners test different ad placements and sizes to find the most effective way of displaying them. It takes the guesswork out of optimizing your website layout for ads.

Signing up for Ezoic Access Now is easy—just click the "Join Access Now" button above. Then you can start taking advantage of Ezoic's tools to get more income and give people a better experience on your blog.
I really appreciate the user-friendly nature of this program. Even if you don't have much experience with tech, you can easily make changes to your website with a simple interface. You don't need to know how to code or do any web development – it's all taken care of for you.
Plus, Ezoic provides a range of training materials and resources to help website owners get the most out of the platform.
Lastly, it's worth noting that the Ezoic Access Now program is totally free. You won't have to pay any initial costs or fees and you can start making more money sooner rather than later.
2. Media.net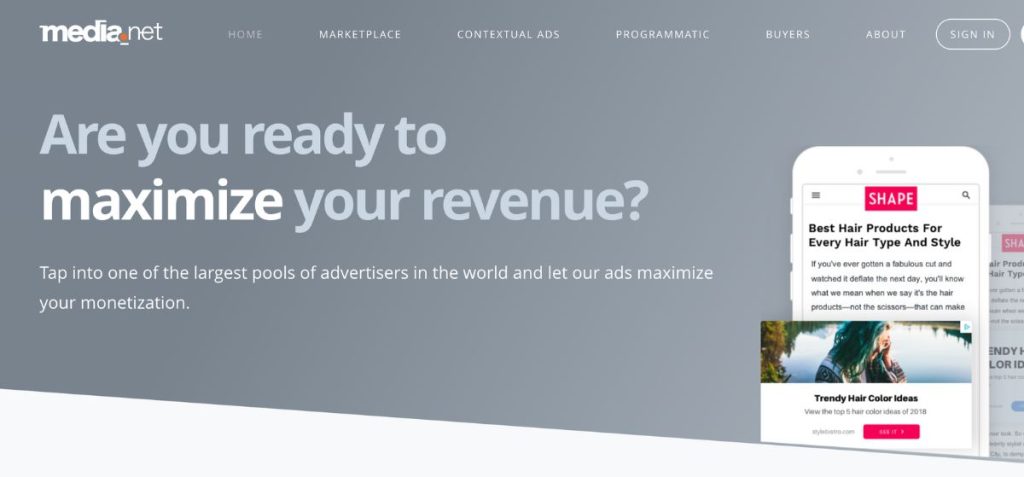 Media.net stands out from other ad networks with its dedication to providing top-quality advertisers and offering personalized help.
The network offers various different kinds of ads, such as display, native, and video ads. Media.net partners with some of the globe's biggest and most respected advertisers, which means your website only gets ads from reliable sources.
Additionally, when you join Media.net, you'll have access to personalized support from your own dedicated account manager.
They will help you maximize your income by optimizing ad placements and walking you through the process. Plus, they'll be there to answer any questions or queries you may have along the way. 
Here are 3 reasons why Media.net is one of the best Google AdSense alternatives.
Media.net has got your back if you're looking to make more money from your website visitors. Working with top-notch advertisers, they offer some of the highest revenue shares compared to other networks. So you can rest assured you'll be making the most out of your website's traffic.
Another plus of Media.net is that they offer a variety of ad formats, allowing you to make money off your website in innovative ways. For instance, their native ads blend in nicely with the content on your site, decreasing disruptions for visitors and consequently leading to more clicks and conversions. Not only that, Media.net's video ads can add value to your website for your visitors and also earns you some extra money.
What really makes Media.net stand out from other ad networks is its personalized support. You get your own account manager to help out with advice and tips on how to get the most from your ads, increase profits, and make sure your users have a great experience.
3. PropellerAds

If you want to switch up from Google Ads, try PropellerAds. It's been out for over 10 years and has a solid reputation as one of the top ad networks.
PropellerAds stands out for its adaptability of ad types. It has a huge range of choices, like push notifications, pop-unders, interstitials, and sponsored links. With this, you can try out various ad designs and figure out which ones bring the best results for your blog.
Another significant advantage of PropellerAds is its focus on targeting. The platform gives you powerful targeting options – like being able to target audiences based on their device, location, and internet service provider. This way, you can craft more focused ads that have higher chances of receiving engagement and converting customers.
On top of its targeting features, PropellerAds has an interface that's easy to use and provides real-time reports. This means you can keep track of how your ads are doing and make any necessary changes quickly and easily.
4. Amazon Native Shopping Ads

Sure, you know Amazon as the place to buy anything from books to bananas, but did you know that they also have a display ads program? With Amazon Native Shopping Ads, you can place native product listings right on your blog pages, and these listings are targeted to match the surrounding page content.
Here's the best part: when a visitor clicks on one of these ads and makes a purchase on Amazon, you'll earn a commission. And let's be real, with Amazon's unbeatable reputation in the e-commerce game, your visitors are more likely to make a purchase through them than anyone else.
Plus, Amazon makes it easy for you to get paid. They'll send your payments 60 days after the end of each month, and the minimum payout is only $10 via direct deposit. So, if you're ready to start earning with Amazon Native Shopping Ads, sign up today and get ready to see the dollars roll in!
5. ylliX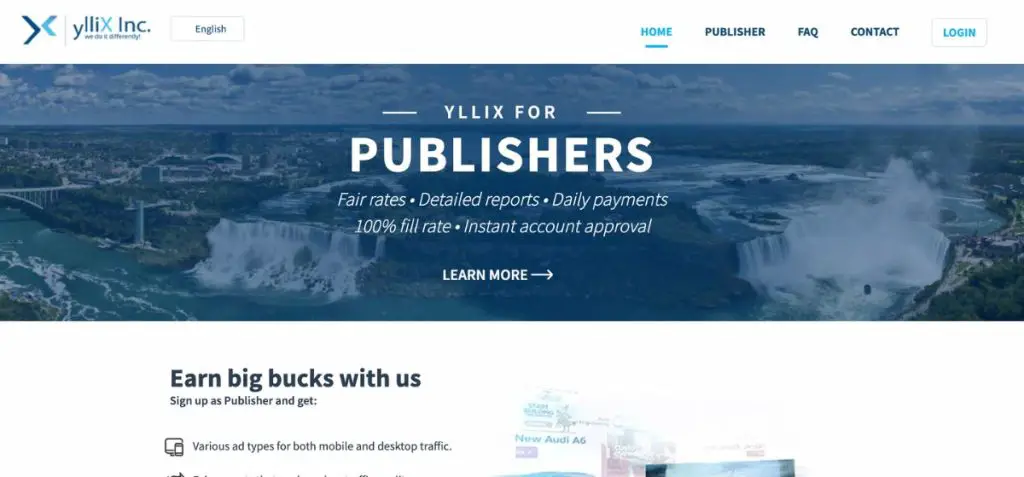 If you're a blogger just starting out, or if you're fed up with the rejections from other ad networks, ylliX could be your best option. They've got great accessibility, loads of ad formats, and a really cool referral system – making them an awesome alternative to Google AdSense.
ylliX is a self-serve ad network that doesn't require any traffic minimums to join.
That's right, you can start monetizing your blog right away without having to wait for your traffic to grow. And if you're worried about getting approved, ylliX has got you covered. They have a quick and easy approval process, so you can start earning money in no time.
What's even better is that ylliX offers multiple ad formats for both desktop and mobile, including banners, sliders, pop-ups, push notifications, and more. You can choose the ad format that works best for your website and runs campaigns based on ad impressions, clicks, or actions.
Plus, with daily payments and a low $1 minimum payout, you won't have to wait long to receive your earnings.
6. Sovrn //Commerce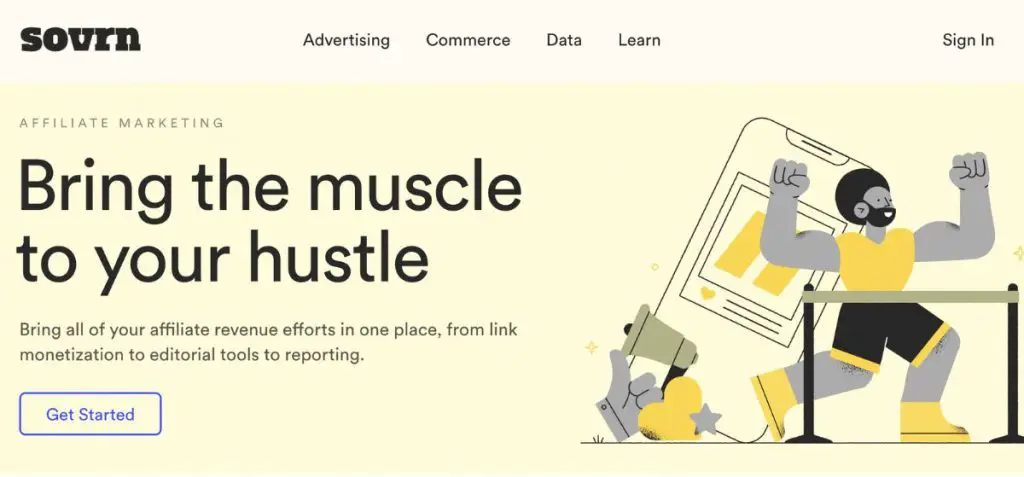 Sovrn //Commerce (formerly VigLink), is a unique Google AdSense alternative that allows you to monetize your content in a whole new way.
It works by automatically turning product links in your content into affiliate links. This means that when someone clicks on one of those links and makes a purchase, you earn a commission. It's that simple!
And the best part is that Sovrn //Commerce works with a huge variety of merchants, so you can promote products that are relevant to your audience and earn commissions on a wide range of products.
But that's not all. Sovrn //Commerce also offers a suite of tools to help you optimize your affiliate marketing efforts.
Their Link Optimization tool automatically finds and replaces non-affiliate links with affiliate links, and their Product Discovery tool helps you find new products to promote.
And if you're a data nerd like me, you'll love their Analytics dashboard, which provides detailed information about your earnings and performance.
7. InfoLinks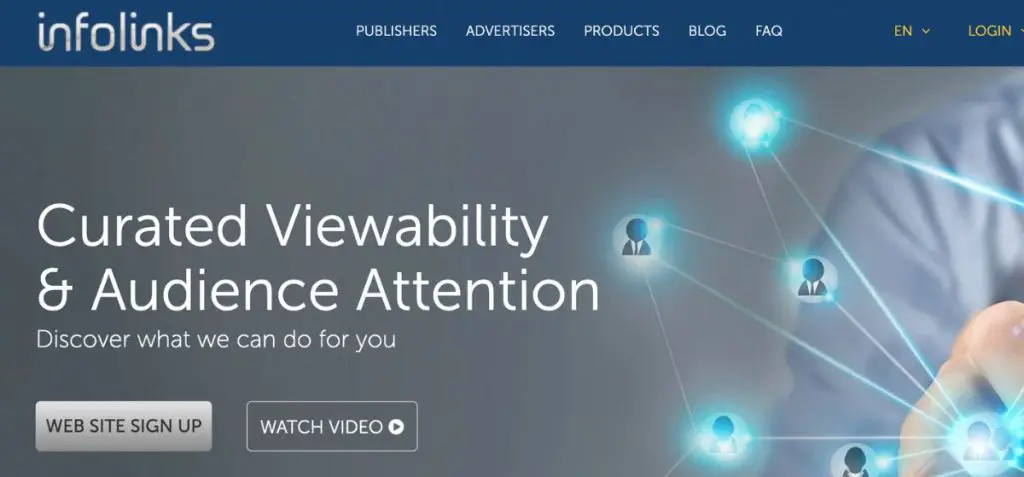 Looking for a Google AdSense alternative that's not as boring as watching paint dry? Let me introduce you to InfoLinks – the cool kid on the block that spices up your website with relevant, clickable ads.
InfoLinks is like the wingman you always wanted, helping you make money effortlessly while still keeping your blog looking fresh and stylish. With no minimum traffic requirement and a variety of ad types to choose from, InfoLinks is the perfect partner in crime for bloggers, content creators, and website owners who want to make money without sacrificing their site's aesthetic.
What's really awesome about this AdSense alternative is the in-text ads that appear based on the words used in your content. If a reader takes their cursor over it, an advert pops up. If they click it and buy something, you get a cut of the sale.
It's a unique and unobtrusive way to monetize your website without bombarding your visitors with intrusive ads.
8. Evadav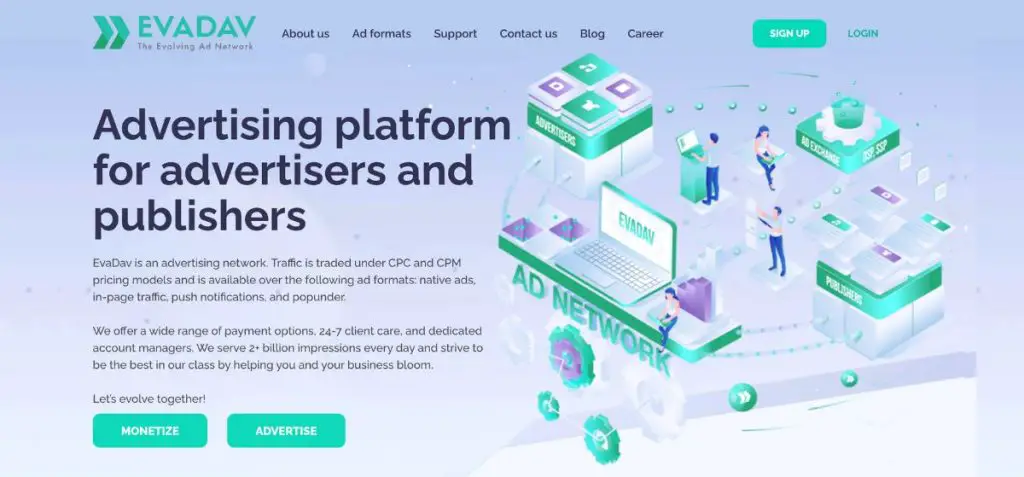 This up-and-coming platform offers a unique approach to ad placement that maximizes your revenue potential. With a user-friendly interface and easy integration, Evadav is the perfect choice for publishers of all sizes.
Evadav offers several ad formats to choose from, like push notifications, native banners, pop-ups, and more – no matter how much traffic you have. It's perfect for new businesses as they offer an easy setup process that helps you get started right away!
What really stands out about Evadav is their pioneering approach to ad targeting – setting them apart from other ad networks. AI and machine learning help give your ads a personal touch which boosts engagement and increases clicks.
Plus, their dashboard is really easy to use, allowing you to keep track of how your campaigns are doing and make the necessary changes.
Which AdSense Alternative Is Best for Beginners?
Straight up, Ezoic is the best pick for beginners.
That's why it was the first one I wrote down on the list of AdSense alternatives suitable for beginners.
EZOIC

Sign Up
Ezoic Access Now
This program is designed to help new and small websites monetize their traffic effectively, without the need for a large number of page views. By joining this program, website owners can get access to Ezoic's powerful technology and tools, which can help them improve their website's ad performance and generate higher revenue.
One of the biggest factors that make Ezoic's (Access Now program) the best AdSense alternative for beginner bloggers is that there are no traffic requirements to join.
Additionally, Ezoic uses machine learning algorithms to optimize ad placement, layout, and performance, which can save beginners time and effort in optimizing their ads manually.
As such, Ezoic's Access Now program allows you to monetize your blog right away even if you are an amateur blogger.
However, it's worth noting that like most things, you'll need lots of eyeballs on your site in order to see any real earnings.
So, if you're a beginner looking for a reliable and user-friendly platform to monetize your blog, sign up for Ezoic's access program today and start maximizing your ad revenue.
Final Say: Google AdSense Alternatives for Beginners
The bottom line, Google AdSense isn't the only way for new bloggers to make money from their blogs. There are countless other advertising networks that offer lucrative earning potential.
Keep in mind that each ad network has its own unique perks and downsides. Experimenting with different ones is a great way to figure out what works best for your blog and target audience.
Whichever approach you decide to take, the key to success is making sure the content is of a high standard so that people keep coming back. With enough hard work and dedication, any blogger has the potential of making money off their own blog. A bit of luck doesn't hurt either.
P/S: Just don't forget to thank me when you're swimming in dollar bills.
Keep the momentum going! Browse my other blog posts on earning money and keep increasing your revenue stream: