Last updated on 13th July, 2023 at 02:54 pm
Heads Up: For the sake of transparency, this post might contain affiliate links. If a sale is made, I will receive a small commission (at no additional charge for you), which helps keep the lights on and helps feed my cats. Please read our disclosure policy for more information.
Hey, introverts… have you ever felt tired of barely surviving every month? Or maybe sick of being constantly strapped for cash? Well, have no fear because I'm about to drop some knowledge on how to make money with ChatGPT that will have you saying "ChatGPT, more like cashGPT".
You see, ChatGPT is more than just a language model, it's a money-making machine. And when you combine it with pre-made digital planners, the earning potential is out of this world.
Now, I know you might be thinking "Nazeef, I'm not a tech genius, I don't know the first thing about ChatGPT or digital planners." But let me tell you, my dear Introverts friend, that's exactly why you're in the right place.
In this guide, I'll take you step-by-step through the process of understanding and utilizing ChatGPT, creating profitable digital planners, and monetizing your skills to make a consistent $50/day.
So, if you're ready to kiss your financial struggles goodbye and start raking in the dough, grab a notebook and a pen because the class is in session.
Note: Sick of reading the same stuff about ChatGPT over and over? No problemo, just click here and you'll be taken to the juicy part of this post. Yum!
Get Paid to Take Surveys Now. Easy Money.
In Case You Are Living Under the Rock
ChatGPT is one of the most talked about topics lately and if you haven't heard about this amazing AI tool, don't sweat it because I will shed the light for you and bring you up to speed.
So what exactly is ChatGPT?
ChatGPT (created by OpenAI) is an enormous language model that can craft text almost as skillful as humans. Giving it an input, and will produce astonishing results.
This makes it a powerful tool for a variety of tasks such as language translation, text summarization, and even coding. How cool is that?
And here are the example steps of how you can take full advantage of this AI tool and take your income to the next level.
1. Click here and sign up for free. (OpenAI just unveiled their Pro plan which costs $20 per month as of now.)
2. Once signed up, you'll land on the screen below.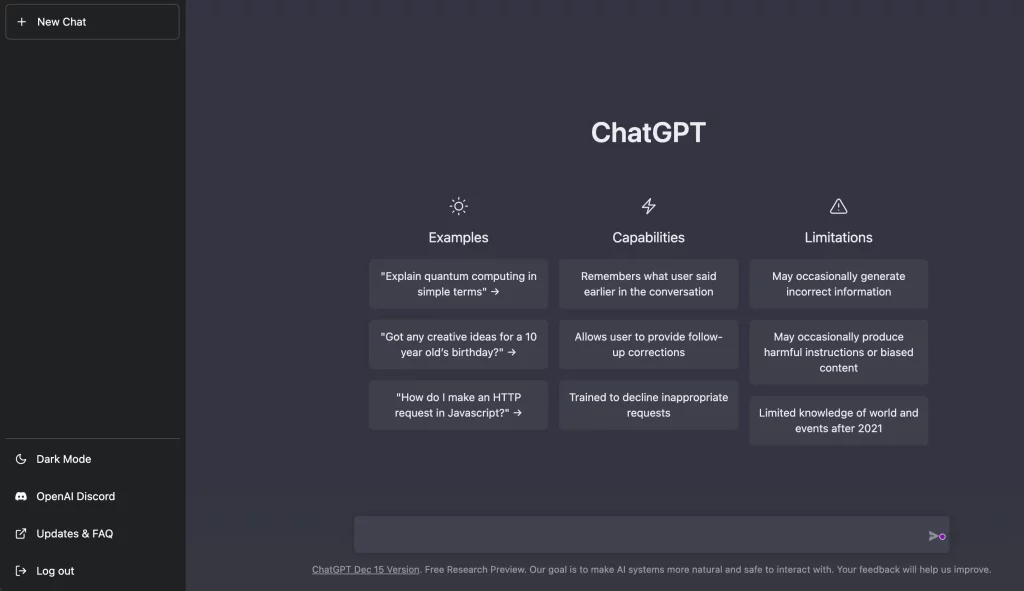 3. Now, you can play around with it and enter any prompt you wish. For this example, I will ask the following.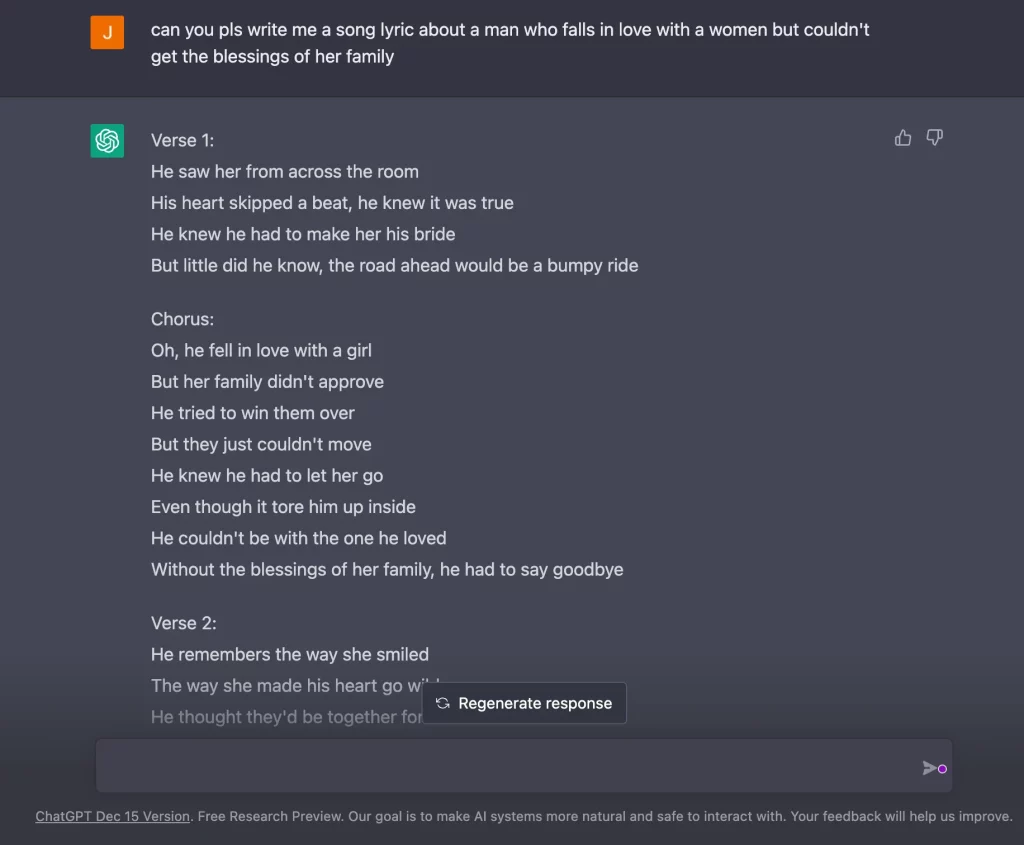 Isn't it incredible that ChatGPT can even write song lyrics? I wouldn't have thought it was possible not too long ago.
You can treat ChatGPT like your own digital buddy. You can ask it questions and it'll provide you with answers – kinda like how you chat with a friend who's well-informed about a range of topics and helps you out when you need info.
Give it a try and see how it goes – you'll get the hang of it.
Note: Keep in mind that ChatGPT is still a computer program and could make mistakes, so double-check any important information it gives you.
How to Make Money With ChatGPT and Done for You Digital Planners
You've seen the tool and know how it works, so now let's get our money-making mojo on and start making some serious dough.
Step 1: Ask ChatGPT to List Out the Niche of Planner That Is in High Demand
Right now, there is an increasing need for planners and ChatGPT can help you find out what kinds are most sought-after.
With just a simple prompt, ChatGPT can generate a list of the most popular planner niches so you can focus your efforts on creating the most effective and successful products.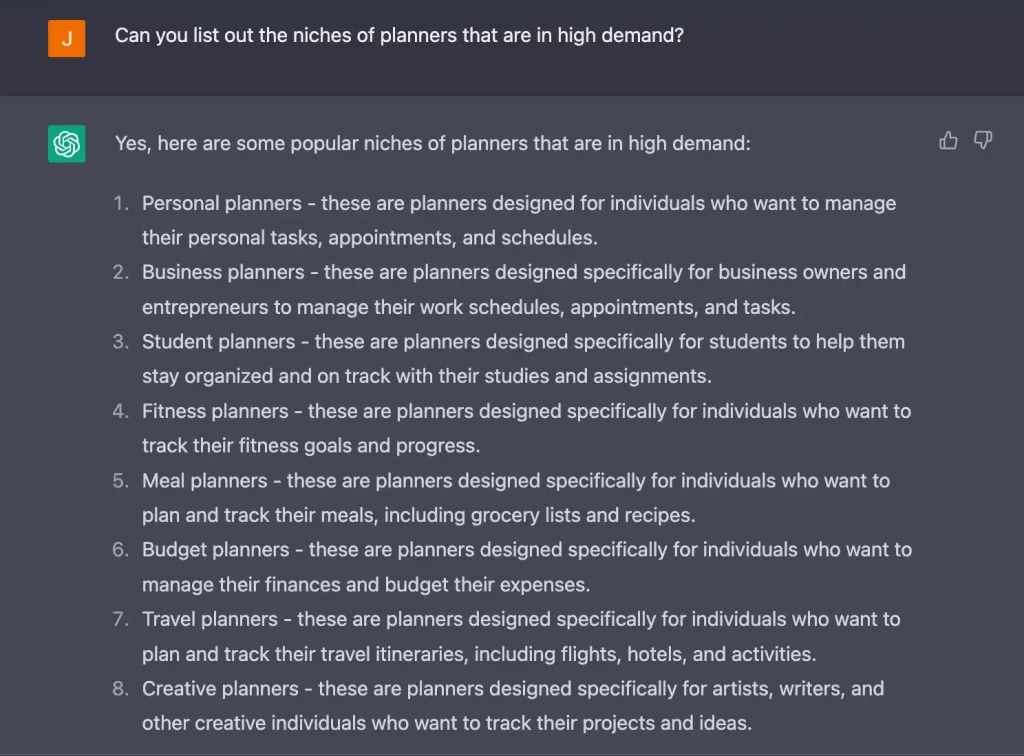 Step 2: Ask ChatGPT to Suggest Title Ideas for the Planner
For this guide, I am going to choose a meal planner.
Why? Because there are heaps of people wanting to start eating healthy and stay on track with their diets especially as we move into the new year – all those New Year's Resolutions, you know?
Now let's ask ChatGPT to come up with some title ideas for this meal planner.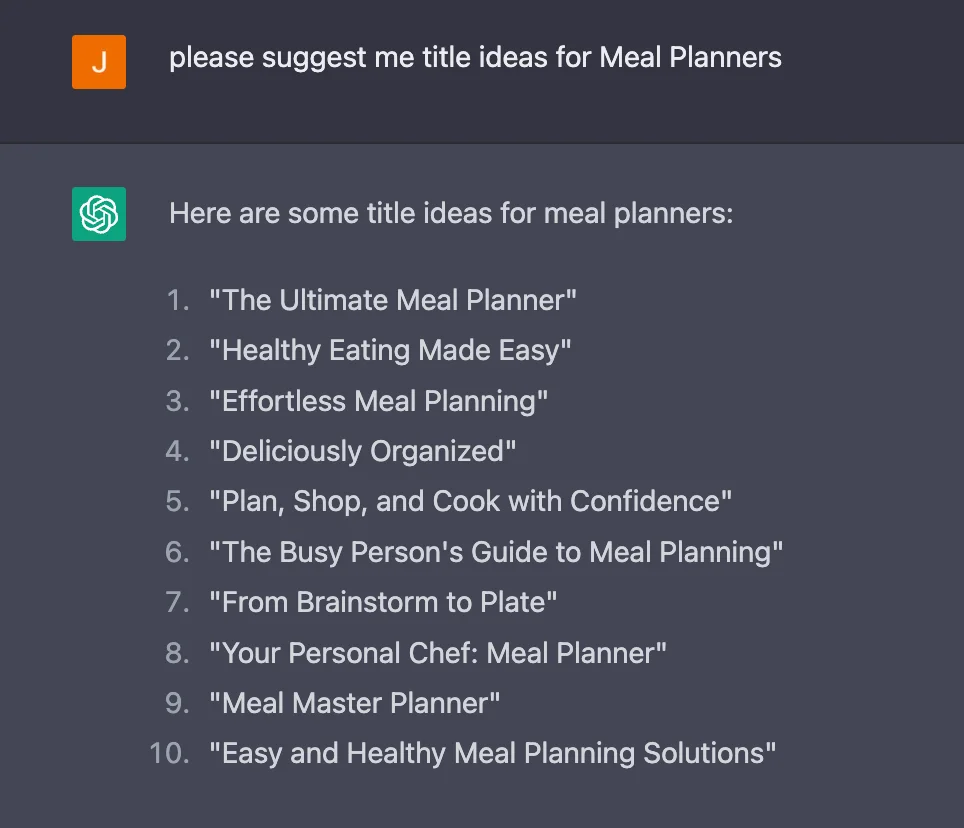 Out of all the title ideas, I like number 6 the best. It is more sensible considering we're all so busy with our hectic schedules, right?
Step 3: Find a Done for You Planner
We can cut corners here and save ourselves time and energy.
Instead of having to create a planner from scratch, we can just buy a ready-made one and tailor it to align with our branding.
PS: Just a friendly reminder that this step will put a dent in your wallet. But it won't cost an arm and a leg either. But if you're willing to create one from scratch, Canva's got you covered – it's the perfect tool to make your own, so you can totally skip this step.
I recently found an awesome website (Trendmob) where they are selling ready-made planners at an affordable price – perfect for us newbies getting started.

Look for a planner that you want to put up for sale or one that you think will suit your needs best.
So for this guide, let's go with the meal planner we talked about earlier.

Step 4: Edit the Done for You Planner
Okay, so the really important part is here – I seriously recommend you edit your planner. Why?
Reason #1: So it's in line with your brand's identity and image. Feel free to change the font, colors, or layout in whatever way you like.
Reason #2: Helps you stand out and distinguish your product from other sellers. After all, with so many people buying the same item it's important to find ways to make yours unique!
Ok, now head to Canva and have a look at their templates for designing a planner cover. You can choose any of them and customize it as you like or make one from the ground up – whatever floats your boat.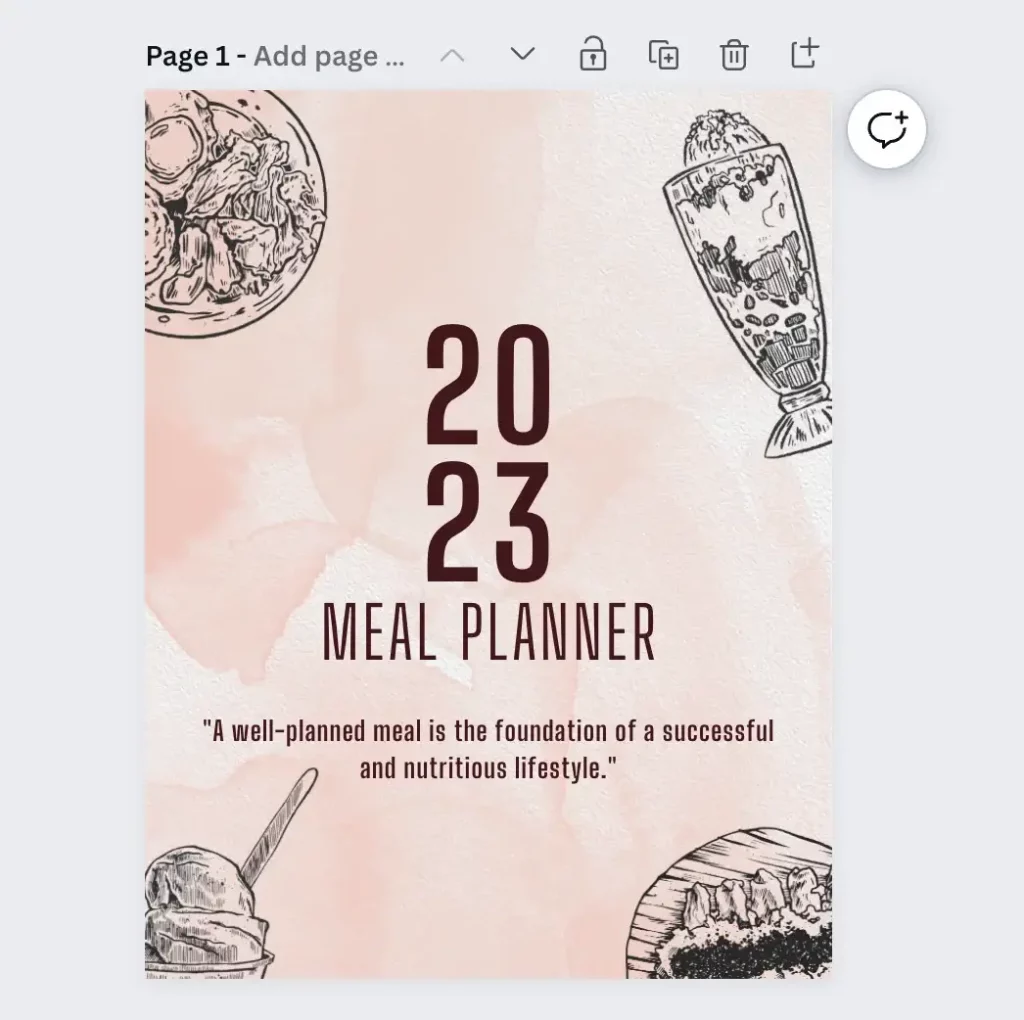 While creating your ebook cover and editing the template, it's good to document the process. You can use your phone to do that or special software like OBS Studio if you want to record your screen.
Just focus on creating short videos. Keep that in mind as I'll explain why a bit later.
After that, you can make your Etsy listing images. Yes, this is the platform we'll be using to sell the digital planner.
Generally, it's best to have listing images that are at least 2000px on the shortest side and a resolution of 72PPI. If you want to know more about the size of images for Etsy, take a look at their help page here.
Step 5: Let's Get That Digital Planner out There in the Market
Selling your digital planner is easier than ever with lots of e-commerce platforms out there. Gumroad, SendOwl, and Creative Fabrica are some examples you can look into.
I'm using Etsy for this guide because it's simple and newbie friendly. Plus, it's a breeze to set up and get going.
How to Set Up an Etsy Store
Here is a quick step-by-step guide on how to set up an Etsy store to sell your digital planner:
Create an Etsy account: Go to Etsy.com and click on "Sign up" in the top right corner of the page. Fill out the required information to create a new account. Or you can sign up with my link here and get 40 free listings. Worth a shot!          
Set up your Etsy shop: Once you have created an account, click on "Sell on Etsy" in the top right corner of the page. Follow the prompts to set up your shop, including choosing a shop name and setting up payment options.
Upload your digital planner: Click on "Listings" in the top menu and then "Add a Listing." Choose the "Digital Download" option and select the digital planner you want to sell.
Write the listing description: Write a clear and concise description of your digital planner, including its features, benefits, and any important information the buyer should know. Use ChatGPT to help you churn out a well-written description. Just don't forget to run it through a plagiarism checker afterward to make sure it's all good.
Upload images: Upload the listing images you created in the previous step to showcase their features and design. Make sure the images are clear and well-lit.
Set the price: Determine the price of your digital planner and set it in the listing. Keep in mind that Etsy takes a fee on each sale, so factor that into your pricing.
Publish the listing: Once you have completed all the steps, hit the "Publish" button to make your digital planner available for sale on Etsy.
Here are some related posts you might find interesting:
Step 6: Use TikTok and Instagram Reels to Spread the Word
Now it's time to take your digital planner promotion to the next level.
You can choose either TikTok or Instagram Reels. It all depends on which platform you feel more comfortable with. But, if you ask me, I'd say go for both!
Why? There's no reason not to! Re-uploading a video on different platforms such as TikTok and Instagram Reels could help you increase your reach and boost conversion rates. Plus, why not maximize your chances of success?
And the reason I'm drawn to TikTok and Instagram Reels is that even if your account is new, you still stand a chance of going viral. That's why I'm more inclined toward these two platforms than the rest. 
Alright, that's enough said. Remember those short and catchy videos you created in step four? It's time to put them to good use; upload those videos to TikTok and get ready to reach a whole new audience.
Just wanted to give you a heads up – TikTok requires 1,000 followers to include a link in your bio.
The Workaround
The easiest workaround is linking your TikTok profile with Instagram. (That's why I recommend having an account on both platforms).
On Instagram, make sure to put the link to your Etsy store in your profile, so that anyone who visits your page can easily find your digital planner.
If you want to make your link look more professional, there are now a variety of homepage builders available to help you do just that.
From Znaplink and LinkTree to Campsite Bio, these tools allow users to easily and quickly create beautiful homepages for their links. Using these tools, it's a breeze to make your link look neat and attractive, almost as if a pro had done it.
Next, don't forget to use relevant hashtags to help your posts reach the right audience. But try to avoid using hashtags that are too saturated, or your posts might get lost in the sea of content.
When you have uploaded plenty of content, it's natural to start feeling a bit stuck about what to upload next.
So it is safe to take some inspiration from accounts that sell digital planners too – you can gain a lot of knowledge from seeing what your competitors are up to and find new ideas to help make you stand out.
Keep in mind, the goal is to draw ideas from other creators and not just straight up copy them. You don't want to end up in a situation where the creator of the original post has to come down on you and tell you to delete it.
Last but not least, stay consistent. Consistency is the key to success on these platforms. Continue posting and engaging with your followers and you'll soon reap the rewards of your hard work.
Step 7: Promote Your Listings With Etsy Ads
Now, this is totally optional.
Up to you whether you want to give it a shot or not, but if sales have been hard and you can afford it, why not look into Etsy ads?
Couldn't hurt and might even help get more eyeballs on your listings.
Here's a quick rundown on how you can promote your listings with Etsy ads.
Start by logging into your Etsy account.
In the Shop Manager page, select the Marketing tab » Etsy Ads and click the Get Started button.
You will be prompted with the question "How would Etsy Ads best serve you?". Select "Take my sales up a notch" and click the Submit button.
Next, you'll be asked to choose your daily budget. It's usually better to start with a small one first until you get some sales, then you can gradually raise it. By default, the minimum you can spend each day is $1.00.
Then click the "Start advertising" button
Choose the listings you want to promote. You can select multiple listings at once
Your ads will be automatically activated
Check out these suggestions to ensure you get the best out of your Etsy Ads without going over budget:
Start with a minimum daily budget and adjust as needed.
Decide on an acceptable amount you're okay with spending and stick to it – try not to go over your budget.
Be sure to focus on the right people when advertising. Only go after potential customers who'd be genuinely interested in your products.
Experiment with different listings and find out which ones generate the most conversion.
Keep an eye on your campaigns to see how they're doing and if you need to make any changes.
If you're looking to get more out of your ads, check out Etsy's help page here for more tips.
FAQ – Make Money With ChatGPT and Done for You Digital Planners