Last updated on 28th August, 2023 at 02:22 pm
Heads Up: For the sake of transparency, this post might contain affiliate links. If a sale is made, I will receive a small commission (at no additional charge for you), which helps keep the lights on and helps feed my cats. Please read our disclosure policy for more information.
The Internet is now a vast ocean of information, which means that your content needs to be better than ever before.
In order to rank well in search engines, you need to optimize your website for high-volume, low-competition keywords.
These types of keywords are easier to rank for because they don't have as much competition as other types of keywords.
This is why low-competition keywords are the perfect way to make sure that your content reaches the right people, and that it does not get lost in the shuffle.
Low competition keywords are words or phrases that have few searches on Google, Bing, or Yahoo.
This means they are less competitive for search engine rankings and will allow you to rank higher than other competitors who target more popular keywords.
What Are Low-Competition Keywords?
Low Competition Keywords are keywords that have a low search volume and low competition.
They are generally easier to rank for and you can earn more traffic from them.
Low-competition keywords are also beneficial because they provide an opportunity for new businesses to rank higher on the search engine results page without having to compete with large companies.
This is because the demand for these low-competition keywords is lower than other keywords, so it will be easier to rank for them.
Why Do You Need Low-Competition Keywords?
Keywords are important for SEO, but not all keywords are equal. Some keywords have a lot of competition and some have very little.
In order to rank well in search engines, you need to optimize your website for high-volume, low-competition keywords.
These types of keywords are easier to rank for because they don't have as much competition as other types of keywords.
Choosing low-competition keywords is a good way to get more traffic to your site.
How To Find Low-Competition Keywords?
In this section, we will go deeper into how to find low-competition keywords.
Step 1: Go to keyword.io and search for your keywords.
It's a site that allows you to search for keywords by topic and gives you the most popular words related to those topics.


Step 2: Select the keywords that you identify earlier.
Pick at least 10-15 keywords and once selected, they will be added automatically to the list of picked keywords.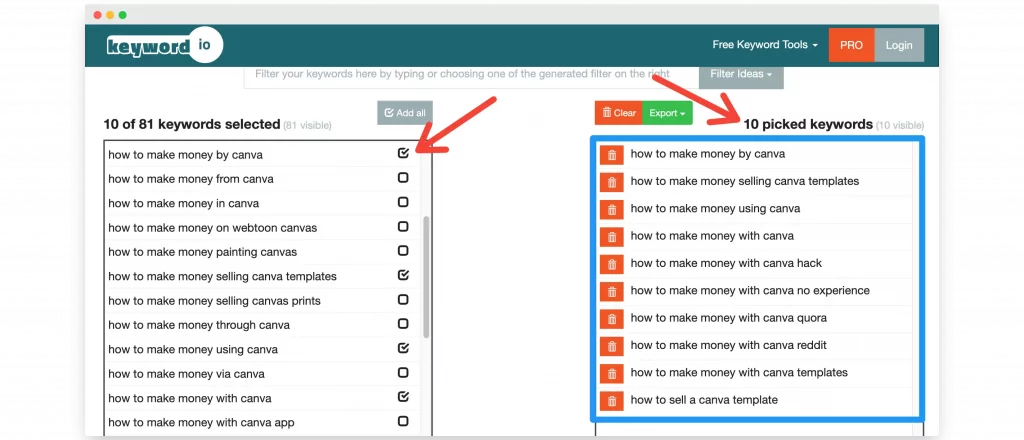 Step 3: Find the competition of these keywords.
Step 3a: Go to kwfinder.com (by Mangools) and create a free account.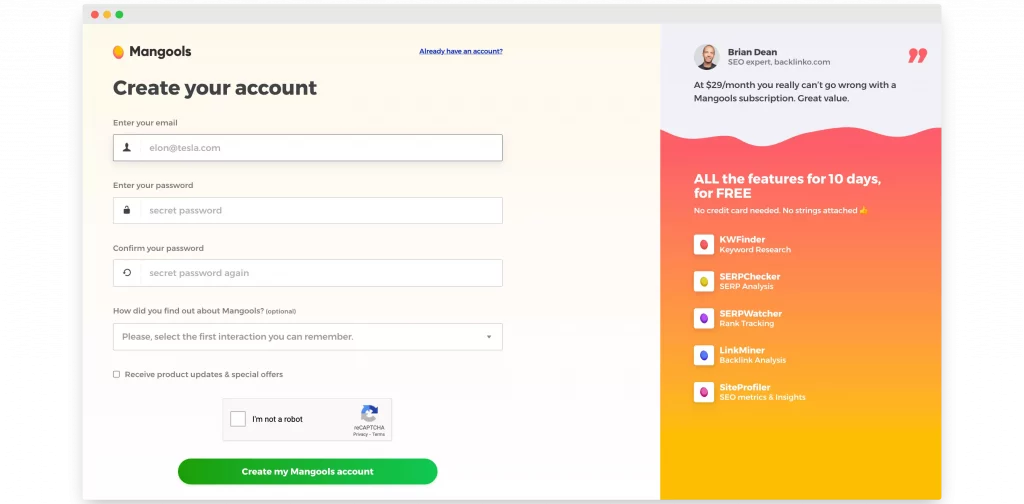 Step 3b: Navigate back to Keyword.io (step 2) and copy the keyword you picked earlier.
Step 3c: Back on KWFinder, click the kwfinder.com link at the bottom.
Step 3d: Once you are in, click the Import menu, paste the keyword you copied earlier (step 3b), and click the Process keywords button.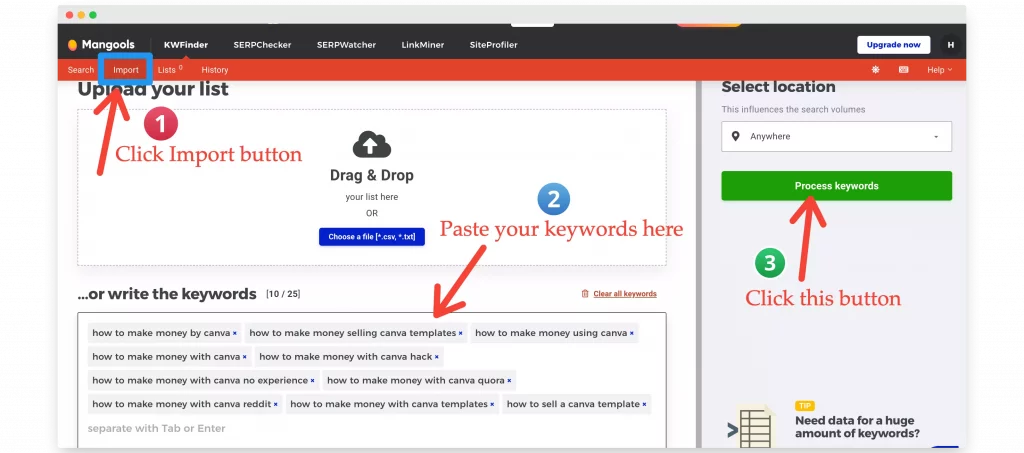 Step 3e: Take a look at the keyword difficulty field. This indicates the difficulty of ranking for a specific keyword. I recommend choosing a keyword that has a difficulty of less than 30.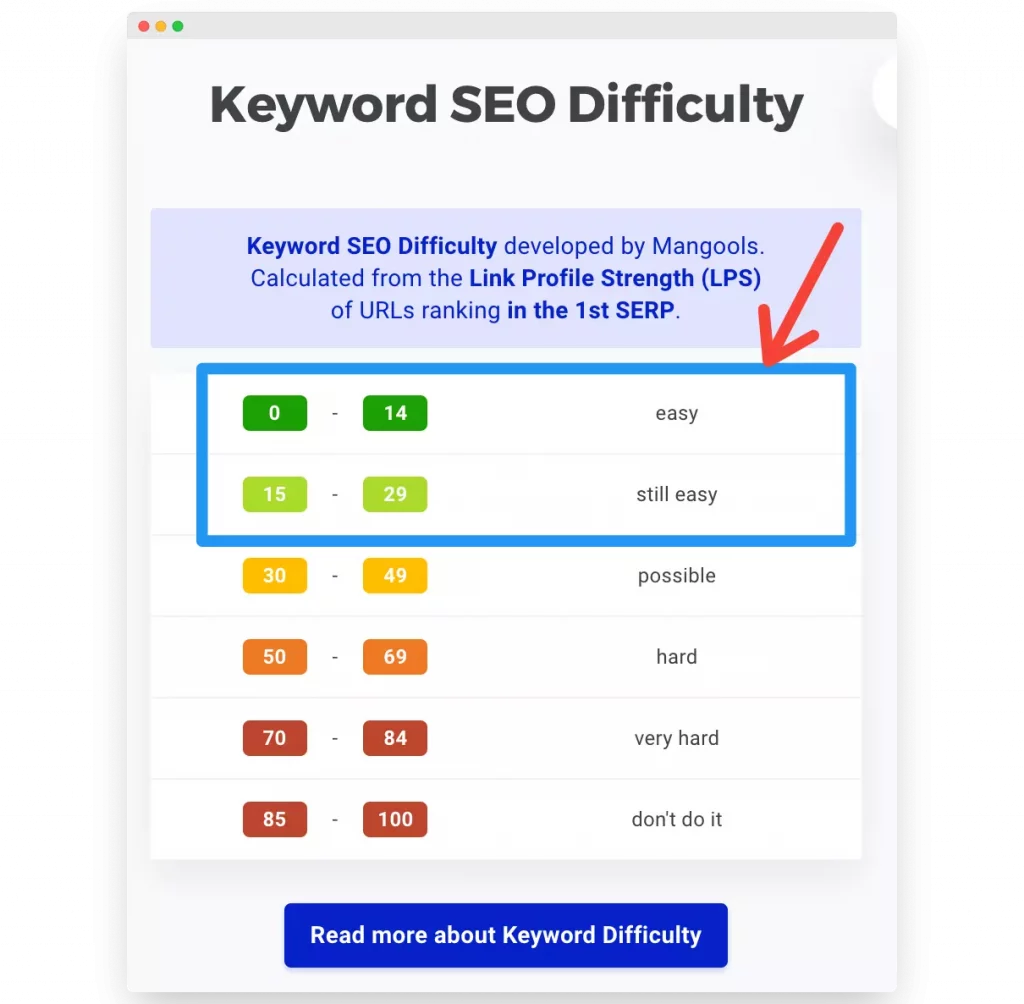 Step 3f: Next, look at the number of searches each keyword gets in a month. Select keywords that have the most searches and a difficulty of less than 30. In this example, I will choose "how to make money with canva". It has 490 searches in a month and the keyword difficulty score is 12.
Step 4: Conduct good research on the topic and create high-quality content.
Make sure the keyword you selected in the previous step is included in your blog post.
Step 5: Publish your content.
When you are done writing the content, publish it.
Google will rank your blog accordingly if they believe your content is relevant to the keyword, and you will start getting visitors on a daily basis.
Now, to walk the talk, let's try and Google the keyword, shall we?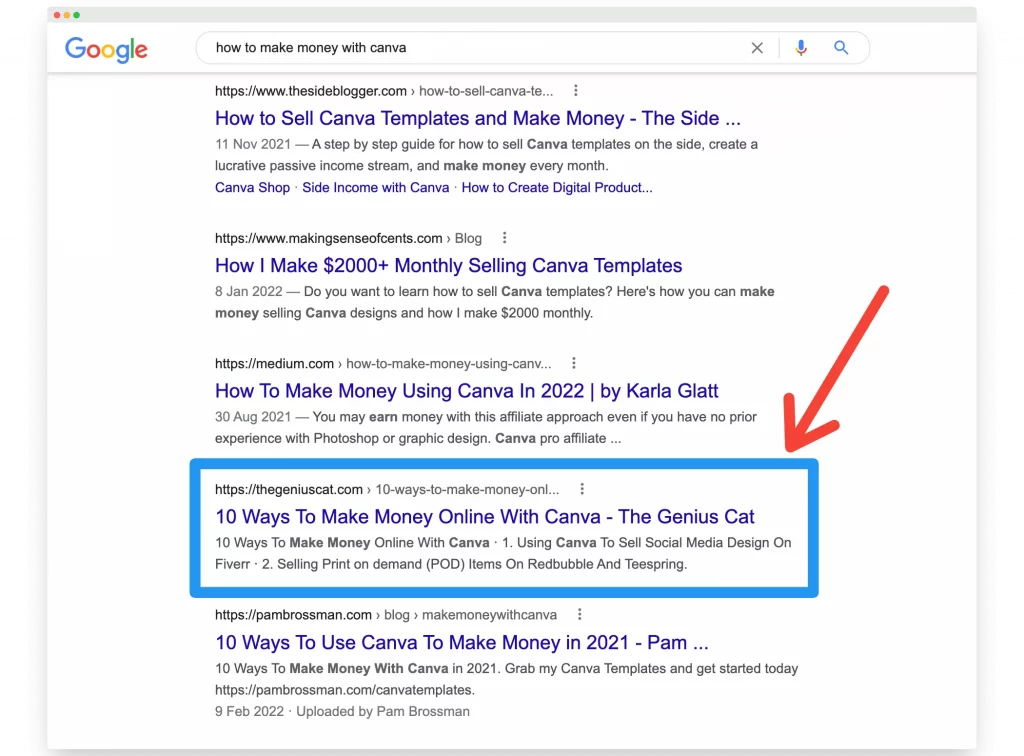 This screenshot shows that my blog post "10 Ways To Make Money Online With Canva" appears on the first page of the search results.
In other words, I am just demonstrating that the strategy does work.
That's pretty much of it. Now, here's the thing.
KWFinder is a premium SEO tool and offers a free trial of 10 days. What if you wish not to pay for the tool after 10 days?
Relax. There is an alternative tool available to you, which is completely free.
How To Find Low Competition Keywords With Free Tool
To find low-competition keywords with a free tool, we are going to use the Semscoop keyword tool.
This is a free tool that you can use to find low-competition keywords.
Enter the keywords that you found in Step 3 above and click the Import keywords button.


Similar to KWFinder, you can now see the difficulty level of each keyword you entered earlier.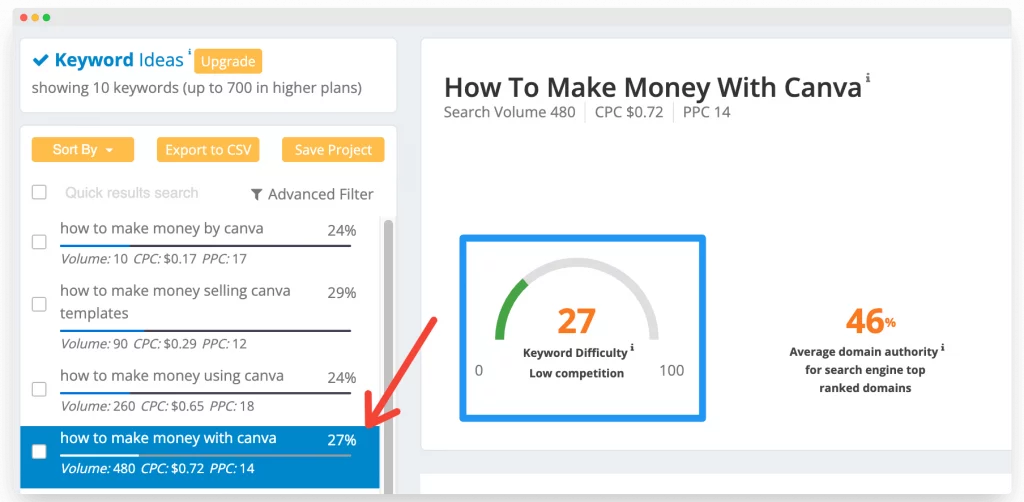 Select the keyword that has low difficulty and you can start writing your content based on the keyword.
This free plan has one caveat: it is limited to only five keyword searches per day.
The Best 8 Tools to Find Low Competition Keywords
Keyword research is an essential part of any SEO campaign.
It can help you identify the most relevant keywords for your website, highlight gaps in your content marketing strategy, and make sure that you are targeting the right audience.
There are many tools to find low-competition keywords but in this post, I will list the best 8 tools to help you get started with your research.
Note: Please keep in mind that this is merely a list. A ranking is not meant to be implied.
1. KWFinder
The KWFinder tool is a great way to find the right keyword to target. With one click of the button, you can see keywords with good search volume, low competition, and high relevance. This tool will help you stay on top of your competition and bring more traffic to your site.
2. Semrush Keyword Magic Tool
SEMrush Keyword Magic Tool is a keyword research tool. It uses its database of keywords to find relevant keywords for your website in search engines.
Additionally, it shows you the search volume and cost-per-click for each keyword, as well as the commercial intent for each keyword.
Advertisers and marketers who want to optimize their online content can find it useful.
This tool allows users to research which keywords are most popular in the industry, discover new keyword opportunities, and even see detailed information on when and how often a specific keyword was mentioned in search results.
3. Google Adwords Keyword Tool
Google Adwords Keyword Tool is a free keyword research tool that helps copywriters generate more traffic to their sites.
With features like keyword suggestions, search volume estimates, and cost-per-click estimates, it's easy to find keywords for your campaign.
With the use of the Google Adwords Keyword Tool, you can find low-competition keywords. The tool will show you what the Competition and Global Monthly Searches are for a given keyword.
If the number is low, then it is a good keyword to target because it will generate more traffic and conversions.
4. Moz keyword explorer
Moz Keyword Explorer is a free SEO keyword research tool from Moz.com. It is a tool that can be used to find keywords for SEO and PPC advertising.
Moz keyword explorer provides the key insight into the language that your customers are using when searching for your product or service.
Keyword data can be used to help you create content that helps your business grow. It also tells you which keywords you should use to optimize your site, blog posts, and social media content.
5. Ahrefs
Ahrefs is a powerful digital marketing tool that can provide users with keyword ideas and SEO metrics. A world-leading provider of SEO and digital marketing tools, Ahrefs has cutting-edge technology and collected enormous data on the web pages and domains' performance.
By using the collected data, Ahrefs provides users with detailed insights into their competitors' backlinks, rankings, keywords, traffic stats, and social media mentions.
To find keywords, one can use Keywords Explorer which is an essential tool for any SEO campaign. It helps you understand the competition for your keywords and find new, under-exploited ones.
It provides you with the best, most current keywords to use for SEO, social media marketing, or your website.
Thousands of keyword ideas, a ranking difficulty index, and traffic potential for each keyword – all accessible with this tool.
6. Ubersuggest
Ubersuggest is a free keyword suggestion tool that finds keywords related to a given term. It is the go-to site for anyone looking for ideas and inspiration for their content. The tool can also be used as an SEO, marketing, and research tool.
This free online tool also lets you choose whether you would like to analyze the site's URLs, content, or domain.
Ubersuggest is an effective tool for people who are looking for long-tail keywords. It can help with generating keywords based on a certain topic or niche, which in turn will help with finding the right audience.
The interface of this free online tool is very user-friendly and it doesn't require any technical knowledge to use it.
7. KeywordTool.io
KeywordTool.io is a free keyword research tool that is equipped with many functionalities to help you find longtail and related keywords for any niche or topic.
The tool helps you to generate related keywords automatically based on your input keyword and find long-tail variations so you never run out of ideas for what to write about again.
8. Google Trends
Google Trends is a public web service offered by Google that shows how often a particular search term is entered relative to the total number of searches done on Google.
It is a pretty useful tool for marketers as it provides information about the most trending searches.
It also provides insights about what people are most interested in, which enables marketers to better target potential customers.              
Final Thoughts
If you are a blogger, then you would know the importance of coming up with a list of keywords that will drive profitable search engine traffic.
There are plenty of low-competition keywords that you can rank for and outrank the big guys with. They will not only increase your rankings and traffic but also lead to more profits and higher ROI.
Now that you've learned about all the ways to research low-competition keywords, it's time to take action. Start implementing these strategies and you will be well on your way to finally ranking for keywords with low competition.
The last thing I want to mention is, the list of keywords should not be taken as an exhaustive list. You should keep researching and find other high-potential keywords.
Let me know if you are using other strategies to find low-competition keywords in the comment below.