Last updated on 2nd March, 2022 at 07:44 am
"Tired of slow writing? 5 ways to make it faster ?"
In the unlikely event that you are a freelance writer, and received an email with the subject line above, would you be eager to open the email and read it?
It's a safe bet that you would.
You see, email subject lines are the first thing a person sees when they open an email. It's also the first thing that will determine whether they will open it or not.
A well-crafted email subject line can make a difference. They should be able to grab someone's attention and make them want to read on.
It is important to note that there is no one-size-fits-all approach to writing a perfect email subject line. What works for one company may not work for another.
In this post, I will provide you with some pointers on writing the perfect email subject line. You will learn about:
Email Subject Line: What Are They?
An email subject line is the first thing people see when they open their inbox. It's what gets them to open your email, and it's what drives them to click on it. Your subject line is the most important part of your email.
Your email subject line should be concise, catchy, and relevant to your content. It should also include keywords that will help people find it in their inbox or search engine results page.
It is important to have a good subject line because this is often the only chance you have at grabbing someone's attention for your product or service.
A good subject line will not only get more opens but also more clicks which can lead to more conversions for you!
Related Posts You Might Be Interested In:
How To Write the Perfect Email Subject Line?
The email subject line has a direct connection with how many people open your email and how many people click on the links inside your email.
Thus, let's dive in on how to write the perfect email subject line so you can get inbox maximum attention.
Step 1: Understand Your Audience
The first step in writing the perfect email subject line is to understand who you are writing to and what they want. This will help you know what kind of language they respond to and how much information they need in the subject line.
Step 2: Know Your Goal for the Email
You can determine what information should be in the subject line if you know what your goal for the email is. For example, if you want someone to buy a product, then mentioning that product in the subject is a good idea. If you just want someone to read an article, then it's not necessary to mention that article in the subject line.
Step 3: Include a Question or Actionable Statement in Your Email Subject Line
In addition to the introduction, it is important to include a question or actionable statement in your email subject line. This will help readers quickly understand the content of your email and what they need to do next.
Step 4: Come Up With Multiple Email Subject Lines
With email open rates at an all-time low, it's important to make sure you have a number of compelling email subject lines in order to get people to read your message.
In other words, come up with multiple subject lines. Take each subject line and try it out by coming up with a tone & different word choices for each one. A/B testing can then be done with those multiple email subject lines.
Step 5: Apply the ABC Rule
Inspired by H-Educate, this is a rule that you can apply when writing a perfect email subject line. What does that ABC stand for? Have a look at the image below.


Attention
With a crowded inbox, it can be difficult to stand out from the competition. A good subject line can help you grab the right person's attention and avoid being ignored.
It needs to be enough to grab the person's attention and be relevant, but not so long that it looks like you're trying too hard. The best subject lines are simple, yet creative. They should also be short and to the point with a call to action.
Benefit
Think about what offers do you have on the table that will give benefit the person. Similar to a used car salesman, your goal is to present an offer that will entice the other person, giving them some benefit that they can't refuse.
Curiosity
Curiosity is what you need to get your email opened. You need to stimulate a little bit of curiosity to encourage people to open your email.
So, let's put this ABC rule into practice and examine some examples, shall we?
Example 1:
Remember the example at the beginning of this post? Let's test it with this Email Subject Line Tester tool.
"Tired of slow writing? 5 ways to make it faster ?"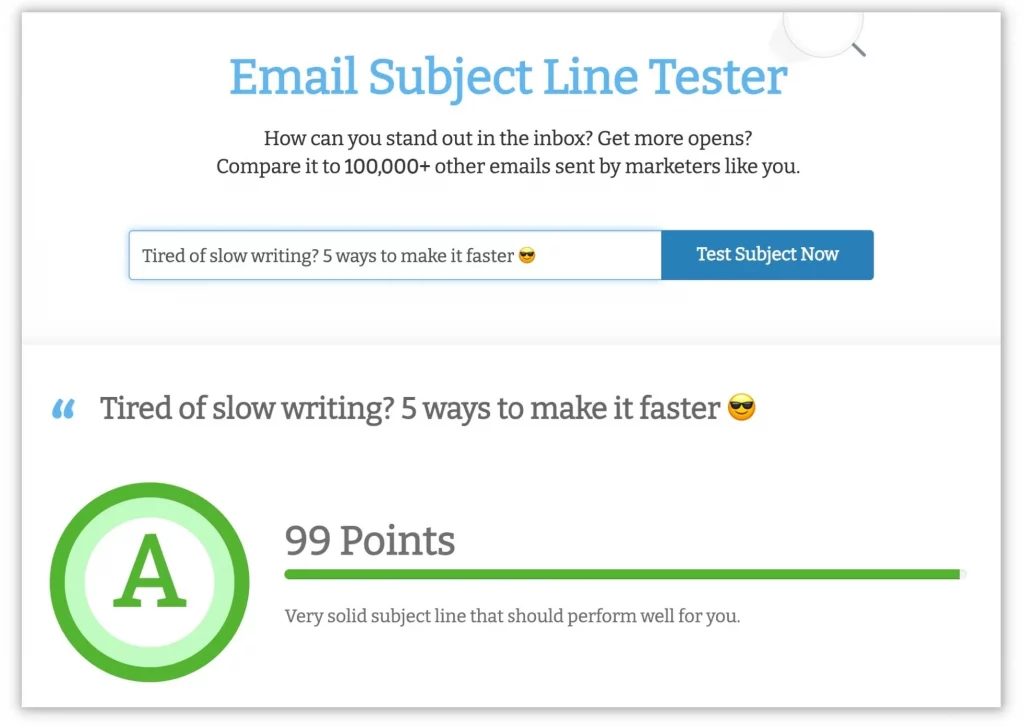 The ABC Rule
Attention: Tired of slow writing?
Benefit: Make it faster
Curiosity: 5 ways
Simple as that. And don't forget to add in emojis. This simple gesture adds a touch of personality to the email and allows the reader to quickly read through it before opening it.
They help to break up long blocks of text, show emotion, and give the reader an idea about what the email will be about.
Example 2:
"Last nudge: Spoil your mum with this secret gift ?"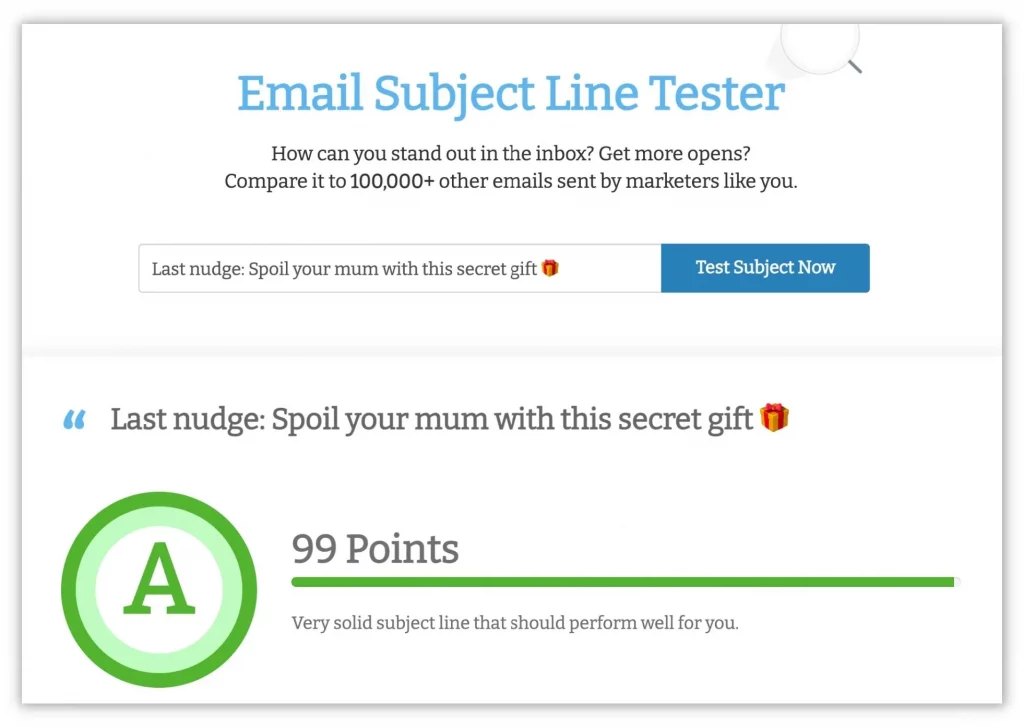 The ABC Rule
Attention: Last nudge
Benefit: Spoil your mum
Curiosity: Secret gift
There's no harm in spoiling your mom with presents, right?
Example 3:
"heads up: nft explained in less than 10 seconds ⏲️"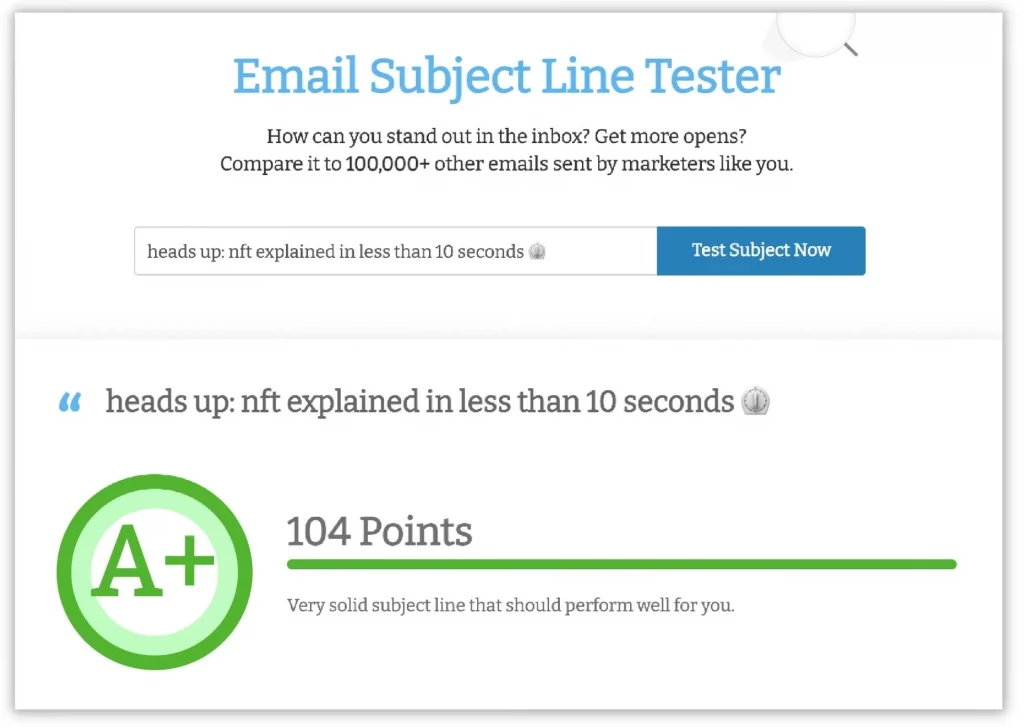 The ABC Rule
Attention: Heads up
Benefit: NFT explained
Curiosity: less than 10 seconds
How on earth can someone explain all the ins and outs of NFT in less than 10 seconds? Doesn't that pique your interest?
Email Subject Line Best Practices
Email subject line is the first thing a reader sees and it can make or break your email. It can be a powerful tool to help you get your message across.
It is the first step in making a good impression on your readers, so it's important to craft a subject line that will grab their attention and make them want to open the email.
The following are some of the most important things you should keep in mind before crafting an email subject line:
1. Learn From Your Competitors
It can be tempting to try and one-up your competitors by adding more words, but this will most likely end up in your email being sent to the spam folder. Instead, I recommend that you look at what your competitors are doing and use those ideas as inspiration for your own subject lines.
2. Use Personalization
Personalization is a great way to increase open rates and click-through rates on emails. Make sure you include the recipient's name in the subject line so they know who the email is from! This can be as simple as "Hi [name]" or "[name].
3. Keep Your Subject Line Short and Sweet
The shorter your subject line, the more likely it is to get opened. There are many studies that show that email subject lines with 10 words or less are the most likely to be opened.
4. Don't Use Exclamation Points or ALL CAPS
They are often used to convey emotion, which is unnecessary in writing. They are more appropriate for use in voice or sound-based media. Subject lines with exclamation points or ALL CAPS are considered too aggressive and can come across as spam.
5. Avoid Spam Words
Spam filters love generic words like "sales", "opportunity", and "offer" so avoid these words if possible.
6. Consider Mobile Optimization
Today, the average person checks their phone 150 times a day. In order to make your email subject line as compelling as possible, it's important to make sure that it is readable on a mobile device. SendCheckIt is a free tool that lets you preview how your subject line appears on popular mobile devices.
7. Use Numbers for Urgency
The best way to use numbers in an email subject line is by using numbers that represent the urgency of the subject matter. For example, "2 days left" is better than "Time's running out!"
8. Your Email Subject Line Should Be Concise and Clear              
A lot of email recipients are spending less time reading each email they receive. This is why you should keep your subject line concise and clear. Put the most important information upfront.
9. Add Some Emojis
The use of emojis in email subject lines has been proven to increase the chances of an email being opened. The use of emojis has been on the rise as a way for businesses to stand out from their competitors. It's up to you how you want to interpret your audience and what emoticons they might relate to your business, but it is important not to overuse them.


10. Run A/B Tests on Your Subject Lines
A/B testing can be used to figure out which subject lines work best for your email list. Given the same email, sending an A/B test with two different subject lines will allow you to see which one has a higher open and click-through rate.
How Come My Email Open Rates Are So Low?
It is not unusual for the recipients to delete your email without even opening it. The email open rates are a measure of how many people have opened an email that you have sent them.
There are a number of possible reasons why your open rates are low. Some of them are:
Poor Email Subject Line
Emails with poor subject lines may never get opened. This is because the recipients are bombarded with emails on a daily basis, and if your email doesn't stand out, it can be lost in the shuffle.
It's Not Mobile Optimized
Your emails need to be easy to read on any device. The more readable your email is, the more likely it is for the reader to get what you are trying to show them.
Frequent Email Delivery
Sending out too many emails can irritate your users. Sending 3 emails per day is the sweet spot, but you might want to think about what's best for your customer.
Untimely Delivery of Email
According to a study, most people check their email only once every day. This means that sending an email on a Friday evening at 5:00 pm is just as bad as sending it on Saturday morning at 8:00 am.
The best time of day to send an email is late morning on a weekday. Early morning hours are the second-best time for sending emails.
Lack of Urgency or Value Proposition
The content in your email may be too laid back or not compelling enough to persuade readers to take action. Consider how you can add urgency and value to your email.
Email List Isn't Targeted
A well-defined target audience is the most crucial element in a successful email marketing strategy. So if you don't have a well-defined target audience, then you might not be reaching the right people with your email list.
Final Say: How To Write The Perfect Email Subject Line
From the most basic greetings to complex persuasion techniques, emails with subject lines are important to your newsletter marketing success.
Successful subject lines have one thing in common: They understand the reader. They're personalized, believable, and pertain to recipients' deepest interests or most imminent goals.
What are some best email subject lines? Share your favorite in the comment section below.