Last updated on 3rd October, 2022 at 04:51 pm
Freelance writing is becoming more popular in the writing world.
It's a great opportunity for writers to work from the comfort of their homes and at their own pace. Freelance websites can be a great place to find freelance jobs as they have tons of job listings on their website, but at the same time, it's important to know that not all sites are created equal.
Many people are turning to freelance writing as a way to supplement their income.
If you're interested in being a freelance writer, it's important that you have access to reliable resources that can help you find work or provide resources for your clients.
Without further ado, let's get started.
Heads Up: For the sake of transparency, this post might contain affiliate links. If a sale is made, I will receive a small commission (at no additional charge for you), which helps keep the lights on and helps feed my cats. Please read our disclosure policy for more information.
What Is a Freelance Writing Website?
Freelance writing websites are a growing market for freelancers. They provide a space for freelance writers to make a living by writing articles, blogs, and more.
Freelance writing websites help writers find work, they provide an opportunity to make a living from their own homes.
Writers can sell articles and blog posts as well as the option of translation services. Websites also provide opportunities to collaborate with other writers on projects as well as provide versatility in how they work – from full-time to just getting side income.
Advantages of Becoming a Freelance Writer
Freelancers work from home, in coffee shops, or in a hotel rooms. They work with a variety of clients and industries.
The freelancing industry is growing rapidly and a lot of people are looking to break into freelance writing. Freelance writers have the flexibility to work on their own terms, set their own hours, and have the ability to earn a higher wage than an employee at an average company.
It's easy for people to become freelance writers because they can do it part-time or full-time depending on their needs and desires. The only downside is that freelancers don't get benefits like health insurance.
With so many opportunities available in this field it's easy to start feeling overwhelmed with all the possibilities out there.
In order to help you narrow down your options, here are the 10 best freelance websites for writers.
10 of the Best Freelance Websites for Writers:
1. Contena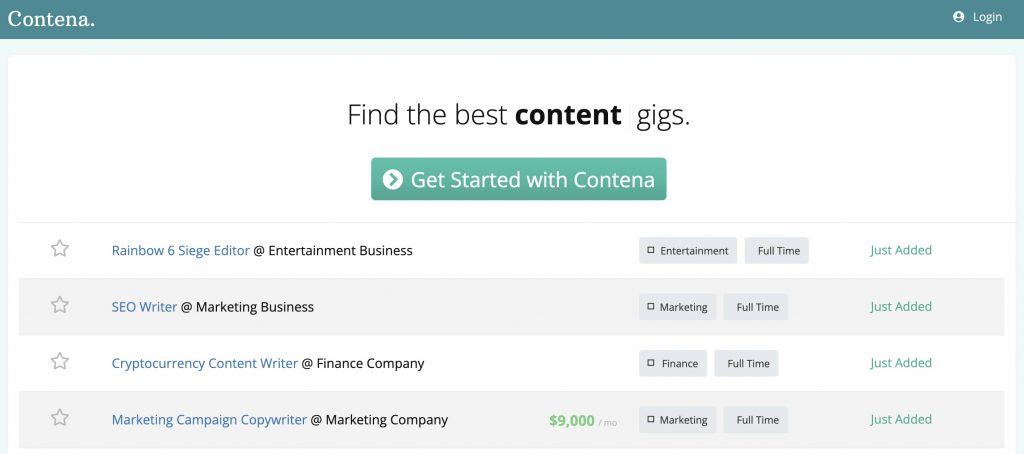 It's a premium freelance writing website that allows you to find the best writing jobs. It is different from other job boards because it only has authentic, paid writing gigs on it.
Pros:
It's worth looking at this website if you're on the hunt for a good-paying job.
You can filter by location, topic, and pay level to find the perfect writing job for your skillset.
You can also filter by category (blog post, article, blog post with images) to make sure that your jobs are tailored to your skillset.
Cons:
The platform is currently only available in English.
Due to its membership-based nature, access to its job listing requires payment.
2. FlexJobs


This website is an online job board that connects professional writers with employers looking for content.
The site posts one job opening per day, with the majority of the listings being remote jobs.
The majority of FlexJob listings are remote, but there are some that require applicants to be at a specific location. The site also states that they are "open to all types of writing gigs."
3. Peopleperhour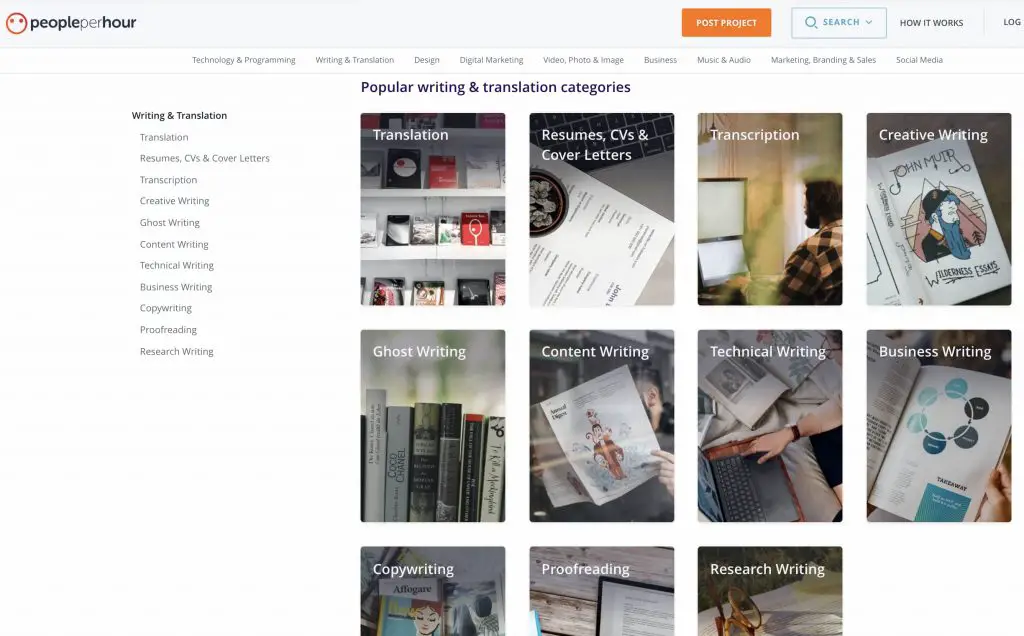 They are the world's first freelancing website that brings together over 40,000 independent professionals. It was established in 2008 and it now has more than 3 million users.
PeoplePerHour is a hub of freelance talent that helps businesses connect with creatives for hire, empower freelancers with knowledge and resources, and provide company infrastructure for freelancers to achieve their work-life balance.
There are many reasons why people per hour is so popular among its customers. One is that they offer competitive rates per hour for outsourced work which can range anywhere from $5 to $100 per hour.
Another reason why people per hour is popular with employers is that they give access to a large pool of talented professionals who can help them grow their business without the hefty cost of hiring full-time
4. Contently

A company called Contently connects businesses with writers. It offers competitive pay for writers, makes sure that they are not bidding against one another, and also has a good reputation in the market.
Some of the pros are that it allows writers to work on projects of their choice, provides competitive pay, and does not allow writers to bid against one another.
It is an excellent platform for freelance writers who want to start their careers as content writers.
5. Upwork


Freelancers and clients can connect with each other on Upwork via a simple and easy method. All you need to do is sign up, post your project, or get hired, and wait for the perfect opportunity that matches your skills.
If you already have a profile, make sure it showcases your skills and qualifications in the best way possible.
The last thing you want is a potential employer to look at it and think "this person won't be able to do what I need them to do."
So make sure that every word on your profile is perfect as well as all of the media that accompanies it!
You are provided with two options for connecting with clients:
A potential client finds you through your profile or through Project Catalog (an online marketplace for your predefined projects).
Submit a proposal for their job posting to reach out to them
6. BloggingPro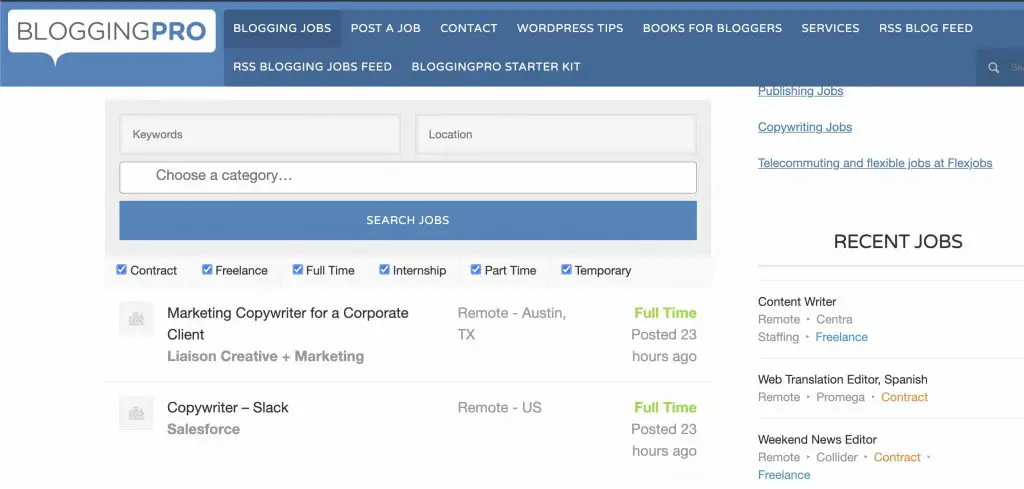 You can find job postings for blogging positions at BloggingPro. There are more opportunities for you to find freelance jobs that pay well and work with brands you love.
Since there is no screening process, you'll need to thoroughly investigate potential opportunities yourself to avoid scams.
The best part?
They search for you the best writing jobs to save you the trouble of hunting!
7. HireWriters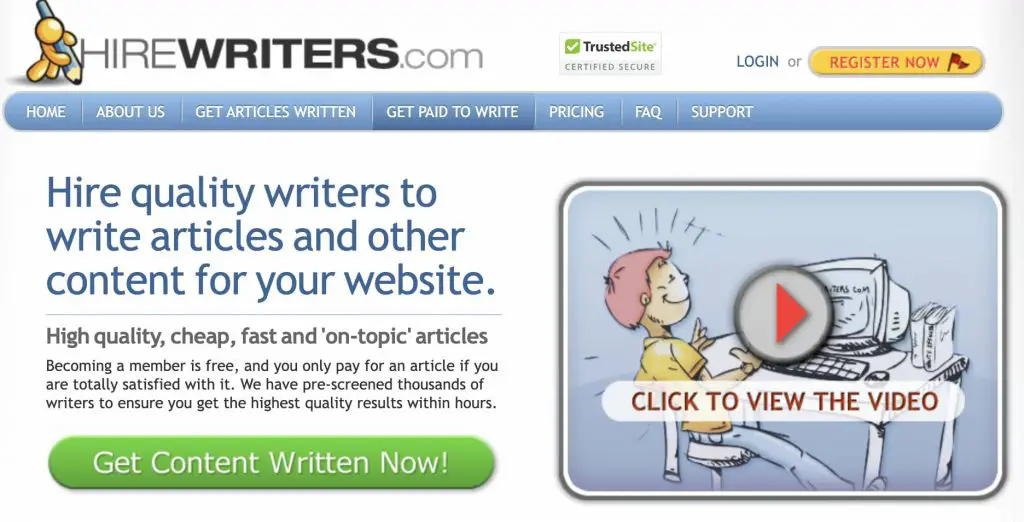 One of the most popular freelance websites for writers of all levels.
The scope of HireWriters is not limited to article writing only. You will also have an opportunity to write for eBooks, data entry works, Facebook fan page posts, poetry, and transcription.
That is something that you don't get on other freelance websites.
Freelancers can apply to HireWriters if they are from the United States, Australia, Canada, United Kingdom, Singapore, or New Zealand.

8. Guru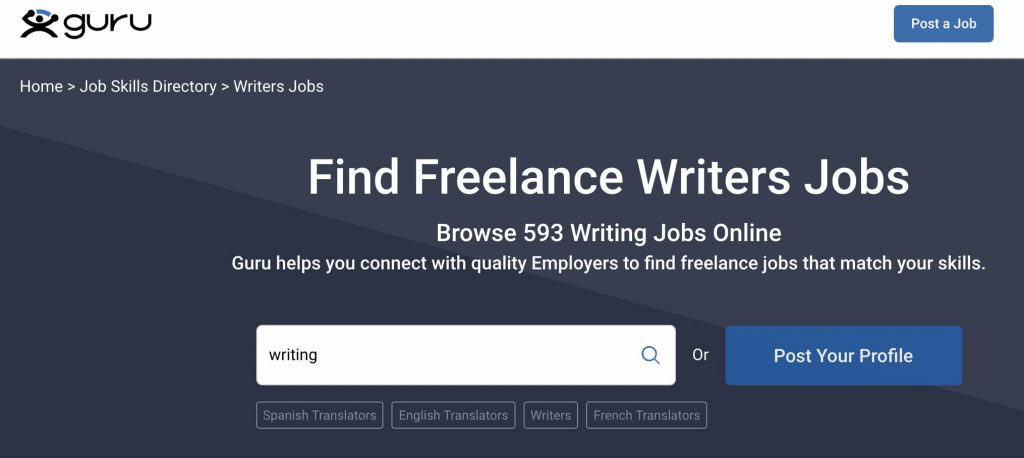 One of the leading online marketplaces for freelancers is Guru. It has over 1 million of the most talented professionals on the platform to complete any type of task, whether it's graphic design, data entry, or app development.
Pros:
You can find a variety of professionals to complete projects in your time frame.
There are no upfront fees on completing projects.
Projects are guaranteed to be completed by an expert in the field.
Project managers always have good ratings and reviews from past projects.
Cons:
You can't spend more than $1,000 USD per project without speaking with customer service first.
The service has been reported as unreliable in some cases according to some reviews found online.
The site also has a marketplace where clients can post their job needs and freelancers can bid on them. The client chooses who they want the work done by based on the lowest price offered for the job in question.
However, it is not just about one-to-one freelance relationships. Some use it as a way to find people with specific skill sets to help create their product or service instead of hiring someone full-time.
9. iWriter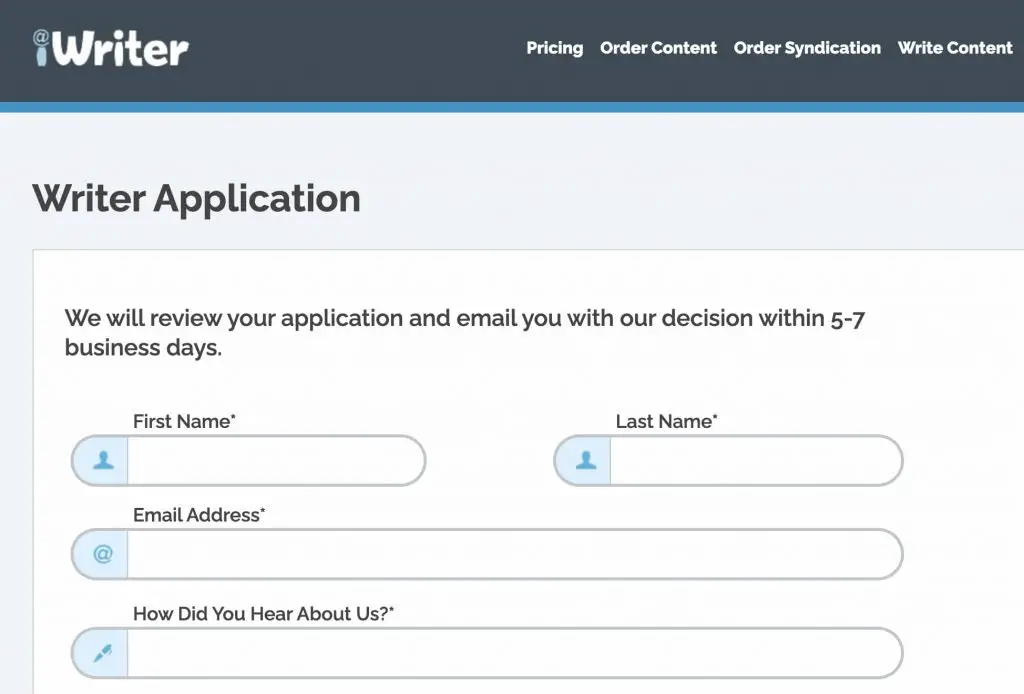 Here's another freelance writing website that allows you to write for various clients, and easily find employers who want to hire writers.
It's an easy and efficient platform that helps freelancers find work and lets clients find the perfect writer for their job.
There are two steps to signing up:
1) Fill out a form, include your basic information, why you want to work as a writer on iWriter, your expertise in the field, and the types of jobs you would be comfortable with taking on;
2) Complete two short 250-word writing prompts from one of the many writing categories on the site. Once you do these two things, you will have access to all of the job postings.
10. Textbroker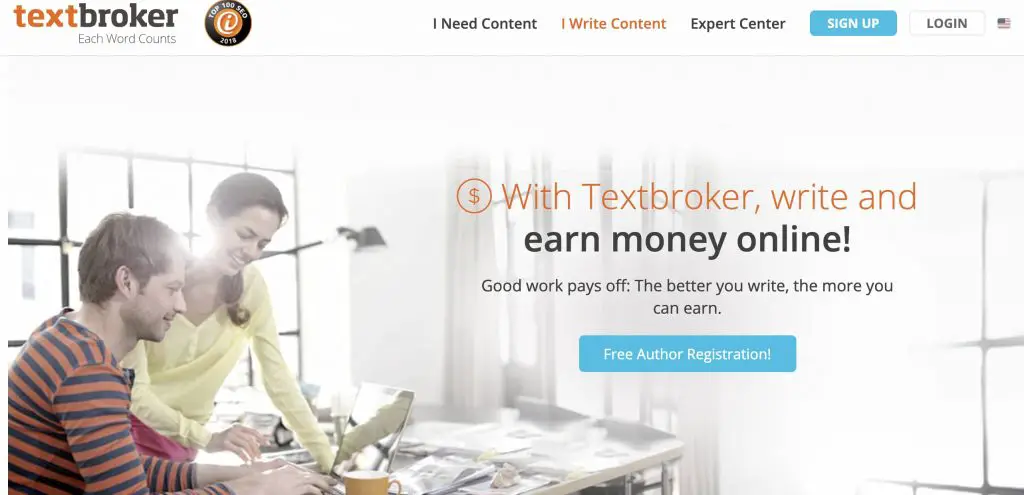 This website is a writing agency that allows writers to find new clients and start working for them. There are thousands of projects available with various budgets and deadlines.
It has been one of the pioneers in the field of content writing and they continue to innovate as they grow larger.
They now offer their service as a cloud-based platform, which offers access to better technology and more opportunities for writers.
Should you wish to learn more about Textbroker, here's a detailed post: Make Money through Typing (Up to $200 Per Day!)
Finding freelance writing jobs can be hard, especially if you don't know where to look. Freelance writing is a demanding trade that requires dedication and experience.
5 Tips on How To Find Freelance Writing Jobs Online
Thus, here are five tips that can help you find online writing jobs:
1) Say You're For Hire
The first step in finding freelance writing jobs is to let people know that you are available for hire. You should create a website or blog and post your resume so potential clients can find you.
2) Cold Pitching
It is the best way to find new freelance writing jobs. Cold pitching is when you contact companies anonymously on websites like LinkedIn or through email. It's a great way to find new clients if you have no connections or friends who can help you out.
3) Ask Friends, Family, and Colleagues
If you have any contacts at all in your personal life that can help you find freelance job opportunities then talk to them! They may know someone who's looking for writers for content on their company blog or website. You could also call up your old work colleagues and ask them for help too. You can also use social media to post about job openings that you want.
4) Guest Posting
This is a great marketing strategy for increasing brand awareness, building social signals, and generating traffic to your site. Guest posts are a great way to build your writing portfolio and get noticed by potential employers. Most often contain articles about an interesting topic related to the company's services or industry.
5) Facebook Groups
Facebook groups are a great place for freelancers because they help members collaborate on projects, advertise their services, and most importantly offer advice on how to find better-paying jobs.
Conclusion: Become a Freelance Writer Today
Writing is not just a career but an art form.
It's never too late to become a freelance writer. All you need is the willingness to write, creativity, and no fear of rejection.
Some people are unable to work for someone else because they know they are more productive when they have control of their own time.
Other people can't seem to find a fulfilling job in the corporate world.
For these people, becoming a freelance writer might be the perfect career choice or at least one that fits with their lifestyle.
The benefits include having control over your time and being able to have more flexible working hours when compared with an office environment – so you can spend time with your family or work from the comfort of your own home.
I can safely conclude that it is never too late for anyone who has always wanted to be a freelance writer but didn't know how or where to get started. As long as you have creativity and no fear of rejection, this might be the perfect career choice for you!
That's all for now. Hope you find this post helpful.
Let me know your thoughts in the comment section below.
Signing off now, cheers!~