Last updated on 3rd October, 2022 at 04:50 pm
If you want your blog to grow and reach a larger audience, it is essential to start with an email list. Emails are still the most popular and successful means of communication with your audience.
However, building a successful email list can be challenging. You need to know what type of subscribers you want and how often they should receive your messages.
Luckily, there are several tools that can help you with this process such as Convertkit which provides an easy-to-use interface with all the features that you may require for building a successful email list.
In case you've narrowed your choice down to Convertkit, this review can help you determine whether or not it suits your business needs.
Let's dive in now, shall we?
Heads Up: For the sake of transparency, this post might contain affiliate links. If a sale is made, I will receive a small commission (at no additional charge for you), which helps keep the lights on and helps feed my cats. Please read our disclosure policy for more information.
What Is Converkit?
Convertkit is a tool for email marketing. It is specifically designed for bloggers, authors, designers, and other creative professionals who want to grow their mailing lists and create automated email sequences.
It's a modern-day marketing platform that lets you sell your products, build your list of subscribers, and drive traffic back to your site.
It has helped businesses all over the world grow their mailing lists by tens of thousands of new subscribers each month.
Convertkit is also an app that you can use to manage every aspect of your newsletter campaigns from one convenient dashboard so you can spend more time creating content and less time on marketing tasks.
While there are plenty of email marketing platforms out there, I've found that ConvertKit excels in the following areas:
Ease of use: The interface is simple and intuitive for beginners and experts alike. There's no need to be a coding expert to use this platform.
Flexibility: The platform offers an amazing array of features that can be customized as needed to fit your specific needs as a content creator (e.g., automating opt-in forms with Leadpages or creating signup forms with Typeform).
In this article, we will be discussing Convertkit and how it is different from most other email marketing services.
We will also go over how it can help grow your business and find out if Convertkit is worth the price.
Getting Started With Email Marketing and Why Does It Matter?
Email marketing is the act of sending email messages to a group of people, typically via email. It can be used to send company updates, reminders of new products or deals, or advertisements.
The success of any marketing campaign depends on the quality and relevance of the content.
"Email marketing is an alternative to social media for passing on information. It has grown tremendously in recent years because it is easy and cost-effective."
Email marketing provides you with complete control over your message that reaches your target audience. While social media channels like Facebook are public platforms, email platforms are private channels.
This means that you have more control over who they are sent to and what happens when they open it up.
You might be interested in these topics too:
How To Build an Email List With Convertkit
With this tool, you can set up an email list in just a few minutes. It's easy enough for even novice users and even comes with a WordPress plugin for an easy setup process.
You can grow your email list for free by following these three steps.
Step 1: Offer Enticing Lead Magnets
Your readers must receive something in exchange for providing their email addresses. This is where you can offer them a lead magnet.
Some lead magnets example:
Ebook
Checklists
Worksheets
Templates
Workbooks
Planners
Cheatsheets
For example, I am offering a free "Start A Blog Blueprint" as a lead magnet:
Another example is what Brian Dean from Backlinko did here: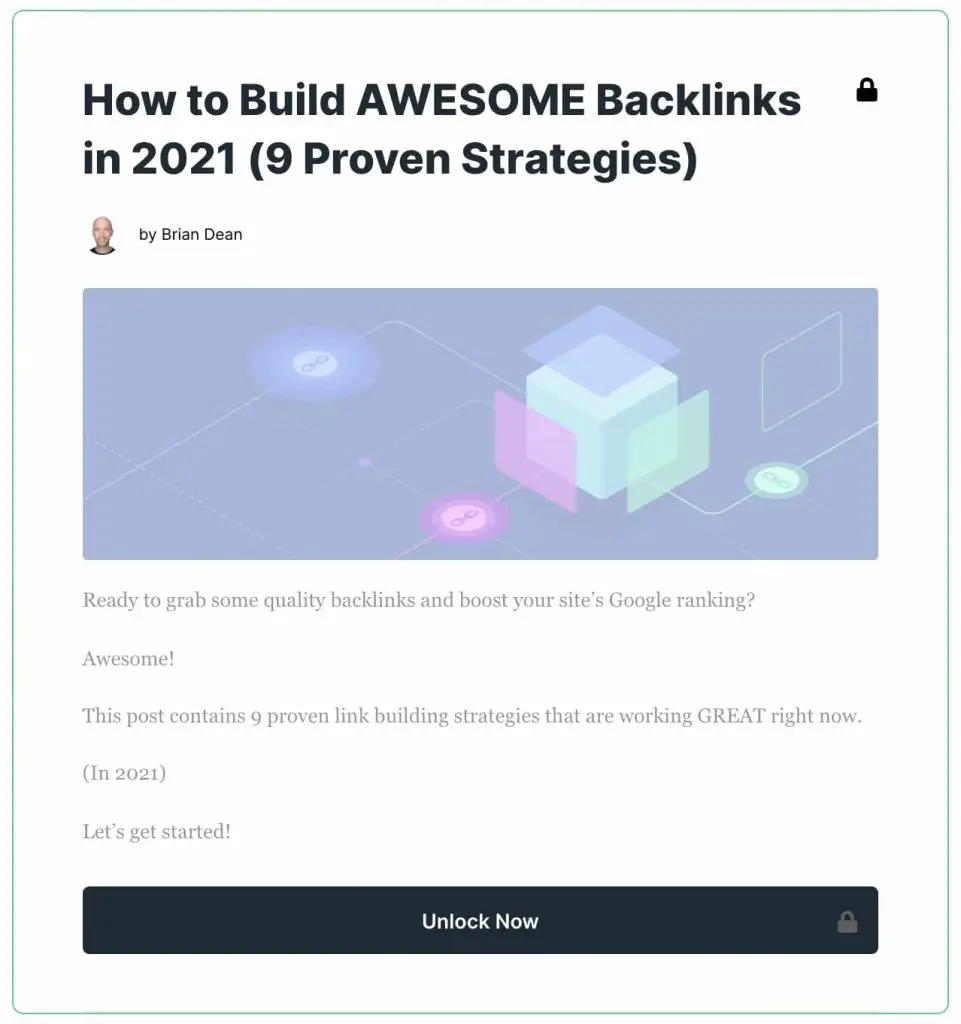 Step 2: Promote Your Lead Magnet To Attract Eyeballs
To attract more people to your lead magnet is to share it with as many people as possible. You can use social media, email, etc. to promote your lead magnet.
Promote your lead magnet using social media channels like Facebook, Twitter, LinkedIn, and Instagram.
Use hashtags like #freecontent or #freeleadmagnet when you post about the topic of the lead magnet. This will make it easier for other people who are also looking for free-content or free resources to find it on social media channels.
Facebook groups are also an excellent option for promoting your lead magnets because they have a large following and a highly engaged audience.
Step 3: Keep Subscribers Engaged Over Time
There are three main ways to keep your subscribers engaged over time.
i) Welcome Email Sequence
In a study, it was found that 40% of all email subscribers unsubscribe within the first two weeks of a company sending them emails. However, email conversion rates can be increased dramatically with a well-thought-out welcome email sequence.
The strategy is to build a relationship with your subscribers from the get-go and then gradually increase expectations as time goes on. A welcome email sequence typically consists of five emails over two weeks.
One sends an intro email, one an offer related to what your company sells, one an article related to your niche, one a video from your company, and finally one for thanking them for their interest in your product or service.
ii) Consistently Sending Valuable Content
These emails should be original and not spammy. They should also be useful for your subscribers by providing information they need on a regular basis.
iii) Clear Email List
It means removing subscribers who no longer open your email messages. Having your list cleaned regularly will ensure that your data is accurate, which will maintain high open rates, and will ensure your subscribers are receiving what they are looking for.
Convertkit Pricing & Thoughts on the Pricing Structure
Before we dive deep into the key features, let's have a look at the pricing first.
The pricing for ConvertKit is pretty simple.
You have the free plan, the creator plan, and the creator pro plan. The free plan is what you would expect from a basic email marketing service.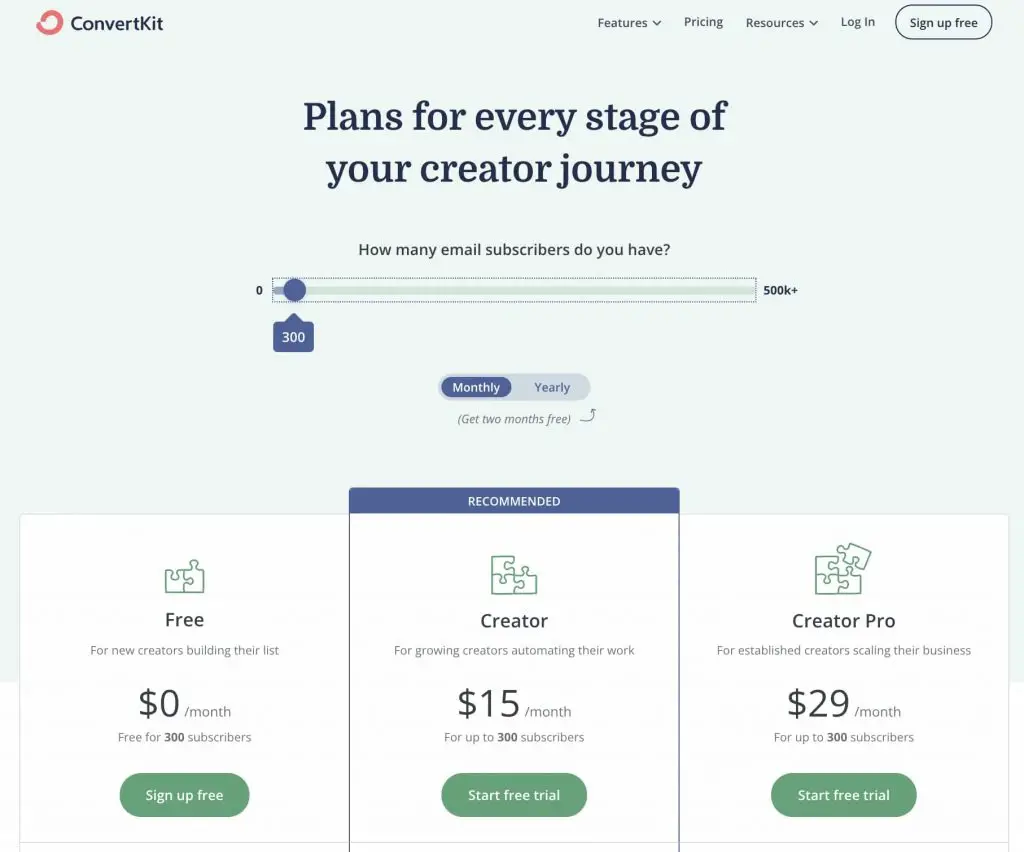 Free Plan
What I like about Convertkit is the free plan.
The free plan makes it possible for those who wish to start with email marketing without spending a dime. What's the limitation you may ask? It doesn't include automation. It's free for up to 1000 subscribers. But, I still consider that as a good start, right?
Creator Plan
Pricing starts at $15 a month for up to 300 subscribers, $29 per month for up to 1,000 subscribers, $49 per month for up to 3,000 subscribers, and $79 per month for up to 5,000 subscribers.
The Creator plan includes everything the Free plan offers, plus free migrations from other tools and automated funnels and sequences.
Creator Pro Plan
Pricing starts at $29 per month for up to 300 subscribers, $59 per month for up to 1,000 subscribers, $79 per month for up to 3,000 subscribers, and $111 per month for up to 5,000 subscribers.
The Creator plan includes everything the Free plan and the Creator plan offer, plus Facebook custom audiences, newsletter referral system, subscriber scoring, and advanced reporting.
Basically, Convertkit's pricing is based on the number of subscribers. To make it easier for you, have a look at the table below.
| Subscribers | Free Plan | Creator Plan | Creator Pro Plan |
| --- | --- | --- | --- |
| 300 | Free | $15 per month | $29 per month |
| 1,000 | Free | $29 per month | $59 per month |
| 3,000 | - | $49 per month | $79 per month |
| 5,000 | - | $79 per month | $111 per month |
| 8,000 | - | $99 per month | $139 per month |
| 10,000 | - | $119 per month | $167 per month |
| 15,000 | - | $149 per month | $209 per month |
| 20,000 | - | $179 per month | $251 per month |
| 25,000 | - | $199 per month | $279 per month |
| 35,000 | - | $259 per month | $363 per month |
| 45,000 | - | $319 per month | $447 per month |
| 55,000 | - | $379 per month | $519 per month |
| 65,000 | - | $439 per month | $591 per month |
| 75,000 | - | $499 per month | $663 per month |
| 85,000 | - | $559 per month | $735 per month |
| 95,000 | - | $619 per month | $807 per month |
| 105,000 | - | $679 per month | $879 per month |
I personally think the price is too high. Particularly when you have an abundance of subscribers.
Key Features of Convertkit
ConvertKit is a powerful tool for bloggers and entrepreneurs. It helps you to grow your audience and convert more of them into customers.
It has many features that will benefit both experienced and inexperienced marketers.
Let's now go over each feature in greater detail.
1) Grow Tab
Subscribers: Those Who Have Signed Up for Your Email List.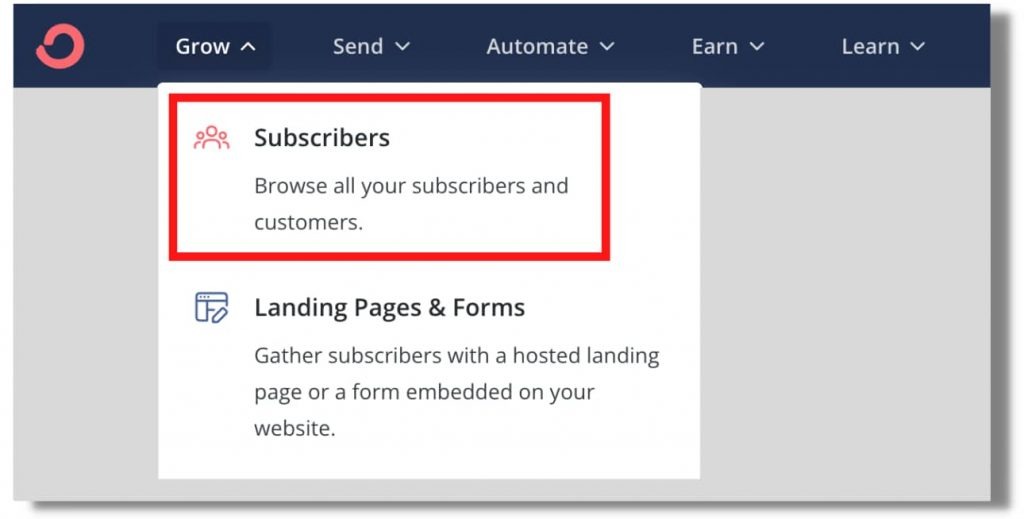 ConvertKit charges you based on the size of your email list. If you have a small list, then it will charge you less than if you had a larger list.
This is an excellent feature for those with a small business that may not have the funds to pay for a larger email service provider.
As your list grows, ConvertKit will be there with its pricing to match your needs.
Import Subscribers
Starting an online business and having a good number of subscribers is one of the hardest phases of a business. Subscribers can be used to depict the growth rate of a business.
However, to avoid the hassle of gaining organic subscribers, which might slow you down, you can choose to import the subscribers in one of the following ways;
Copy pasting from an Excel file directly
Adding a single subscriber manually
Through API
From a TXT or CSV file
Importing directly from Mailchimp
You are recommended to ensure that everyone on your list is actually signed up and has permitted you to email them. To verify that you are compiling with them, you are supposed to check out the Terms of Use and the Anti-Spam Policy.
Landing Pages: The Most Effective Ways To Capture Leads and Grow Your Email List.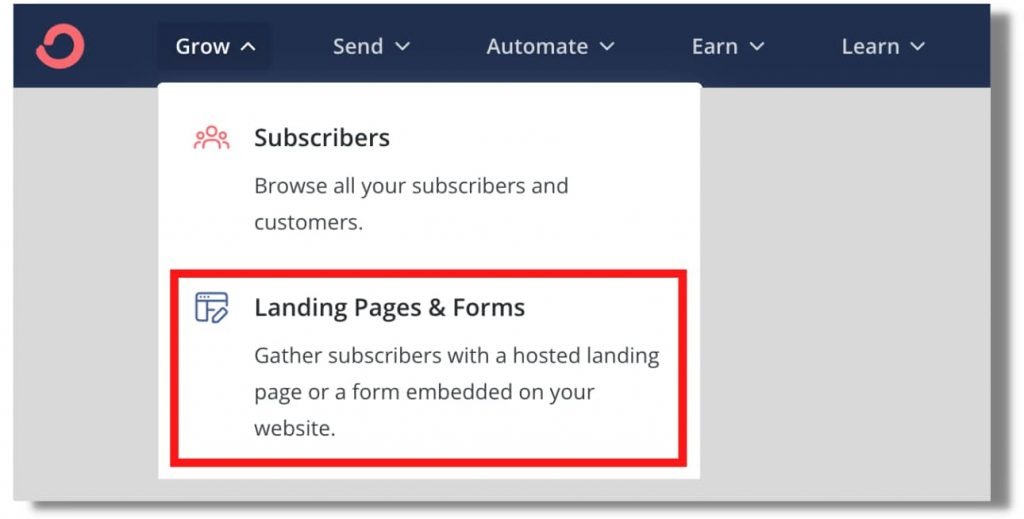 With ConvertKit, you can create landing pages to capture leads or forms for collecting contact information. You can also offer free content in exchange for an email address via landing pages.
What Is a Landing Page?
A landing page is a type of web page with only one focus; to convert the website visitors into leads. When a visitor clicks on links from a post or ad on a social media platform, they get to the landing page that elaborates what the offer in the post or ad is and what is required to be done to get it.
When the designing of the landing pages has been done perfectly, they are capable of driving conversations at a rate that is higher than your website's homepage.
A landing page only targets the visitors interested in only one specific thing and offers clear-cut directions on how to get the product.
In Convertkit, you can either host your landing page with them, or you can create a custom domain (your own domain).
Hosted on Convertkit
By default, any of the landing pages you will have created on Convertkit will get hosted on your CK (Convertkit server). Page domain, which can be easily customized from the Domains tab in the Account Settings.
Custom Domain
Domain names are more simplified alternatives for easy remembering and identifying websites. That acts like home addresses for the websites on the internet. These tell the visitors where different sites live so that finding them and returning to them can be easy.
If you own a blog, you may add your blog domain via the form settings as below: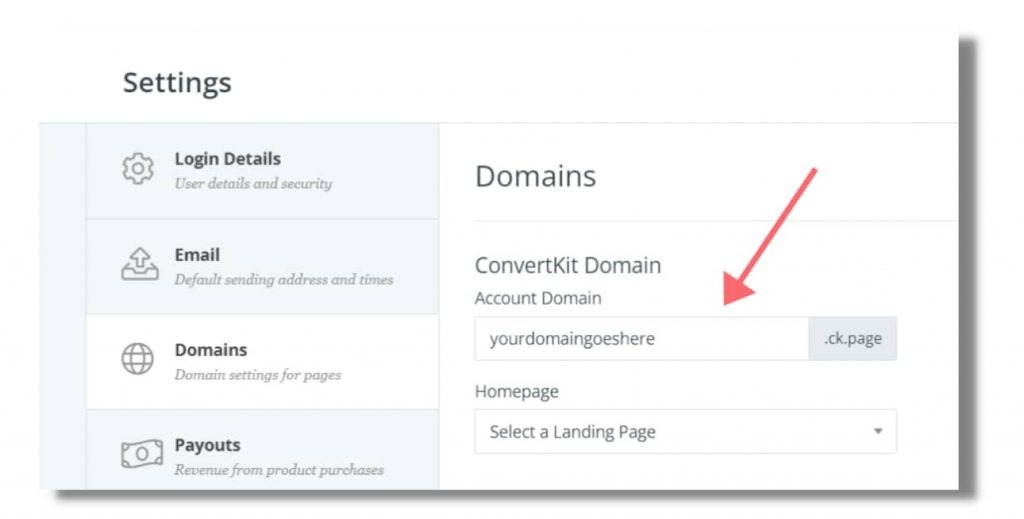 Find out more on how you can set up the custom domain here.
Readymade Templates
Building a landing page is not an easy task. But with Convertkit's ready-made templates, you can build a beautiful page for your project in just a few minutes.
You don't need to be an expert in web design and development to create a landing page with Convertkit's templates. It can all be done without coding!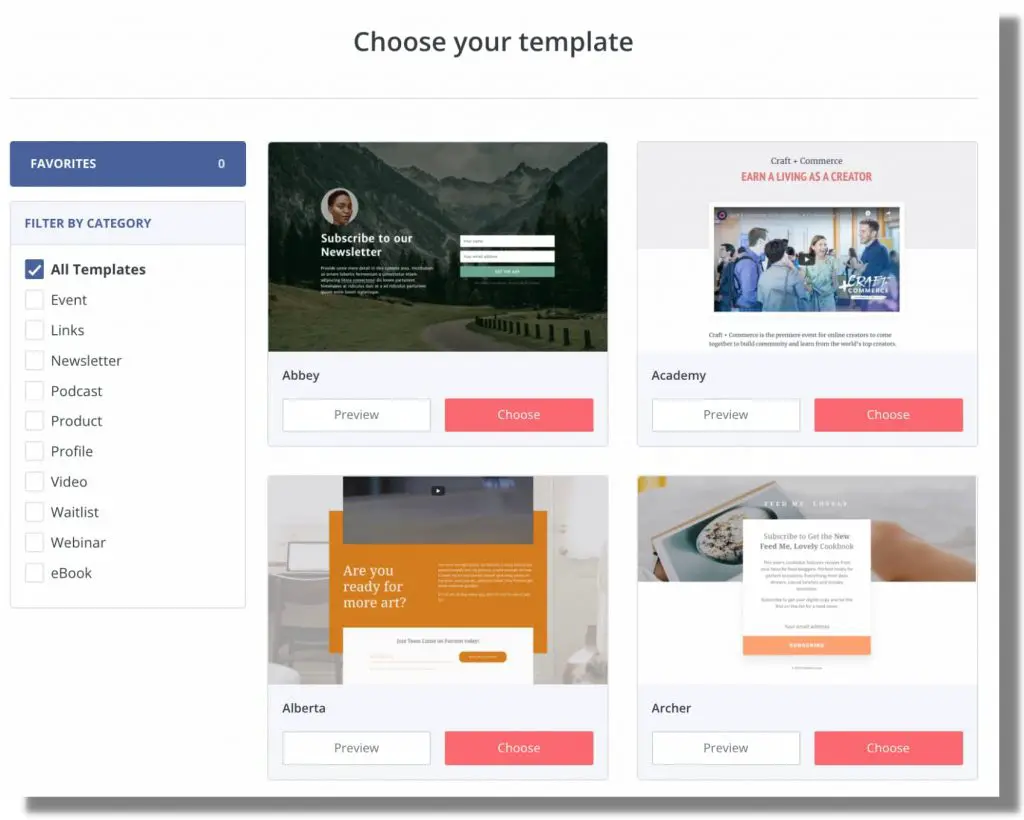 Embed the Landing Page With a WordPress Plugin
WordPress users can benefit even more from this plugin by automatically adding a lead capture form to any post or page. By selecting a default form on the settings page, that form will be displayed at the bottom of all your posts and pages.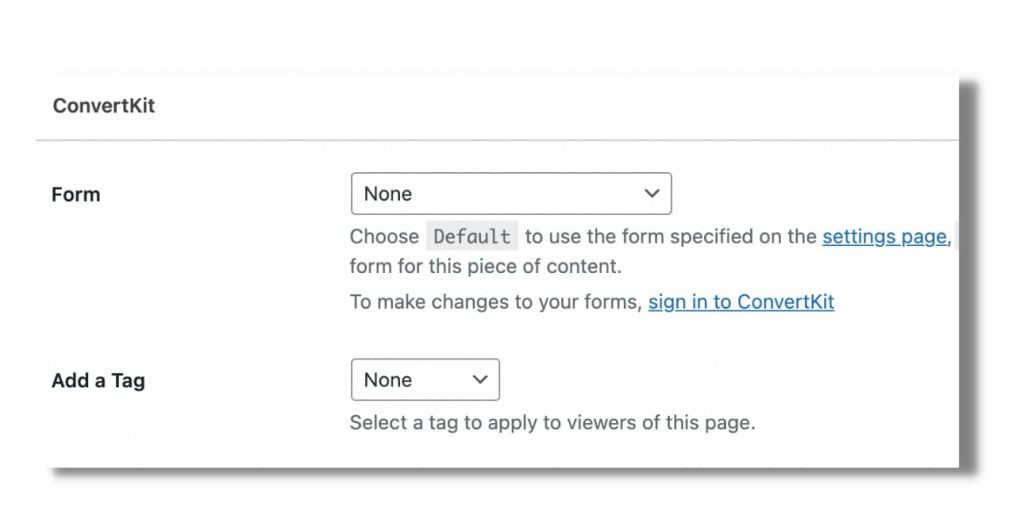 Additionally, you can insert the default form within your post or page content using the shortcode.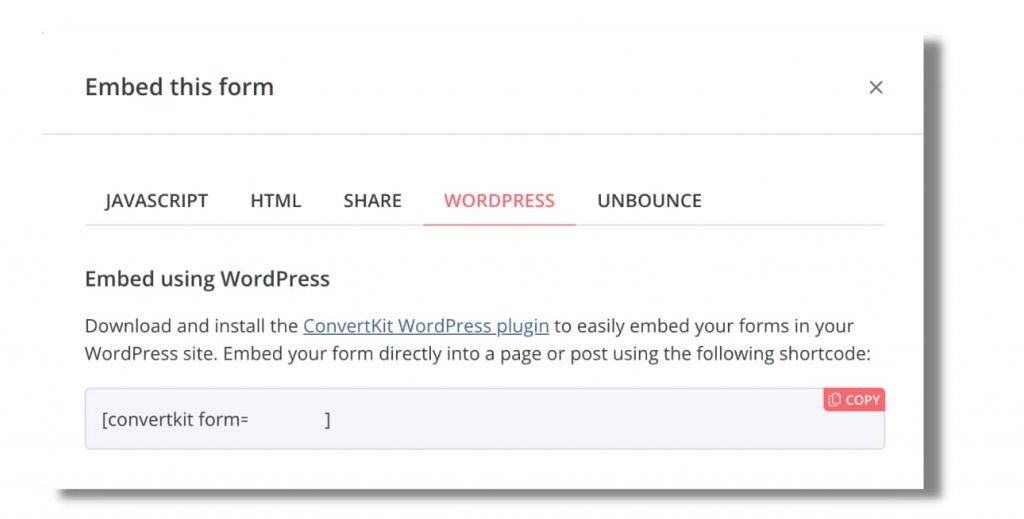 Now, let's have a look at the Forms section.
Forms
A form is an opt-in you create that resides within your website or blog to gain permission to collect their email addresses. These permission requests are the key to getting inside your subscriber's inbox, and the foundation for building a successful email list.
Here are the types of forms you can create with Convertkit.


Modal/Popup Forms
Popup forms are a more effective manner in which you will have the users of your platform take action and respond to them. A pop-up is an exclusive type of overlay modal that usually pops up with a form when a user has clicked a call-to-action or any other page element.
These popup forms can be triggered by timing, exit intent, percentage of pages scrolled, or just when a link or button is clicked.
Inline Forms
An integrated form that fits your page's content. Adding forms to blogs, footers, and sidebars is the most common use for this feature.
Slide-In Forms
Slide-up forms appear from the bottom of your site (bottom left or bottom right) after a certain amount of time or scroll percentage has elapsed.
Sticky-Bar Forms
This is a form that appears at the top or bottom of the page.
2) Send Tab
Broadcasts: Send Out One Email at a Time


The broadcasts feature lets you send out one email at a time to your subscribers that are on different sequences.
You can also include tags or personalized messages in these emails to target specific audience segments.
Broadcasts are also a great way to keep your audience up-to-date with all of the most important things in your business.
For instance, you might want to send out a broadcast when you release a new podcast episode, announce that you're hosting an online workshop, or give everyone a heads-up about the upcoming holiday.
You can also use broadcasts to promote one of your products. Just add some copy and an image and send it out!
This is what your broadcast might look like when it arrives in recipients' inboxes:
Hi!
Did you know we have a new product on sale? It's for this and this reason. Check out these features below!

Features 1: xxx
Features 2: xxx
Features 3: xxx

To learn more about it click here.

Regards, 
Your Name
Sequences: Set of Emails Where You Can Set Up Triggers


It allows you to pre-write emails and schedules them to be sent automatically at different times.
For example, if you want to send out 10 emails over the course of one week, you can set up a sequence with 10 emails over 7 days.
Sequences make it easy for marketers to control the timing of their emails without having to write an entire series by hand.
They're highly customizable too: you can choose how many emails a sequence should have, what type of delay there should be between each email in the sequence (hours or days), and what tone to use for each email.
Email Templates: Create Email Templates so You Can Use Them as a Starting Point


You may create templates of emails that you wish to send to your subscribers and then reuse these templates for future similar email campaigns.
Converkit gives you two options for creating email templates.
i) Visual Email Template editor


You can easily create beautiful Email Templates with no coding required. You may just select any provided template as per the screenshot above and you're good to go. Customize the visual styles according to your preference!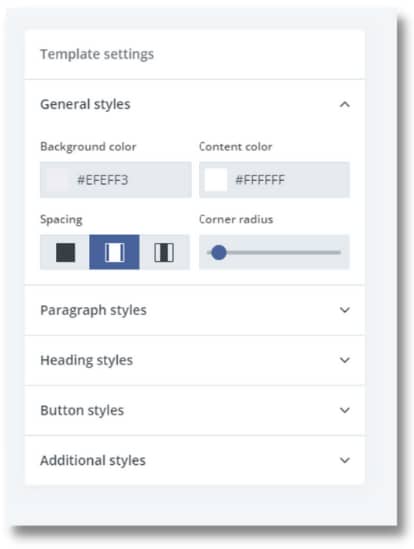 ii) Custom HTML Email Template


You can still go completely custom with your email template if the visual style is not your cup of tea. Use HTML.
This is how it looks like.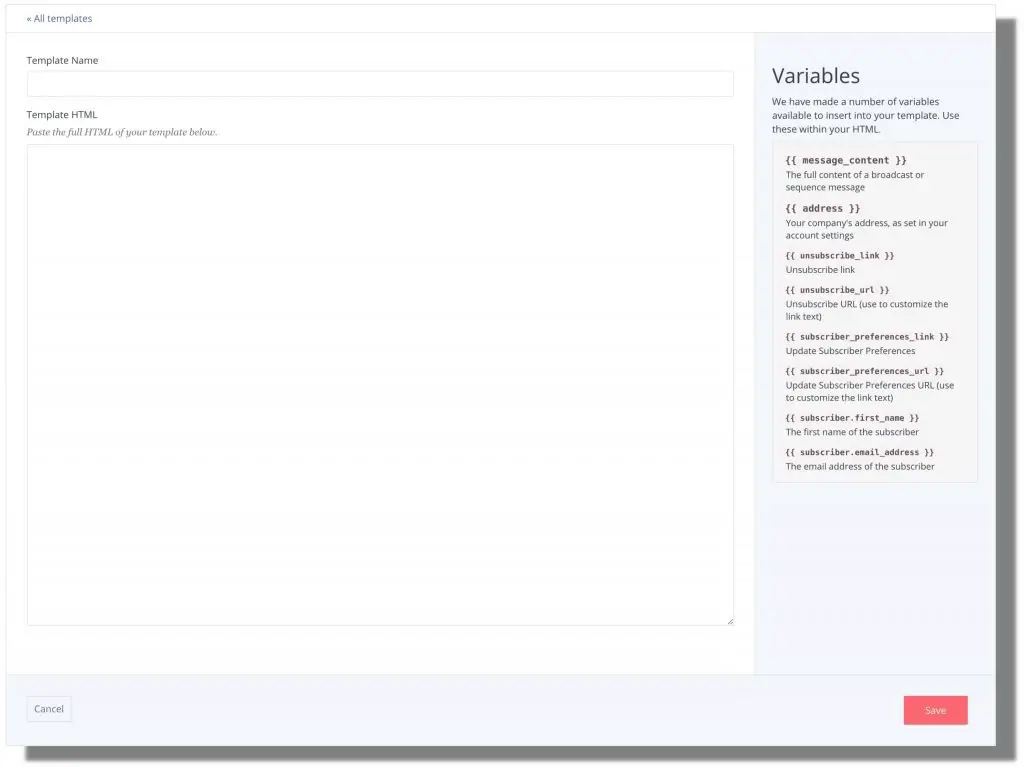 Snippets: Allow You To Store Reusable Blocks of Content.


ConvertKit's snippet feature is a blessing for marketers. Marketers have been able to save time from manually cutting and pasting content from one email to another.
Snippets can be inserted into email templates using Convertkit's editor. This saves a lot of time as a marketer would not have to mouse around looking for small snippets of text that they want to reuse.
Marketers also have the option of creating snippets that are more complex than just a sentence or two of text by including attachments in the snippet.
3) Automate Tab
Visual Automation: Automate Your Emails With Ease


Visual automations also called funnels, will enable you to send targeted, well-timed content to your audience.
You can use visual automations to:
Set up automated funnels
Customize your subscriber's path according to their actions
Provide the right type of content to the right audience at the right time
Segment your audience based on their journey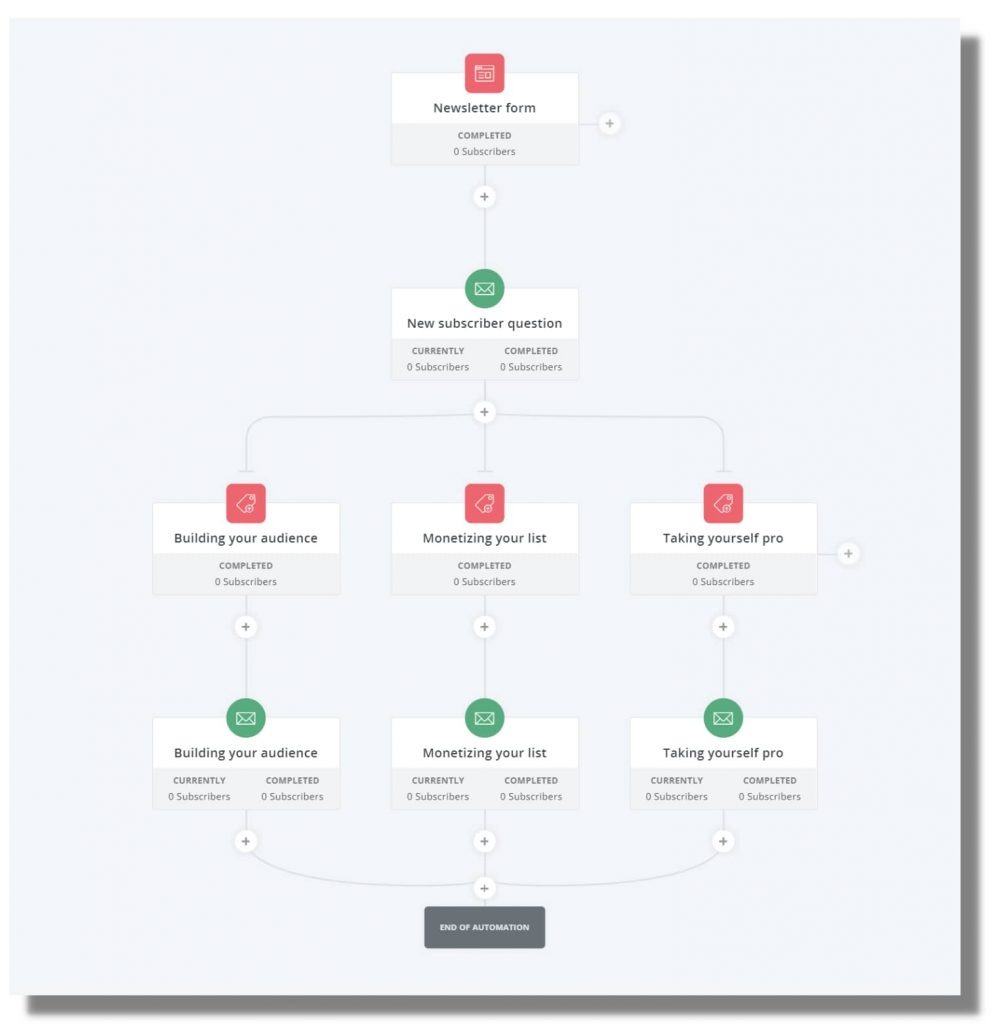 Visual automations give you the ability to build custom paths for your subscribers. It doesn't matter what business you're in, automation can be beneficial for you and your audience.
Rules: To Create Custom Workflows by Setting Up "If This Then That" Statements.


A feature that really sets ConvertKit apart is automation rules. These automated tasks can be set up in Convertkit to take care of repetitive workflows that you don't have time for, or to notify you about specific things.
Rules allow you to create custom workflows by setting up "if this then that" statements. With rules, you can have Convertkit take care of repetitive tasks or notify you about specific things.
Integrations: Connecting ConvertKit to 3rd Party Tools.


One of the most important features of Convertkit is its ability to integrate with a number of third-party apps as well as platforms.
This integration enables you to import data from other platforms into Convertkit and also export data from Convertkit into other platforms.
Convertkit Review: Final Say
ConvertKit is an email marketing platform that's used by many of the most successful bloggers.
They offer different automation tools that will help you increase conversions on your website.
It does all the heavy lifting that can take hours for you to do by yourself.
This company offers various automation tools to build basic and advanced email automation. With their simple interface and great customer service, it's no surprise that they're the most popular and highest-rated email marketing platform among bloggers and entrepreneurs.
The most notable features of Convertkit are how easy it is to use. You can also create landing pages and host them for free on ConvertKit's platform, which is really useful if you want to start an online business or blog.
In essence, ConvertKit is a marketing automation tool that integrates with most existing services and apps to create an efficient workflow from content creation to sending emails and everything in between.
If you are looking for an email platform that will allow you to create your own custom workflows and segmentation, ConvertKit may be the perfect option for you.
Because ConvertKit is such a fantastic email marketing platform, I personally use it and highly recommend it.
The ball is in your court now, ready to give it a try? Here are two ways you can give Convertkit consideration:
1. Try Convertkit for Free here (no charge at all). The only downside? You can't try Sequence, Visual Automations, Rules & Integrations.
2. Sign up for Creator Pro with my link and enjoy a 30-day free trial here.
That's all for now. Let me know your thoughts in the comment section below.
I hope you enjoyed reading this comprehensive Convertkit review.
Signing off now, cheers!