Like most people, you probably have a love-hate relationship with exercise. You know it's good for you, but sometimes it's hard to motivate yourself to get up and get moving. But what if I told you that you could get paid for your steps? That's right, there are apps that pay you to walk.
And the best part is, you don't have to run marathons or lift weights to earn money. You can simply walk around your neighborhood or take a leisurely stroll through the park and get paid for it.
How Do These Apps Work?
There are apps that can pay you to be active. They use your phone's GPS to monitor activity and reward you when you meet a specific goal. It's like getting paid for exercise.
With certain apps, you can get cash rewards, vouchers, discounts, and more. Plus, some of them even give you the chance to participate in competitions with other users and receive even greater rewards.
The Best Apps That Pay You to Walk
So, what are the best apps that pay you to walk? Here are 10 of the best apps that will reward you for getting up and moving:
1. Sweatcoin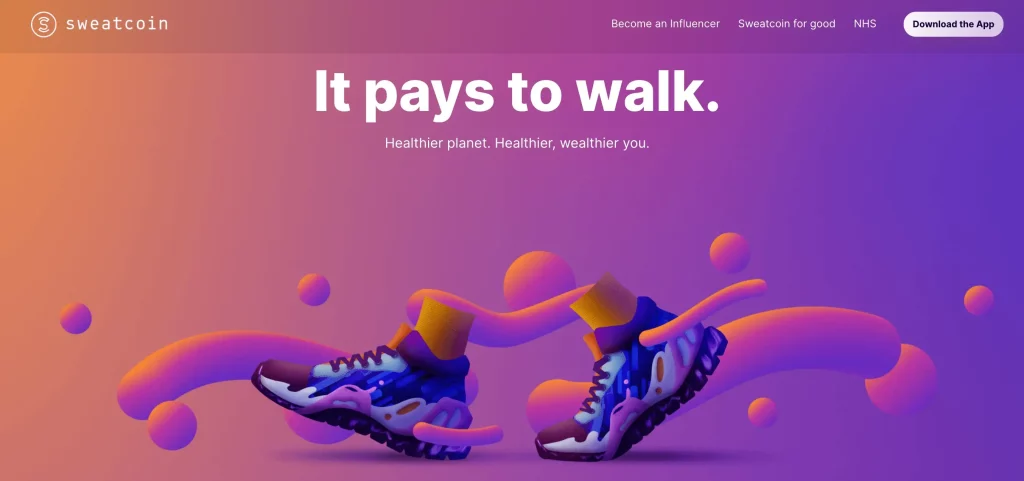 Sweatcoin is an awesome fitness app that rewards you for your efforts in getting into shape. It keeps a record of all your activity. This app will reward you for your hard work by converting your steps into digital currency. You can then use it to treat yourself to something nice, like new shoes, a gym membership, or an awesome meal. How great is that?
Sweatcoin stands out among other fitness apps by not needing a pedometer, fitness tracker, or wearable device. All you need to do is download the app, switch it on, and start walking. You'll be amazed at how many steps you can quickly accumulate and the rewards that come with them.
Sweatcoin offers an incredible incentive for getting active. The more you get on your feet and hit the pavement, the better rewards you can get. So don't hesitate to start earning those awesome rewards now.
2. WinWalk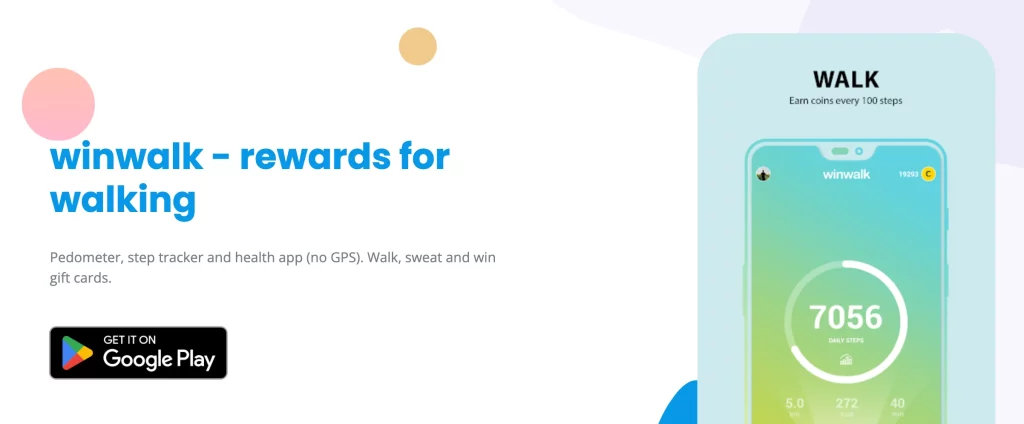 Winwalk is an awesome, free-step tracker that gives you gift cards from popular stores when you hit certain milestones. The more active you are, the healthier you get and the better rewards you receive.
The app is there to help motivate you to meet your fitness goals. Every time you reach the step goal, get rewarded!
It's a great way to stay active and get some sweet goodies at the same time. So, what are you waiting for? Put those walking shoes on and start moving.
3. StepBet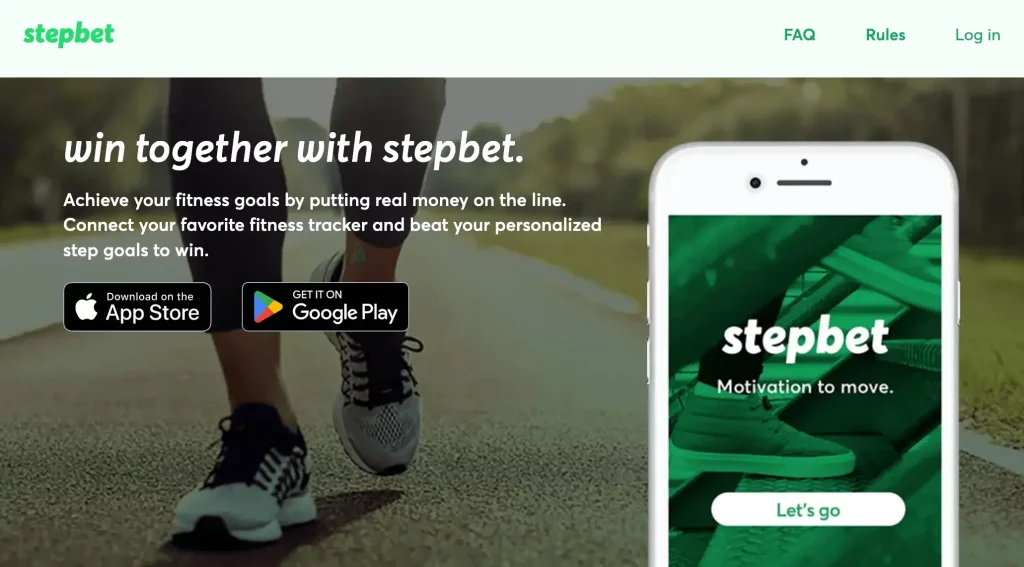 StepBet is a real-deal fitness app that helps you turn your regular steps into big wins. Using the power of gamification, this app keeps you motivated to reach your targets and get fit. Just link up your fitness tracker or your smartphone to the app and start getting rewarded for completing your step goals.
StepBet makes staying active way more fun. With its cool challenges and the opportunity to make some money, you'll be jumping out of bed to reach your step goals.
4. Evidation (Previously known as Achievement App)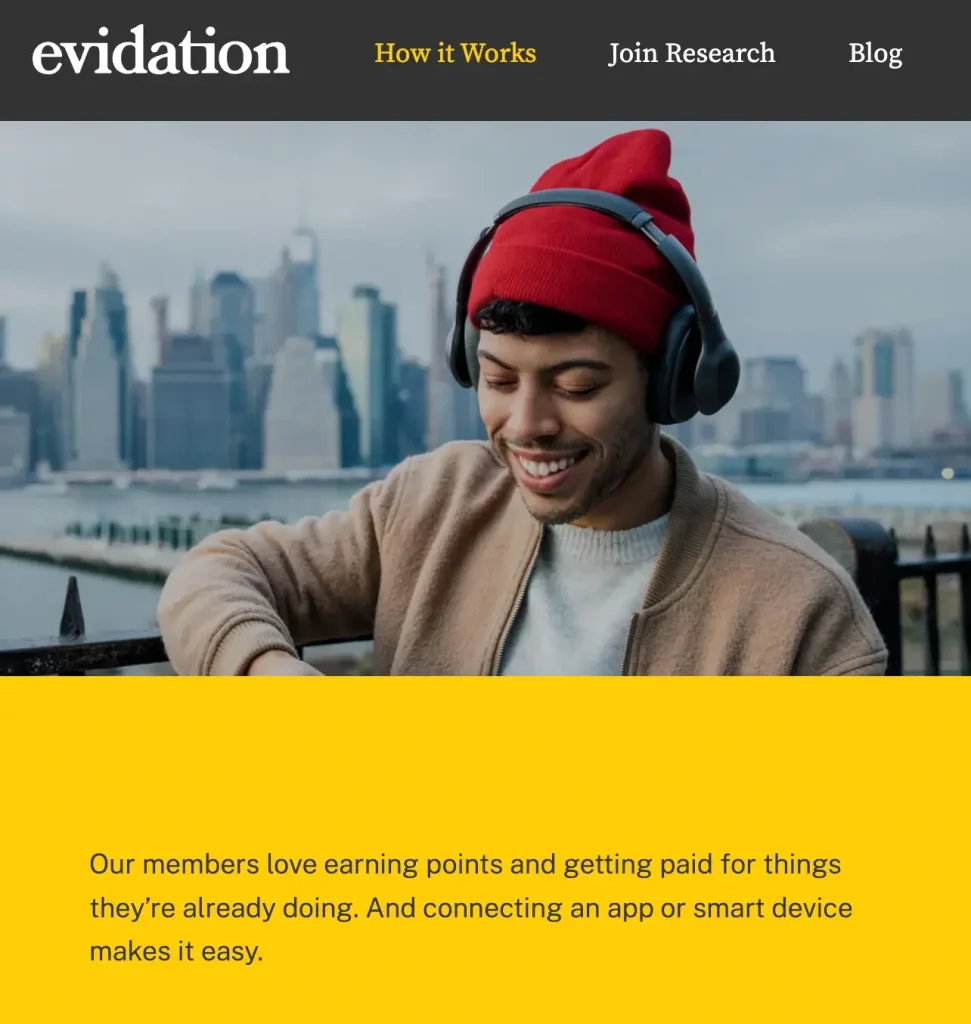 Even with a different name, you can still get reward points for practicing healthy habits, taking part in important research studies, and staying informed on health topics through personalized news and insights.
The Evidation app is straightforward to use and has an intuitive UI, so you can get your rewards going right away. Whether you're a walking pro or just starting out, this app is a great way to convert your steps into money.
5. Walgreens Balance Rewards
Walgreens Balance Rewards is another simple app that pays you to walk. This app allows you to score some sweet rewards just for keeping active. Simply download the app, create an account, and link up your fitness tracker.
You can reap rewards by staying fit and active. In essence, it's like getting paid for keeping yourself healthy.
You can download the Walgreens Balance Rewards app for free, available for both iOS and Android devices. This app makes it a breeze to connect your wearable or phone and track your steps and other activities.
So, whether you're out for a stroll, practicing yoga, or getting into some sports, the Walgreens Balance Rewards app will monitor what you do and reward you for it.
Now, here's the catch: instead of cold hard cash, you'll be earning points that you can redeem for purchases at Walgreens.
But, hey, who doesn't love a good excuse to treat themselves to some new snacks or beauty products? So why not give it a try and see how many points you can earn?
6. Lifecoins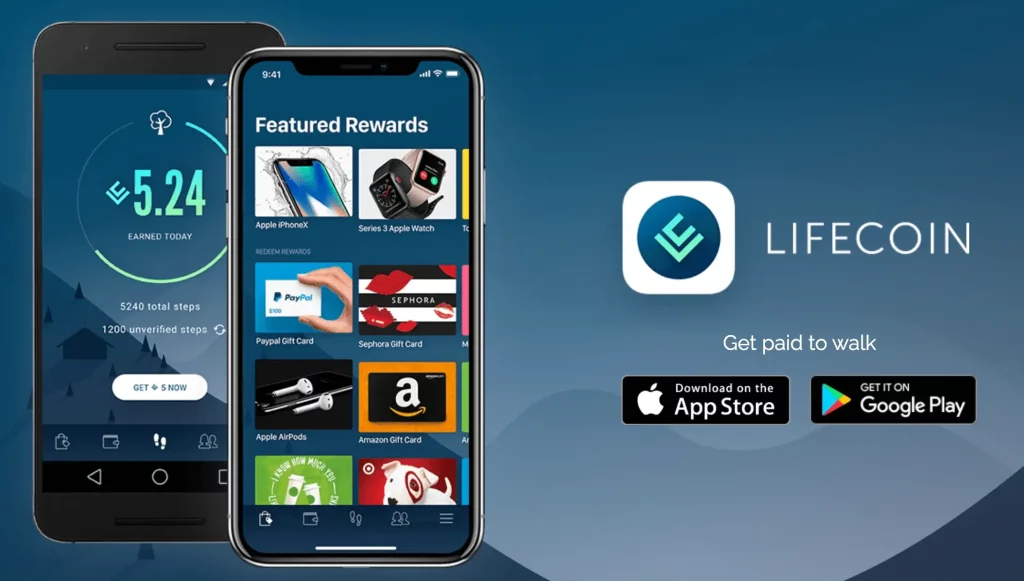 Make the most of your daily walks – you can score Lifecoins with each step recorded on GPS. This way, the more steps you take, the higher rewards you can get.
With LifeCoin, you can score sweet prizes like gift cards, sports gear, and more. And the best part? They're always adding new rewards to the list, so keep checking back to see what's up for grabs.
A key point I wish to make clear is Lifecoins are only generated when you take outdoor steps. Taking 1000 steps will get you 1 LifeCoin, and it will include a small 5% commission as a fee to help keep their business going.
7. HealthyWage
HealthyWage is an exciting app that rewards you for taking up healthier habits. You set a target, monitor your progress, and get rewarded with money when you hit your goals. It's the perfect way to stay motivated while living a healthier lifestyle. If you're looking to slim down, increase your fitness or just stay healthy, HealthyWage has you covered.
HealthyWage lets you turn your weight loss goals into a money-making opportunity. Bet on yourself and join a weight loss challenge to win big bucks! You could potentially walk (or do other activities) your way to up to $10,000.
8. Runtopia
With its GPS tracking, audio alerts, and data analysis capabilities, Runtopia is the perfect app for anyone looking to get fit and get rewards at the same time.
This app tracks your activities with GPS data and rewards you with digital currency (coins). You can redeem these coins for sports gear or some cool prizes.
9. MapMyWalk
If you're running a marathon or beefing up for the biggest season of your life, these guys are here to help you make some serious progress without sacrificing rewards.
I really love the rewards this app offers – all those cool Under Armour products and other fitness gear from different brands. It's great!
The only thing that stood out to me was that a workout (level-up challenge) should be at least 15 minutes long. In the end, you'll be rewarded with a healthier body and some prizes in return. Sounds like a fair deal to me.
10. PK Rewards
PK Rewards is an innovative iOS app designed to help you stay fit and healthy while earning rewards too. With this app, you can get rewarded for working out and achieving your fitness goals! Whether it's a walk, jog, or run – now you can earn prizes and rewards along the way.
You have the opportunity to redeem amazing rewards like Gift cards, apparel, and even trips.
Redeeming prizes is a breeze. Just follow these 3 easy steps and you'll be on your way to enjoying your rewards.
Track Any Workout – Their revolutionary technology can accurately assess your energy output for any type of training – it doesn't matter when, where, or what you're doing.
Convert Effort Into Coins – Get rewarded for all your hard work. Track your effort score in each workout – the more effort you put in, the more coins you earn.
Redeem coins for prizes – Exchange those coins for awesome rewards from top brands such as Lululemon, Amazon, Nike, and more!
How Much Money Can You Really Make From These Apps That Pay You to Walk?
The answer to this question is, well, it depends! You see, the amount of money you can make from these apps that pay you to walk varies from app to app.
A bunch of apps out there pay you back in different ways: cash, rewards, digital money, prizes, and more. So you're spoiled for choice no matter what kind of incentive you're after.
Let's be real here. Don't expect to strike it rich with these apps, but if you're already going on a walk, why not get some cash or rewards out of it? It's an easy way to earn something extra.
Put it this way, you already walk around all day, so why not get paid for those steps? Sounds like a sweet deal to me. And it's a win-win situation too.
It's basically like getting money for doing nothing, but in reality, you are doing something.
If you're looking to boost your income, it's worth taking a look at these other money-making methods:
Tips on How to Maximize Rewards and Strategies for Staying Motivated
With the right strategies in place, you can maximize the benefits and rewards that these apps offer.
Here are some tips on how to make the most out of walking apps and strategies that can help you stay motivated.
1. Sign Up As Many As Possible
A great tip for maximizing your earnings from these apps that pay you to walk is to sign up for as many of them as possible. Don't just stick with one, since that will limit the total cash you can make. With multiple apps, you'll be able to really amp up your earnings.
2. Start With Something Manageable
Don't try to push yourself too hard on day one by taking on a 10k walk if you're not quite there yet. Gradually work your way up to your goal. Start small and increase the intensity as you go.
3. Track Your Progress
Consistently keep track of all the progress made and pat yourself on the back when something important is achieved. This will help generate more enthusiasm within you to strive for better results.
4. Choose the Right App
Find an app that rewards you in a way that fits your lifestyle and goals. Suppose you're into fitness, look for an app that gives you perks for accomplishing your fitness objectives.
5. Join a Challenge
Some apps now provide you with fun challenges to help stay motivated and earn rewards too. Pick the one that speaks to you and give it your best shot to come out on top.
6. Make It a Habit
Include walking in your daily routine. Doing this on a regular basis will help you reap the long-term benefits.
7. Have Fun
When it comes to walking, have some fun. Pop in your headphones, bring a buddy along, or get creative and find ways to make it enjoyable.
8. Don't Forget to Laugh
Walking is serious business, but don't forget to have a good laugh every once in a while. "Why did the tomato turn red? Because it saw the salad dressing."
Final Say: Apps That Pay You to Walk
Now's your chance to make money while strolling with these awesome apps that pay you to walk. With a plethora of apps out there, you can definitely find one that suits your requirements and fits in with your lifestyle.
So, why not give it a shot?
Who wouldn't love to have some extra money in their pocket just by going about their daily routine? It's almost too good to be true!
But with these apps, you can do just that. Plus, you get to track your progress and see improvement in your fitness level. It's a win-win situation.
All in all, I'm hoping this article gave you the info and motivation to start reaping rewards for your steps. So, lace up those shoes and start turning your steps into cash with these apps that pay you to walk.
Happy walking and happy earning, folks!