Last updated on 28th August, 2023 at 01:57 pm
Heads Up: For the sake of transparency, this post might contain affiliate links. If a sale is made, I will receive a small commission (at no additional charge for you), which helps keep the lights on and helps feed my cats. Please read our disclosure policy for more information.
Are you in desperate mode looking for extra cash right now? You are a single mother with kids trying to find a way of living?
Or maybe your car broke down and really in need of extra money to get the bill covered? I feel you. Life is tough.
You have come to the right place. I will share with you 3 websites that will pay you money for your thoughts/opinions.
I highly recommend you try the websites that I'm going to share before applying for credit cards or bank loans.
And I read your mind; you should put "borrowing money" as a last resort as it is going to put you in a situation where you are constantly chained in paying off debt. Let's get started now, shall we?
1. Chicken Soup for the Soul
Chicken Soup for the Soul, which is the best-selling book of that same name, will pay you $200 for an "inspirational, true story about ordinary people having extraordinary experiences.
It is a simple piece that touches their readers and helps them discover basic principles they can use in their own lives.
Submissions should be no more than 1200 words in length.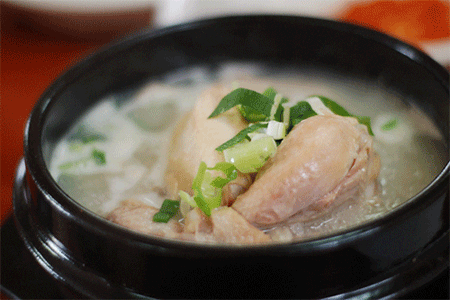 2. JustAnswer.com
 I still remember back in the days when it was pretty hard to get answers or information on a certain thing.
But in this modern world, all the information is at your fingertips in seconds. However, you still need to read and find the answer/information needed.
This is where JustAnswer comes in. They know this and offer a service where people can get answers to questions from real experts via the internet.
You must be wondering if you can really make money with this website.
Before we go through it briefly, JustAnswer is a question-and-answer website where professionals in different fields earn money by answering questions related to their fields of practice. All you have to do is sign up and choose your category accordingly. 
What will you need to join JustAnswer?
Basically, you need a computer or laptop and reliable internet. First, you need to sign up with your full name and email. Once done, you may proceed with the next eight-step sign process.
I'll just be honest here; the signup process is a bit tedious because it requires a lot of information from you in order to get verified. Let me just list down part of the steps below.
A resume or CV in PDF or DOC format
Information proving your level of experience including employer's name and phone number
Any professional license (license type, number, country, and contact information about the licensing authority)
Your ID, driver's license, or passport
A recent photo of you
Roughly it takes 10 minutes in order for your application to be approved. Then once approved, you can start browsing for questions to answer in your category.
3. ListVerse.com
ListVerse is an online writing site that pays you $100 for each article. But, doesn't it sound fascinating?
Of course! But once again I'm being honest here. Any site paying you that much for a single article will have some strict rules that you need to follow in order to get paid.
But don't worry guys. You just have to follow the instructions carefully and everything will be all right.
Oh! In order to get paid, you need a PayPal account; there is no other payment option. So in case, you don't have one, go ahead to create it for free. It's pretty easy to create one.
The website has six main topics which are as below:
Entertainment
Lifestyle
Society
Science
General knowledge
Bizarre
Bear in mind that this website requires all the writers to submit an original article, which means it hasn't been written yet.
They also require that the writer follow their guide in order for their list to be approved.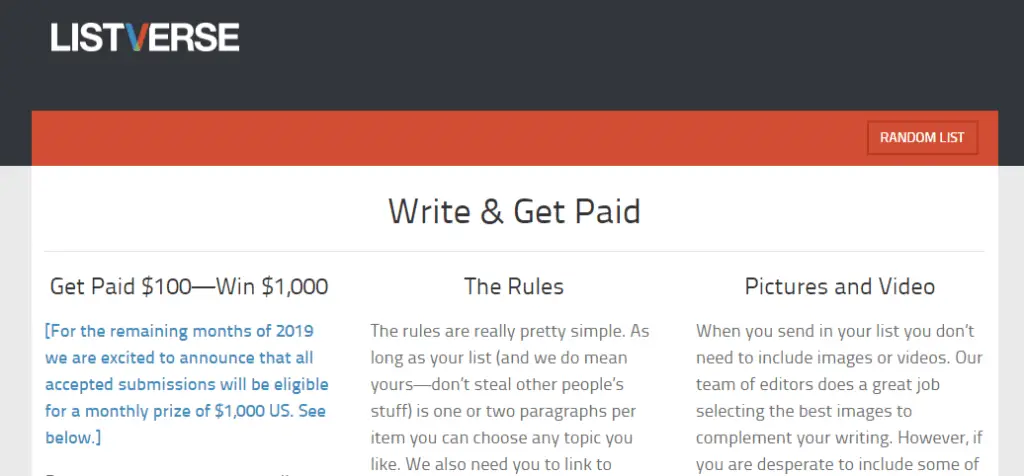 The best part is, you are not required to provide pictures and videos as the company's editors will take care of that.
They will only consider using a picture or video submitted by a writer, especially if it really supports the list.
As this article is written, all accepted submissions will be eligible for a monthly prize of $1000. Isn't that great?!
This is a short list of some of the most popular content on Listverse:
Top 10 Gruesome Fairy Tale Origins
Top 10 Evil Serial Killers
Top 10 Hidden Images in Cartoons
Top 10 Codes You Aren't Meant to Know
Top 10 Strange Things About the Universe
Top 10 Creepy Mysteries You Haven't Heard Of
Top 10 Terrifying Places on Earth
Top 10 Places You Can't Go
Top 10 Evil Human Experiments
Top 10 Prophesies You Don't Know
You get the rough idea, right? Most of the topics chosen by the writers above are pretty good.
Hopefully, this is helpful enough for you guys to start writing your thoughts and earn some money.
If you really love writing, you should consider starting your own blog for as low as $2.95 USD/month! I've written step-by-step on how you can create your own blog and start earning a stable income.