Last updated on 29th August, 2023 at 10:19 pm
Heads Up: For the sake of transparency, this post might contain affiliate links. If a sale is made, I will receive a small commission (at no additional charge for you), which helps keep the lights on and helps feed my cats. Please read our disclosure policy for more information.
Say goodbye to old-school days when affiliate marketing relied solely on manual effort. AI tools for affiliate marketing are changing the game.
With advanced AI tools, affiliate marketers can now optimize their strategies and generate more revenue than ever before.
As an affiliate marketer, I understand the importance of using the right tools to maximize results.
Nowadays, AI tools can help streamline the affiliate marketing process, making it easier to generate high-quality content, track performance, and optimize campaigns.
In other words, affiliate marketers can now optimize their strategies and generate more revenue than ever before.
I've researched and compiled a list of the 7 best AI tools for affiliate marketing that can help to skyrocket your income.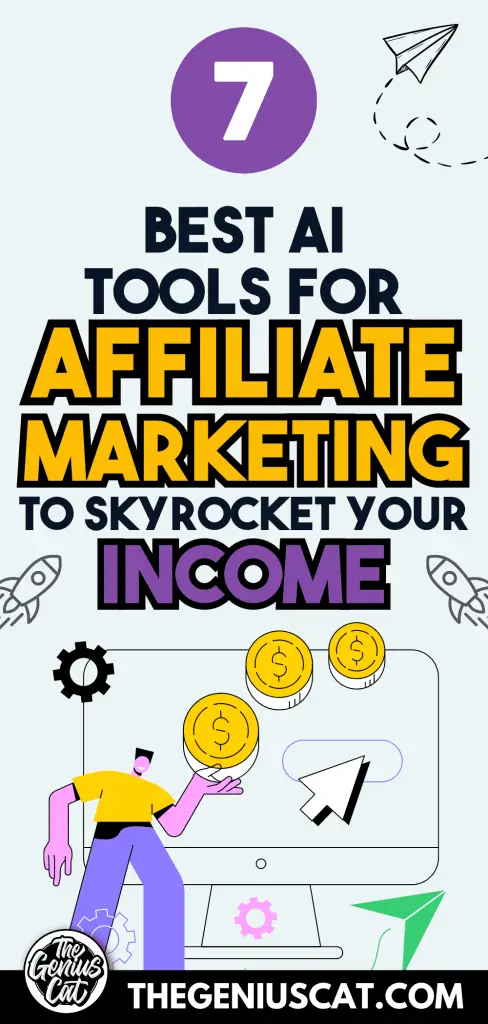 Understanding Affiliate Marketing
Affiliate marketing is a performance-based marketing strategy where a business rewards its affiliates for each customer brought in through their marketing efforts.
It's a win-win situation for both the business and the affiliate marketer. The business gets to reach a wider audience and increase sales, while the affiliate marketer gets to earn money without having to create their own product or service.
To be successful in affiliate marketing, you need to have a good understanding of your audience, the product or service you are promoting, and the marketing strategies that work best for your niche.
You need to create engaging content that resonates with your audience and encourages them to click on your affiliate link.
Here are some related posts you might find interesting:
7 Best AI Tools for Affiliate Marketing
Get ready to elevate your affiliate game with these powerhouse AI tools. Let's dive deep into each of the best AI tools for affiliate marketing.
1. Copyspace.ai – Content Creation

As an affiliate marketer, creating high-quality content is essential to attract and engage potential customers.
However, constantly producing fresh and original content can be time-consuming and challenging, especially when you need to focus on other aspects of your business strategy.
This is where Copyspace.ai comes in handy. Copyspace.ai is an AI-powered content creation tool that enables you to generate high-quality, unique, and SEO-friendly content effortlessly.
With its advanced algorithms, Copyspace.ai can help you create product descriptions, blog posts, social media updates, and other content that resonates with your audience.
Features
This AI tool can generate over 8000 words with just one click.
Works with most languages (English, German, French, Spanish, Japanese, and Italian).
It's built with a super simple workflow.
100+ ready-made AI blogging & marketing tools.
A professional feature-rich text editor.
Chat: AI-writing assistant.
Compose: Guides your writing journey, aiding in creating blogs and articles step-by-step.
Optimize: Uncovers competitor metrics and keywords for effective ranking.
Insights: Tests readability, ensuring your copy is effortlessly comprehensible.
Translate: Transform your content for a worldwide audience with translation.
Pricing
$29.00 / month billed after the free trial phase.
$228.00 / year billed after the free trial phase.
2. Semrush – Keyword Research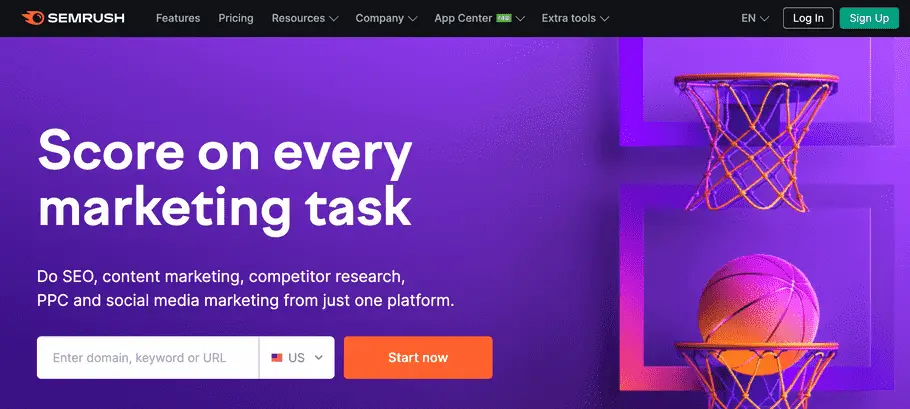 In the ever-changing world of affiliate marketing, it's important to stay ahead of the curve by knowing which keywords will drive traffic to your site.
Semrush is an AI-powered tool that can help you identify the right keywords for your affiliate marketing campaign.
This comprehensive platform offers a range of features that can help you with all aspects of keyword research, from finding the right keywords to tracking your results.
Features
Get insights into search volume, CPC, competitive density, keyword difficulty, top-ranking pages, and more.
Calculate how difficult it is to compete organically for a specific keyword or keyword group with Keyword Overview (Bulk Analysis).
Discover heaps of related keywords from a single query using the Keyword Magic Tool.
Explore a keyword's related niches and interests by volume with the Keyword Magic Tool.
Find question keywords in your niche.
Get fresh ideas from the web's hottest content related to your target keywords with Topic Research.
Keep your keyword metrics fresh as a daisy with real-time updates using the Keyword Manager.
Unearth your rivals' ranking keywords and compare up to 5 competing websites side by side with Keyword Gap.
Pricing
Pro: $129.95 per month
Guru: $249.95 per month
Business: $499.95 per month
3. Pictory.ai – Video Creation

If YouTube is where you're rocking your affiliate offers, hold onto your seat, because there's an AI tool you absolutely need in your corner.
Meet Pictory.ai – your new partner in video creation. Whether you're a business hustler or a creative individual, this AI-powered gem is all about making snazzy, informative videos without the headache.
Imagine this: turning your blog posts, articles, or scripts into captivating videos. Pictory.ai's got the AI magic to whip up videos that fit your unique style and purpose, faster than you can say "subscribe."
And guess what? You can even build videos from scratch if you're feeling extra fancy.
Features
Edit video using text: Edit any video type with the simplicity of editing a Word document.
Create Video Highlight: Turn your long-form content into short, shareable videos that will impress your prospects and clients.
Auto Summarize Long Videos: Quickly and easily create short summary videos from your webinars, podcasts, and Zoom recordings.
Script To Video: Create videos from your scripts with ease.
Blog Post To Video: Turn your blog posts into stunning videos in minutes.
Auto Caption Videos: Generate captions that are highly accurate and clear.
Auto Transcribe Videos: Pictory's advanced AI engine will transcribe your video and remove filler words.
Pricing
Standard: $19 per month
Premium: $39 per month
Teams: $99 per month
4. Surfer SEO – Optimization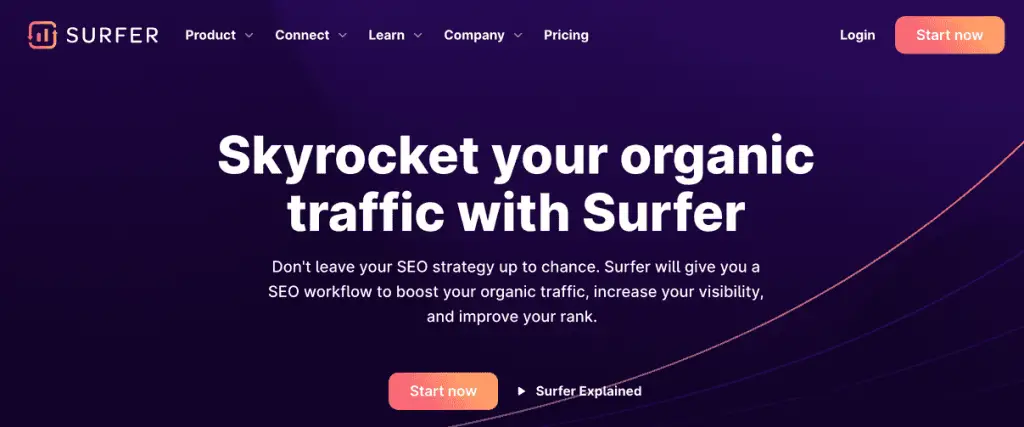 As an affiliate marketer, I know how important it is to optimize my SEO strategy. That's why I'm excited to share with you one of the best AI tools for affiliate marketing: SurferSEO.
SurferSEO uses advanced AI technology to help affiliate marketers improve their organic rankings and drive more targeted traffic.
One of the advantages of SurferSEO is its ability to perform an in-depth analysis of your competitor's SEO strategies. This tool will help you understand what your competitors are doing well and what you can do better.
Features
Content Editor: Create engaging and informative articles that are optimized for search engines.
Keyword Research: Create SEO-optimized content in minutes.
Surfer AI: Create high-quality, search-engine-optimized articles with just a click.
Audit: Improve your existing articles to become the go-to resource for your niche.
AI Outline Generator: Craft outlines that are both audience-friendly and search engine-optimized.
Pricing
Essential: $89 per month
Advanced: $179 per month
Max: $299 per month
Enterprise: Custom
5. Murf.ai – AI Voice Generator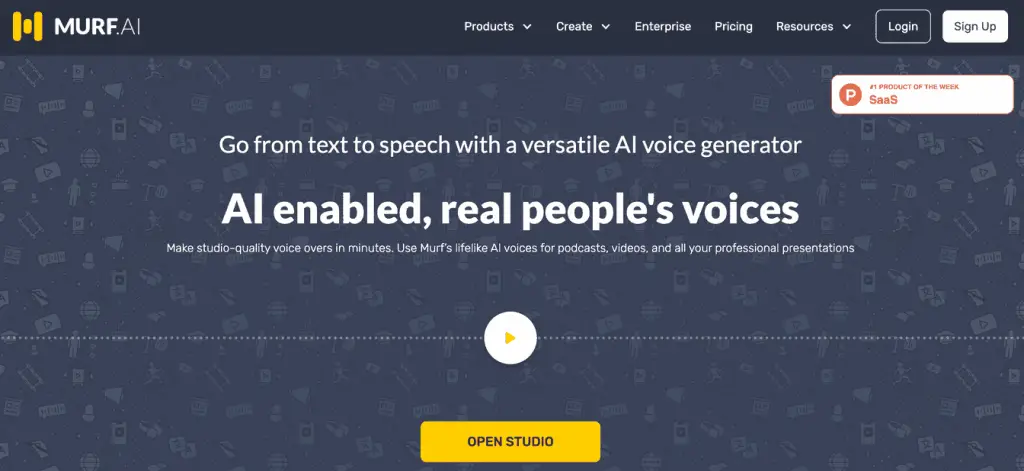 You're rocking affiliate offers on video, and that means you've got a voice to match. Trust me, videos with voice narration are more likely to be watched and understood than videos without voice narration.
But, let's be real, not everyone's gung-ho about using their own voice. Enter Murf.ai – your all-in-one voice generator. This isn't just about generating voices; it's a whole voice extravaganza.
Murf takes center stage as your one-stop shop for killer voices. Tweak the pitch, punctuation, vibes, and all the jazz to make that AI-generated voice sound like a rockstar.
Plus, here's the cherry on top: You can blend in your video, audio, and images with your AI voice. It's like giving your content its very own personality.
Features
Text to Speech: A wide range of 100% natural-sounding AI voices in 20 languages
Voice Cloning: Generate an AI voice clone that mimics real human emotions.
Voice-Over Video: Create high-quality voiceovers.
Voice Changer: Turn your home recording into a professional-sounding voiceover with AI.
Pricing
Free plan: Generate up to 10 mins of voice generation
Basic: $19 per user/month.
Pro: $26 per user/month.
Enterprise: $99 per user/month.
6. GetResponse – Email Marketing

You've probably heard the buzz about affiliate marketing and email marketing being the dynamic duo. They go together like peanut butter and jelly, boosting your affiliate earnings to the max.
Guess what? GetResponse is here, and it's not just any email marketing tool – it's got some AI magic up its sleeve. Zippy, engaging emails created in the blink of an eye, all thanks to a GPT-powered email wizard.
And the fun doesn't stop there. GetResponse's AI campaign wizard is like your creative partner. It helps you whip up everything – landing pages, warm welcomes, and even newsletters that pack a punch.
Features
Generate leads and build your rocking list.
Keep the convo flowing with your audience.
Autoresponders: Watch those pre-designed emails pop into inboxes automatically.
Visual Workflow Builder: Craft automations with a drag-and-drop builder.
Web Push notification: Snag eyeballs as users surf the net.
SEO Optimization: Give your page a boost in the rankings, right from the tool.
Pricing
Free Plan: Up to 500 contacts
Email Marketing: $19 per month (up to 1000 contacts)
Marketing Automation: $59 per month (up to 1000 contacts)
E-Commerce Marketing: $119 per month (up to 1000 contacts)
7. AdCreative.ai – Ad & Social Creatives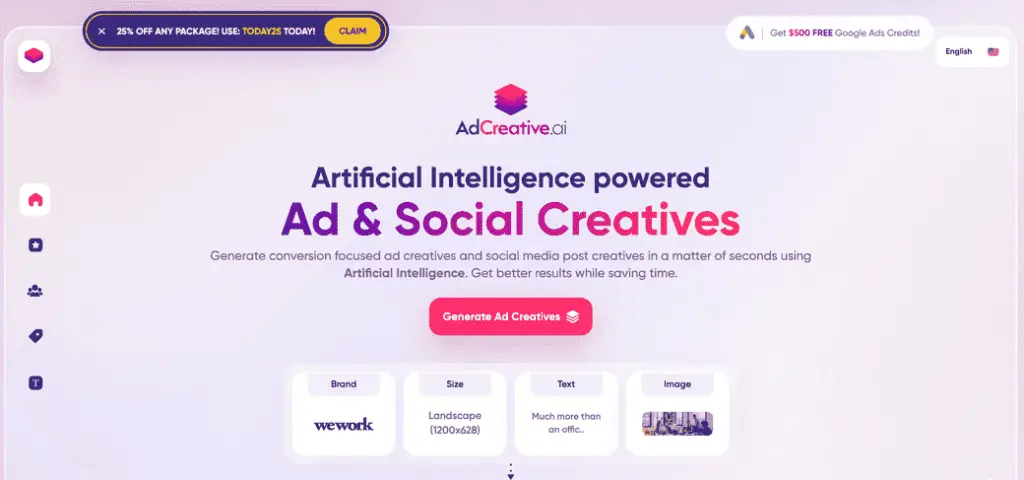 Alright, fellow affiliate marketers, let's talk ad creatives – the real deal to promote those juicy affiliate offers. Believe me, I get the struggle firsthand – brainstorming those eye-catching ad masterpieces is no joke!
Time slips away like sand through fingers, spent on crafting those high-converting ad creatives.
Now, here's the game-changer: AdCreative.ai steps in. Say hello to the AI wonder that whips up top-notch ads in mere minutes.
It does the heavy lifting – figuring out the headlines, nailing the images, acing the descriptions, and giving you that killer call-to-action.
This isn't just any tool; it's like having an AI genius by your side. Your ads go from meh to mesmerizing, and guess what? Your affiliate earnings could skyrocket.
Features
Generate ad creatives in a matter of minutes.
The AI turn wordsmith can come up with dazzling texts and headlines for your ads.
Hook up your Ad Accounts to AdCreative.ai and let it give your creatives a supercharge.
Generate social media posts that make your followers stop the scroll.
Complete Ad Package – it gets your product, cooks up a strategy, and serves you ad gold – from creatives to texts and audiences.
Pricing
Startup Plans: $21 per month
Professional Plans: $141 per month
Agency Plans: $499 per month
How to Choose the Right AI Tool for Affiliate Marketing
Let's break it down into simple steps that even your grandma would get. No tech jargon, promise!
Define Your Needs: Take a second to jot down what exactly you need help with. Whether it's content creation, keyword research, or social media boosting, knowing your pain points is half the battle.
Scope Out Your Budget: AI tools come in all shapes and prices. Decide how much you're willing to shell out. Remember, your bank account shouldn't be crying!
Research, Research, Research: Look around – what are the AI tools that suit your needs? Read reviews, check out demos, and see if they dance to your affiliate marketing tune.
Trial and Error: Don't rush into a commitment. Many AI wizards offer trial periods. Get your hands dirty and see if it vibes with your affiliate mojo.
Ease of Use: You're no AI guru (yet), so make sure the tool is user-friendly. Nobody has time for confusing interfaces.
Support Matters: What if things go haywire? A solid support system can save your sanity. Make sure your AI amigo has your back.
Integration Game: Does it play well with your existing setup? Your new AI sidekick should join the team without causing a fuss.
Future-Proofing: The tech world evolves faster than a cat chasing a laser. Choose a tool that's up for the long haul.
Feedback Loop: Can you chat with the developers? Share your thoughts, because nobody understands your needs like you do.
Trust Your Gut: Sometimes, it's all about that gut feeling. If it clicks, it clicks!
So, that's the lowdown. Stick to this roadmap to figure out which AI tool for affiliate marketing is your perfect match. It's all about finding the one that jives with your game plan.
FAQ – Best AI Tools For Affiliate Marketing