Last updated on 6th October, 2022 at 07:19 am
Heads Up: For the sake of transparency, this is a sponsored post and it might contain affiliate links. If a sale is made, I will receive a small commission (at no additional charge for you), which helps keep the lights on and helps feed my cats. Please read our disclosure policy for more information.
Affiliate marketers are a dime a dozen these days. Many people who have never even tried their hand at affiliate marketing are jumping on the bandwagon.
If you're an affiliate marketer, chances are you spend most of your time on the internet marketing business, be it blogging, social media, or paid traffic and email marketing.
While all of these activities are great at driving traffic to your website and converting them into leads or sales, they all have one common issue- they put your online privacy at risk! And affiliate marketers work with some highly sensitive information that can land up in competitors' hands if not protected properly.
The web is full of hackers and fraudsters who would love nothing more than for affiliate marketers to fall prey to them. This is where a VPN comes in handy. A VPN is a great way for affiliate marketers to protect themselves from these cybercriminals and stay safe online.
What Is a VPN?
A virtual private network, or VPN, is an online service that helps protect your privacy. A VPN encrypts all of your internet traffic and routes it through a separate server before sending it to its intended destination.
This added layer of security keeps you safe from identity theft, snooping ISPs, and other malicious actors trying to intercept your personal data. In other words, it creates a secure tunnel for all of your web traffic to travel through, hiding it from prying eyes like hackers, ISPs, and government agencies. This means that all of your Internet activity will be hidden from those with whom you don't want to share it.
Sounds too technical to you? Have a look at the diagram below.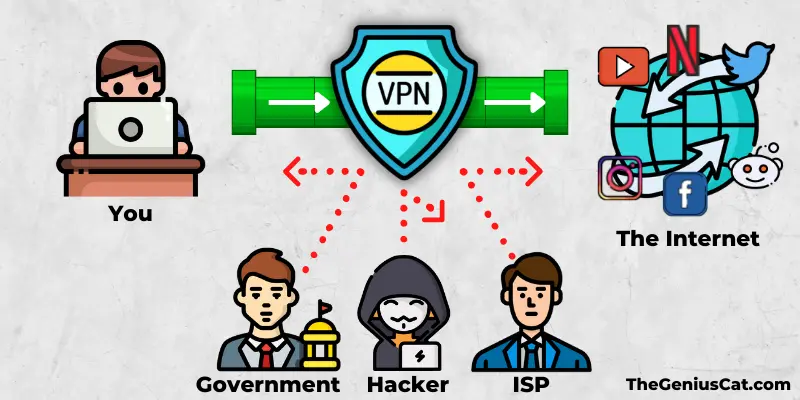 5 Reasons Why Affiliate Marketer Needs a VPN
1. To Protect Your Online Privacy
The internet is a great place for affiliate marketers to promote their products and services. You can reach out to a wider audience and you can also find more potential customers. But in order to stay competitive, you need to have the right online security measures in place.
When you're online, your IP address, location, and browsing history can all be tracked. Without a VPN, you risk having an advertiser or government agency find out exactly what you do online.
Using Tor or another browser extension that masks your IP address will protect you from becoming a target of cybercrime. If an affiliate marketer is working with any affiliates outside of their country of origin, it's also important to use both a proxy server and a Virtual Private Network to ensure safe communication with those advertisers. A VPN will encrypt data traffic so no third parties can monitor communications between affiliates and customers.
2. To Bypass Geo-Restrictions
Doing business in another country isn't always easy. One of the major drawbacks is a lack of access to marketing assets and landing pages. It's likely that affiliates have geographical restrictions, which means you may not be able to access landing pages or any other marketing assets that are only available in a certain area.
For example, if a Canadian-based marketer wishes to promote a US-oriented offer on the Maxbounty network, they may find themselves getting flagged by geo-restrictions put in place by the affiliate network which will restrict them from accessing the landing page or maybe redirect them to a page meant for Canadians.
Geo-restrictions may sound like a Greek mythology fan's fantasy; however, they are very real in the affiliate marketing world and can make or break an affiliate campaign. The solution: A virtual private network (VPN).
A VPN allows you to bypass geo-restrictions and access any landing page of the offers you wish to promote, no matter where in the world it is located. This is useful when you are trying to promote products or services in other countries but can't because of local restrictions in place there.
3. Connect With the Audience
Affiliate marketers need to connect with their audience in order to promote products. They need to understand the audience and what types of ads are being promoted to them. Put yourself in your audience's shoes and see if you would be interested in these ads or not. If you wouldn't, why would someone else?
The best way to do that is by using a VPN service so that you can appear as if you are browsing from any location around the world. This way, affiliate marketers can see how effective their ads are when they target people outside of their normal location or region.
For example, if an affiliate marketer only promotes certain products to people within North America, they will never know whether those same promotions would work for people living in Europe or Asia because they don't have access to these regions through their IP address.
4. A Better Analysis of Competitors
A VPN is the best way to understand how your competitors are doing. With a VPN, you can check what keywords they are bidding on, which ads they are running, and what landing pages they have selected. This is especially useful if you want to promote your products using PPC traffic – as in Google Ads, for example.
If you don't use a VPN, it's possible that other affiliate marketers will be able to outbid you by targeting similar keywords. If so, that could lead to significant losses in revenue. To avoid such scenarios, use a VPN at all times when working with affiliate marketing campaigns. That way, you'll be able to track all of your potential competitors' activity.
5. Work as a Digital Nomad
One of the perks of being an affiliate is that you can work from anywhere around the world. However, connecting to public WiFi networks could expose you to a security threat. Even if you don't store any sensitive information on your computer or mobile device, your IP address may be logged and collected by hackers who use it for illegal activities.
To stay safe and secure online while working as a digital nomad, use a virtual private network (VPN). A VPN encrypts all of your data and routes it through remote servers in different countries so that even if someone were to intercept your data, they wouldn't be able to read it. This means that when you connect to public WiFi at airports or coffee shops—or just about anywhere else—your data will be protected. That is very useful especially if you are often on the go!
How To Choose the Best VPN for Affiliate Marketing
There are hundreds of virtual private network providers out there—far too many to list here. But how do you separate one from another? Although much of what follows is subjective, here's a list of what I think are some of the most important factors to consider when deciding on which provider you should go with. It can be helpful in narrowing down your options.
1. Speed
In general, VPN can slow down the loading speed of your website. Still, some VPNs are able to keep website loading speeds down to a few seconds. If you hate sudden connectivity drops as much as I do, you need to make sure that you choose a VPN that keeps the connection at blazing speed.
2. Reputation and Reliability
The more companies recognize a given VPN as being secure and reliable, the better. Whether it's an independent review site or a company like PCMag, take these reviews seriously. If there are reports of connection issues or problems with servers that you're trying to access, then you know that not all is well. You want as many people on your side as possible when it comes to testing whether your VPN performs well enough for your needs and expectations.
3. Server Locations and Network Size
Before you run out and buy yourself some of that sweet encryption to secure your online activity, consider checking their number of servers and locations. How many different locations does your provider offer? If you travel often or have friends in faraway places, it might be nice to have more options closer to home.
4. Benefits and Features
Nowadays, most VPN providers offer a great number of features and benefits. They can range from simple aspects like compatibility with multiple devices to more advanced attributes like encryption protocols or logging. But every affiliate marketer has their own strategies. Selecting features that match your needs is therefore essential.
5. Customer Support
Since many VPNs are run by individual companies, you'll want to make sure that there is at least one person who can be contacted when you have questions. Some people prefer to chat with their support agents via email and others may wish to speak on the phone, so it's best to read about any company or service you plan on using before purchasing your subscription.
Your Savior Is Here: Atlas VPN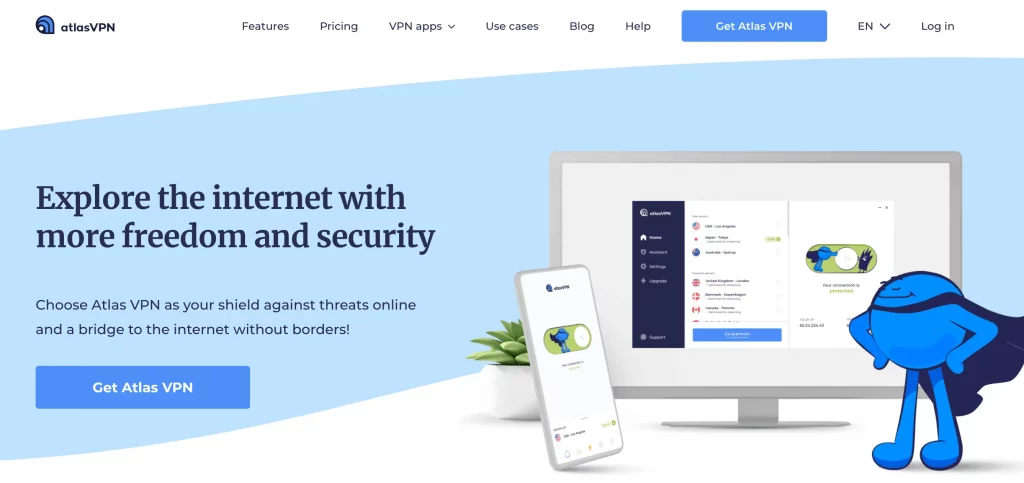 With all the above factors checked, Atlas VPN is one of the top VPNs that allows complete anonymity and security while browsing. From over 750 servers around the world, Atlas VPN has a new way to share your online identity, and what's more, all of them are lightning-fast.
Plus it offers unlimited simultaneous connections and compatibility with all popular platforms. So if you're looking for an affordable but reliable VPN service for your affiliate marketing campaigns, you can't go wrong with Atlas VPN.
Have a look at their pricing.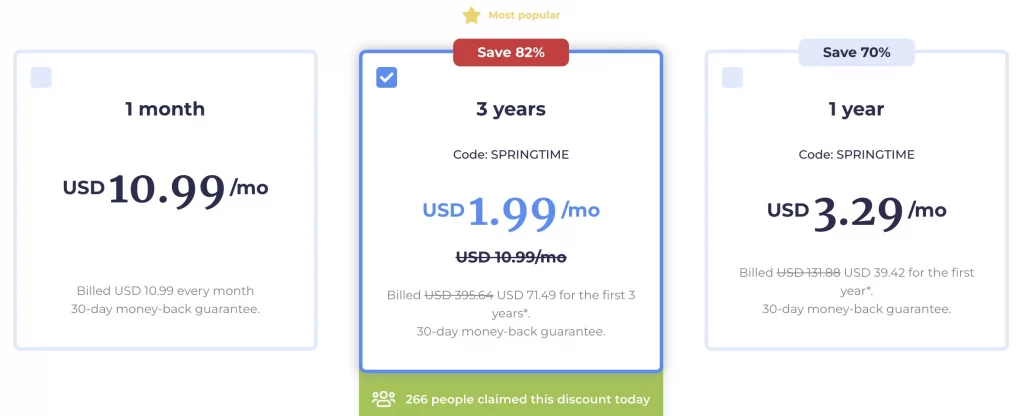 With their 3 years plan being the most popular, I consider this as a great bargain. Don't forget to apply this coupon code: SPRINGTIME and claim your discount today!
Note: The code might be gone any time from the time this post is written. Thus, you might want to grab this deal while it's still hot!
Atlas: The Best Free VPN for You
Atlas VPN offers the best freemium VPN service. Free users can take advantage of great security features, zero ads, and a solid no-logging policy. At the same time, premium plans are extremely cheap, making this a great VPN for a reasonable price.
The only catch? Free users are limited to 10GB per month only. Thus, if you consider yourself a "heavy-duty" user, might as well invest a little with their budget-friendly premium plan.
The Importance of a VPN in Affiliate Marketing
The importance of a VPN in affiliate marketing is becoming more and more apparent. It is no longer just a tool to protect your privacy, but also an essential part of affiliate marketing. Not only does it allow you to hide your IP address, but it also allows you to access geo-restricted content from around the world.
A VPN will also help you avoid ISP throttling, which can be common for those who live in less developed countries where bandwidth limits are still imposed by ISPs on their customers. If you're looking for ways to improve your affiliate marketing business and grow it into something bigger, then look no further than a VPN service provider!
Frequently Asked Questions (FAQs)
What does a VPN do?
It is a service that encrypts your data and routes it through a server in another location. This means that your data cannot be read by anyone else on the internet, not even someone who has access to the same network as you do.
 
Are VPNs legal to use?
The answer is yes. As long as you are using it in a way that is not illegal, there is nothing wrong with using VPNs. I mean, it doesn't sound wrong at all to take steps to protect your own privacy on the internet right?
Is a VPN a must for affiliate marketers?
A VPN not only helps you stay secure when using public WiFi but also gives you the ability to bypass geo-restrictions and access any landing page of the offers you wish to promote. That's an important detail to remember that could help you have a successful conversion rate. Even if it's not mandatory for every affiliate marketer, it's still highly recommended.
Can Atlas VPN be trusted?
Definitely. In addition to offering good security and privacy, Atlas VPN uses strong AES-256 encryption. The company also follows a strict no-logs policy and uses military-grade encryption.
Does Atlas VPN have a free plan?
Absolutely! You can use their free VPN service as an excellent starting point for your safe digital journey. In addition, they also offer a paid version with more servers and features.
Is Atlas VPN compatible with Netflix?
Yes. You may access various geo-blocked websites by simply changing the location of your IP address. Besides Netflix, you can also stream BBC iPlayer, Disney+, Hulu BBC, and many other streaming sites.