Last updated on 5th March, 2023 at 06:21 pm
Heads Up: For the sake of transparency, this post might contain affiliate links. If a sale is made, I will receive a small commission (at no additional charge for you), which helps keep the lights on and helps feed my cats. Please read our disclosure policy for more information. 
I've heard many people who have made a good buck by renting out their extra space on Neighbor.com. It seems like it's a great way to make some extra dough.
But is this really legit? Is it just an apparent positive spin on something bleak?
Or could it be that people are just hyping up the trend to get more people on board?
I am guessing you are wondering the same thing and all those questions have been running through your head wanting an answer. 
Therefore, I am taking you along on this virtual trip review to see whether this website can actually help turn an unused space into a source of much-needed income.
Quick Summary

Visit Neighbor.com
Neighbor.com Review Quick Summary
Neighbor.com is a revolutionary platform that links people with extra space with those in need of it, ultimately helping users earn some extra cash from renting out their unused space.
A flexible way to put extra cash in your pocket
It's free to publish your listings
Easy to get started
What Is Neighbor.com?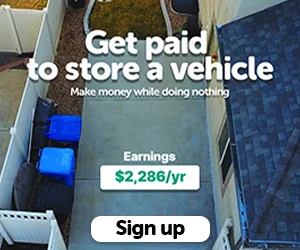 Neighbor.com is an awesome website that makes it easy to rent out excess space and make some money. You can post anything from extra rooms, storage units, and parking spots – so you can monetize your unused spaces even more.
Neighbor.com or famously known as "Airbnb for storage" started in 2016 and since then, has become a go-to destination for online space rental.
In a nutshell, Neighbor.com is an online marketplace that brings together people who want to rent out their empty space with those needing extra storage.
So, it's a great way for folks to make some extra cash while helping others find storage solutions.
Alright, now that you have a better understanding of this site, let's have a look at how it works so you can get a grasp on how to make money off this.
How Does Neighbor Work?
For this review, I'm only looking at it from the perspective of those who are renting out their extra space (host) – not renters. If you're wondering if you can make some cash with that extra space you have, keep reading.
Here's the scoop on how Neighbor acts as a host:
Sign up as a host: To become a host, an account must be made and the details of their storage space should then be listed. These include size, location, amenities, and pictures so that renters have a better understanding of what to expect. Furthermore, the photos can help build trust with potential renters.
Set rental price: Afterward, the host must determine an appropriate rental rate for their space. Neighbor.com offers a Smart Pricing feature at no additional cost; this option automatically raises or decreases the listing price depending on consumer demand.
Screen renters: Hosts now have the option to view potential renters' profiles and review their past experiences with other hosts to make informed decisions. In addition, they can communicate with them to ask any questions and provide relevant details regarding their space when a booking request is received.
Rent out the space: After a renter has finalized the booking of their space, the host will receive payment directly via Neighbor.com's platform. The host is also able to use this same platform to communicate with their renter and check on the status of the rental agreement.
Enjoy the income: When people rent out their property, it is a source of income for the host. This earned income can be used to pay for maintenance or repairs on the property, or it can act as extra income apart from their primary livelihood.
This is basically how Neighbor.com can help you make passive income from unused space in your home or property.
Is Neighbor.com Legit?
Neighbor.com is a secure and genuine way to make money off your extra space at home or out in the open. It has a proven success history, with countless hosts and renters using it to come together and do business.
To ensure your safety, Neighbor.com offers a range of features such as:
Verified profiles: Neighbor.com makes sure everyone on their platform is legit by verifying the identities of hosts and renters alike – so everyone can have a safe, secure experience.
Secure payments: Neighbor.com's platform has got you covered when it comes to payments, keeping both hosts and renters safe from any fraudulent activities and other security risks.
Insurance coverage: They offer insurance coverage to ensure that both hosts and renters are protected. So no need to stress, enjoy the experience with peace of mind.
Customer support: Neighbor.com makes it easy to get assistance whenever you need it with their 24/7 customer support service – so you can rest assured that there's help available anytime.
Who Can Use Neighbor.com to Host Their Space?
You can become a Neighbor host if you've got an unused place and the right to rent it out. That's all there is to it!
If the idea of having a passive income is appealing to you, why not try becoming a host and listing your property? You won't regret it!
What Kind of Spaces Can You Rent?
It's more than just sheds!
From garages to attics, driveways to spare bedrooms, there's no shortage of storage spaces you can rent out.
And we're not just talking about typical storage spaces like sheds and basements. You can even earn money from street parking, warehouses, self-storage units, and shipping containers.
Just make sure to get the green light from your city or homeowners association before turning your street into a parking lot!
So, whether you have a backyard big enough for an RV or a closet that's just collecting dust, turn those unused spaces into extra cash with Neighbor.
And who knows, you might even have some fun meeting new renters along the way.
What Can Be Stored on Neighbor, and What Can't?
If you're planning to use Neighbor.com to rent out unused space, it's essential to understand which items are allowed and which ones aren't.
Items allowed for storage on Neighbor.com:
Furniture
Clothing and textiles
Electronics and appliances
Sporting equipment
Tools and hardware items
Bicycles and motorcycles
Vehicles (with certain restrictions)
And many other household items
Prohibited items on Neighbor.com
Illegal or stolen items
Hazardous materials (e.g. chemicals, explosives, flammable liquids)
Perishable items (e.g. food, plants)
Illegal drugs and drug paraphernalia
Live animals
Any item that poses a risk to the health and safety of others
RECOMMENDED

Become a Host
Get Paid to Rent Out Your Space
Neighbor is the Airbnb of storage. They help you transform the space you already have into cash.
What's the Potential Income With Neighbor?
Think this is what you really want to know, right? Okay… Your possible earnings through Neighbor can vary.
The potential income varies depending on a few factors such as the size of your space and its location. However, the more storage space you have to offer, the more money you can make!
Is that answer not good enough for you? Alright. For a ballpark figure, I'd say anywhere between $50 – $600 per month. Again, it pretty much depends on the storage space you've got and where it's situated.
Since it doesn't cost you anything to list your space, why not give it a shot now? Who knows how much extra income you could be bringing in each month?
But in all seriousness, with a little bit of luck and a lot of space, you could be making enough to finally take that long-awaited trip to Maldives.
Or at least buy a new set of golf clubs.
How Does Neighbor Make Money?
I mentioned before that getting your listing out there doesn't cost you anything – so how does Neighbor.com make its money?
There is a small Service Fee included in the monthly rental payment. You will be charged a fee for this service, which covers several protections and services.
And as a host, you'll pay a small 4.9% + $0.30 Processing Fee for each of your monthly payments. The fees they charge help them keep their system running smoothly and they also get to provide their $1 Million Host Guarantee and Payout Protection to give you the assurance that your money is safe.
That's how they make money.
Make the Most of Your Money With Neighbor.com
Here's a secret technique to help increase your listing's visibility and ultimately make you more money – boosting its search ranking.
1. Prompt Replies Are Key
As a host on Neighbor, you will be assigned a "responsiveness score" based on the speed of your response to renters. If you take too long to reply or don't respond at all, your search ranking may be affected.
Renters are searching for trustworthy hosts, and by responding quickly and efficiently to their messages, you'll show that you're dependable and reliable.
So, make sure to be prompt in your responses, even if you don't plan on accepting the reservation. This will build the renters' confidence in your hosting abilities.
2. Follow Neighbor.com Pricing Recommendations
Forget crunching the numbers all day. They've done it for you, so your price is guaranteed to be optimized and give you maximum profit. You don't have to worry about missing anything.
3. Make Sure to Add at Least 3 or More Photos to Your Listing
Having more photos definitely brings more results. So, if you want to increase your visibility, just upload 3 or more pictures of your place. Here are some helpful tips to take pics with higher quality:
Free up your space and give it a good clean. Doing so will make for better pictures and draw people in to see the place.
Capturing your space from different perspectives is key – take shots from the corners and the doorways to show off your entire space.
Pay attention to lighting while taking pics. If you want amazing results, position yourself so that the brightest light is behind you
4. Profile Photo and Personal Bio
Step up and be a good host. Letting a renter know they can trust you makes them feel much more comfortable, so make the effort to create that sense of security.
5. Provide First Month Discount
A neat deal here – check the box to give renters 50% off their first month's rent. Even if they stay for less than 2 months, you'll still get the full amount.
6. Reach Out for Ratings and Reviews
Ratings and reviews are the modern gold, basically a must-have for anyone looking to make money. Without them, it's super hard to get more sales.
7. Download Neighbor App on Your Phone Now
The app makes it super easy to organize and keep track of your messages and bookings – it's a breeze. Download the app from their website here (scroll to the bottom of the page).
Pros and Cons of Using Neighbor.com
Like with any platform, there are both pros and cons to using Neighbor.com. Let's take a look at each:
Pros:
Easy to get started
A superb way to put extra cash in your pocket
Simple payment processing
Insurance for stored items
It's free to publish your listings
The host's identity is verified
Cons:
Limited to certain locations
Competition for storage space can be high in some areas
Some items may not be allowed to be stored
If you need renters to remove their belongings from your place, you'll need to give them at least 30 days' notice – otherwise, pay a $60 eviction fee.
What Does Trustpilot Say About Neighbor.com?
On Trustpilot, Neighbor.com has an average rating of 3.3 stars out of 5, indicating it's a good option for those looking to make some extra money from their home.
However, there are also some bad reviews from renters who have had negative experiences with the service.
Some customers had issues when trying to cancel their rental – leading to some negative reviews out there. Unfortunately, their cards got charged before they could cancel it.
Final Thoughts – Neighbor.com Review
Well, it looks like Neighbor.com provides a unique opportunity for individuals to earn extra money by renting out their unused space.
However, as with any service that involves renting out your property, it's important to thoroughly research and understand the safety measures in place. This includes checking out customer reviews, including Trustpilot, to get an idea of the experiences of others who have used the service.
At the end of the day, it really depends on your personal circumstances and comfort level with the service.
But hey, if you have some extra space just collecting dust, why not put it to good use and make some cash? Just make sure to do your due diligence to ensure it's a safe and secure decision for you.