Last updated on 13th July, 2023 at 02:52 pm
Heads Up: For the sake of transparency, this post might contain affiliate links. If a sale is made, I will receive a small commission (at no additional charge for you), which helps keep the lights on and helps feed my cats. Please read our disclosure policy for more information.
As a blogger, we all know the pain of staring at a blank page, struggling to find the right words to convey a message. But with the help of AI writing tools, our lives have become infinitely easier.
Last year, ChatGPT has been the talk of the town on the internet. It's a user-friendly AI writing tool that makes it easier for people to access high-quality AI-generated content. If you haven't heard of it already, you may want to check it out.
After the emergence of that phenomena tool, tons of AI writing tools have sprung up like mushrooms after rain.
The only problem? With so many options flooding the market, it can be tough to choose the best AI writing tools for our needs and budget.
And one thing I wish to emphasize here is; don't worry about the notion of AI replacing human roles and stopping you from hopping on the AI train.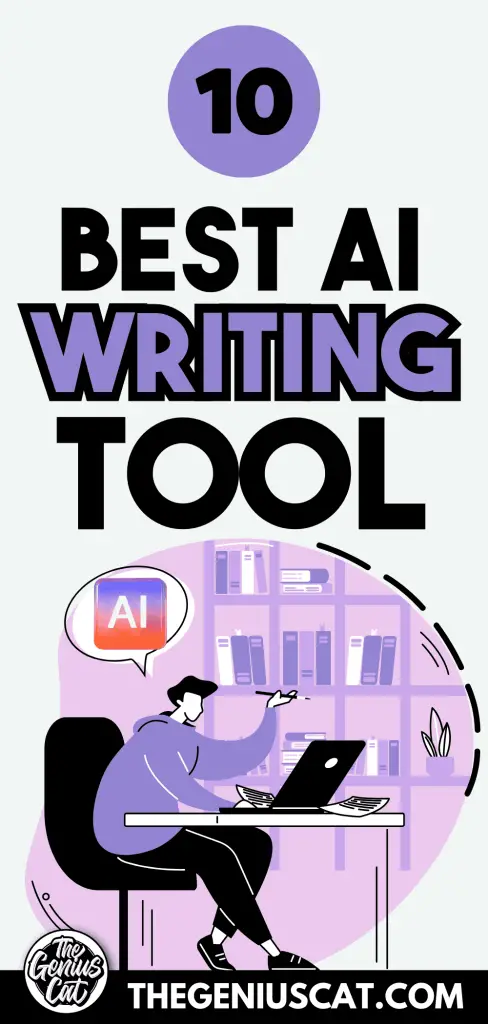 Those who don't adapt and make use of this AI writing tool in their job will be left behind.
Because let's face it, why spend hours struggling to come up with the perfect words when an AI can do it for you? It's like having a personal assistant who never complains or asks for a raise.
So if you are still on the fence or are looking for the best AI writing tools on the market, keep reading.
What are AI Writing Tools?
AI writing tools are innovative software applications that harness the power of artificial intelligence to assist content creators in crafting exceptional content. These tools employ sophisticated algorithms to thoroughly analyze text and offer valuable suggestions for enhancing its quality.
From fine-tuning grammar and punctuation to optimizing the content structure and even generating fresh ideas, AI writing tools serve as invaluable allies in various writing endeavors.
10 Best AI Writing Tools That Won't Break the Bank
Now let's take a look at the top 10 best AI writing tools on the market. We'll explore their features and pricing to help you decide which tool is the best fit for your needs.
1. Rytr.me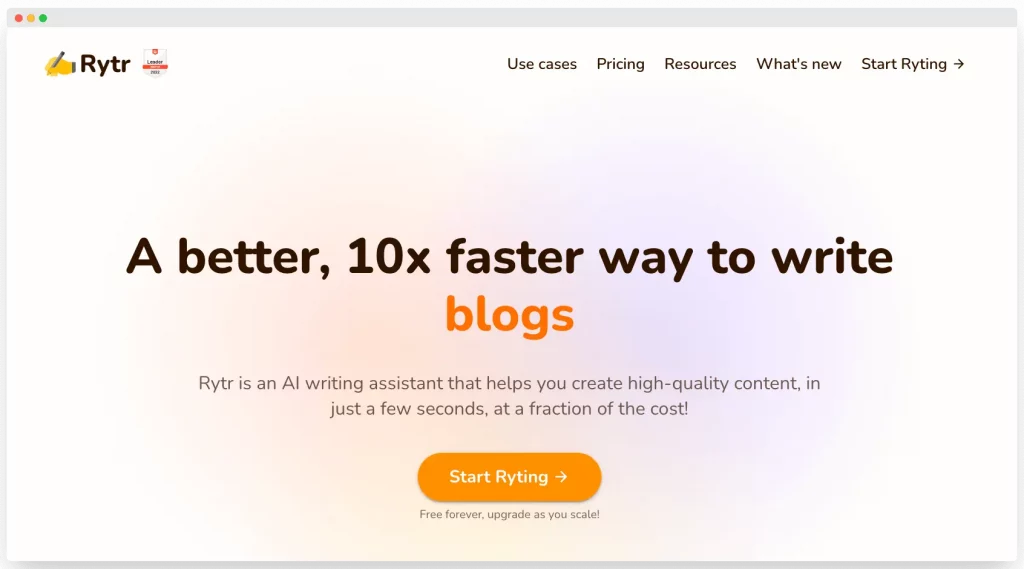 Yes, this is the first AI tool I've tried out on this list. Made my life so much easier as writing used to take me forever – with this, I didn't need to worry about staring at a blank page for ages.
One of the things I like most about Rytr is that it's straightforward to use. Enter your topic and the tone you want the content to be in, and Rytr will do the rest. You can also provide Rytr with additional details, such as the length of the content you want or the specific keywords you want to include.
But what sets Rytr.me apart from the rest of the AI writing tools? Well, imagine having a magical writing genie at your disposal, one that can whip up entire blog posts, ads, reviews, and even business articles with just a few clicks.
That's the power of Rytr. me. It's like having a wordsmith wizard on your side, conjuring up captivating content with very little input from you. You'll be amazed at how effortlessly your ideas come to life.
Features
You can communicate with Rytr Chat in a very natural way while creating content. An entirely new approach to content creation
AI-powered writing assistant that helps you generate high-quality content quickly
Offers a variety of content types, including blog posts, social media content, product descriptions, and more
Provides a user-friendly platform with a simple interface
Allows you to customize your content by adjusting tone, style, and word count
Includes a plagiarism checker to ensure your content is original
Offers a team collaboration option to enable multiple users to work together on a project
Provides 24/7 customer support to assist with any issues or questions you may have
Offers a free trial so you can test out the platform before committing to a subscription
Continuously improves its AI technology to provide even better content generation capabilities
Pricing
Since the paid plan offers an unlimited number of characters, affordability was a major factor in making me choose this AI writing tool.
Have a look at their pricing plan: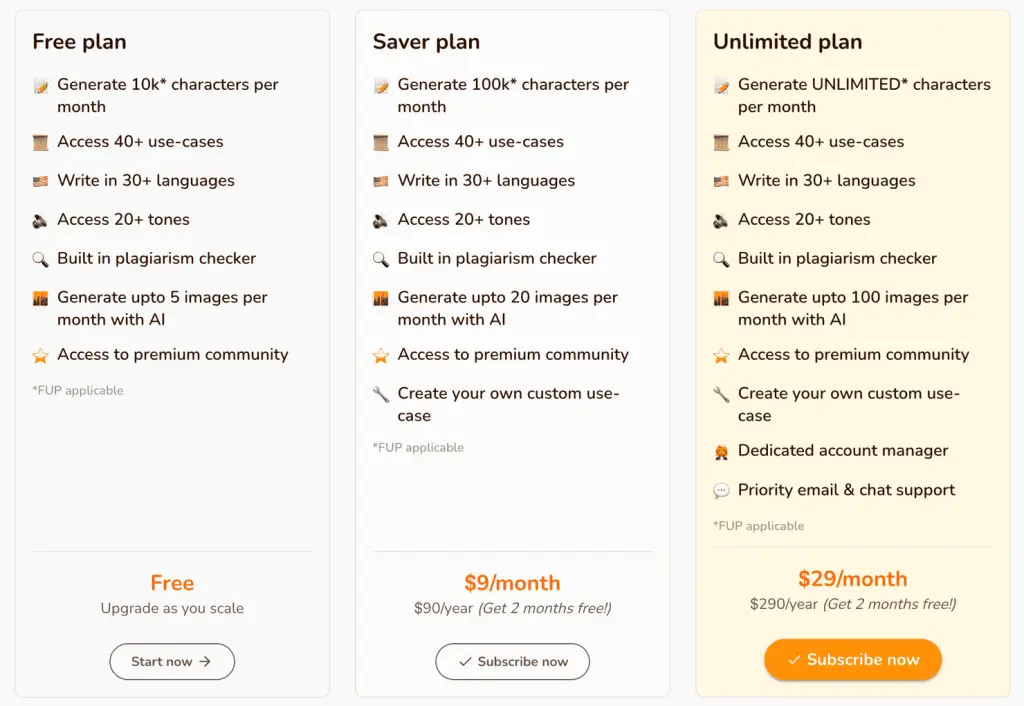 Free: Generate up to 10k characters.
Saver Plan: Perfect for those dipping their toes into the world of AI writing. For just $9 per month; $90 per year (Get 2 months free) you get access to 50,000 characters to let your creativity flow. It's like having a magic pen that never runs out of ink.
Unlimited Plan: For content creators who want to unleash their full potential, the Unlimited Plan is the way to go. At $29 per month; $290 per year (Get 2 months free), you'll have the power to create without limits.
Don't lose the momentum! Explore my other blog articles on generating income and continue to grow your revenue stream.
2. Scalenut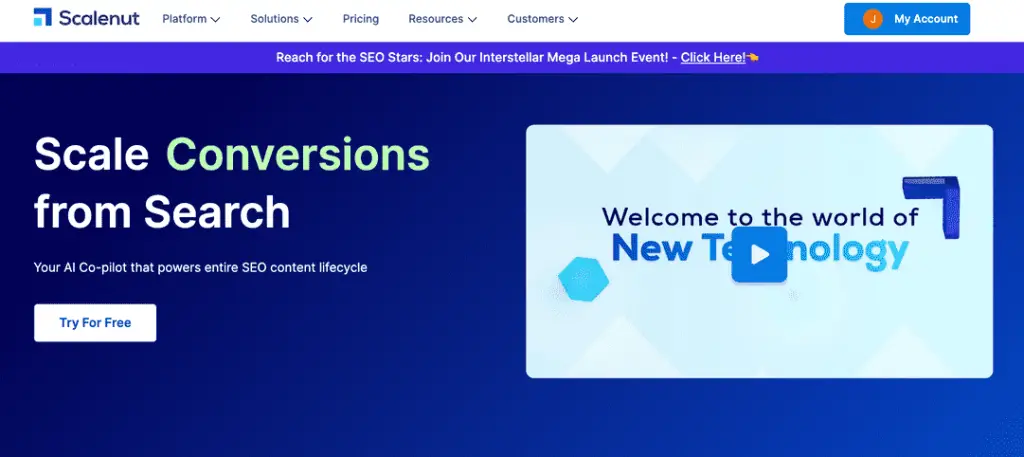 If you're on the hunt for the best AI writing tool that won't burn a hole in your pocket, let me introduce you to Scalenut.
Let's make one thing perfectly clear – just because something is affordable doesn't automatically mean that the quality won't be up to scratch.
I've been using Scalenut for quite some time now, and I'm really impressed with it. It's an AI writing tool that can help you create high-quality content in a fraction of the time.
I simply called it the Swiss Army knife of content creation, designed to meet the needs of content creators, entrepreneurs, and agencies alike.
Now, let's take a closer look at the features that make Scalenut a must-have tool in your content creation arsenal (it pains me to type that word as a Manchester United fan, lol).
Features
Cruise Mode: Time is of the essence, my friend. With Scalenut's Cruise Mode, you can create a blog post in just 5 minutes.
SEO research tools and keyword optimization: Scalenut can help you research keywords and optimize your content for search engines.
Content Grading: Its content grading feature gives you insights into the readability, engagement, and overall quality of your writing.
Team Collaboration: Content creation is often a team effort, and Scalenut understands that. With its collaboration functionality, you can seamlessly work with your team members, exchange ideas, and conquer content projects together.
Social Listening: This feature allows you to tap into the trends and conversations happening in your industry.
Review Generator: With its ability to generate product reviews, you'll have a collection of glowing testimonials that will make potential customers flock to your door.
Pricing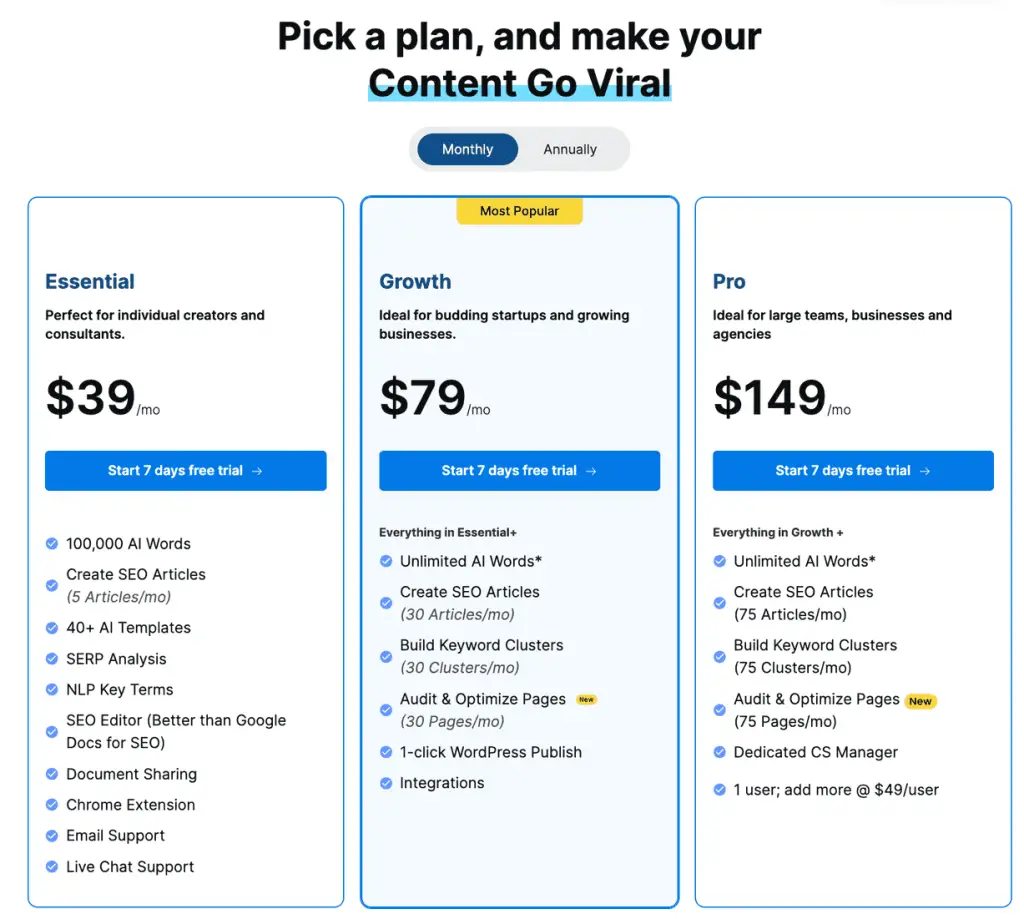 Now, let's talk about pricing because we know budget matters. Scalenut offers flexible plans to suit your needs:
Essential Plan: Priced at just $39 per month, this plan gives you access to 100,000 AI words, 40 AI templates, and SEO editors.
Growth Plan: For $32 per month, you'll have the freedom to create without limits.
Pro Plan: Available at $60 per month, unlocks a whole new level of benefits. With unlimited SEO reports, a dedicated customer service manager, and a host of exclusive features.
*Don't forget to claim this promo code: FOREVER20
3. Copy.AI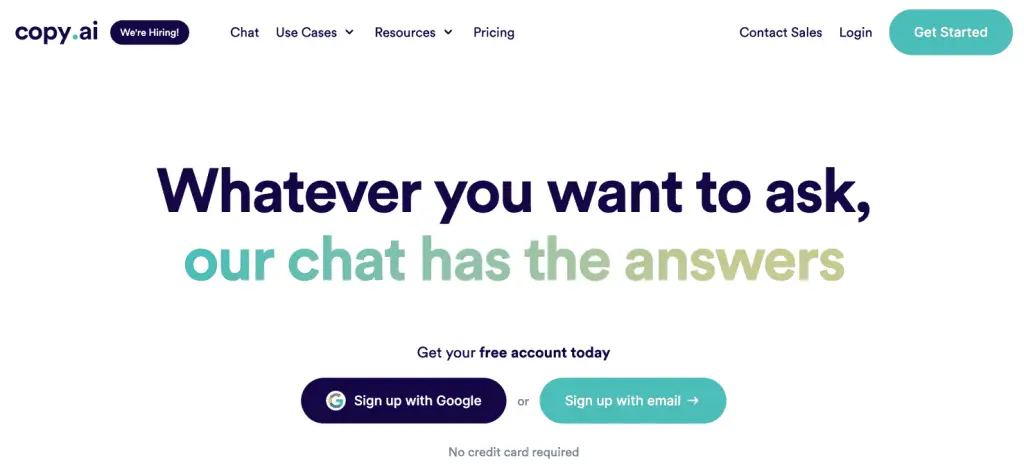 CopyAI isn't your average writing tool- it's a supercharged generator of creative ideas. It has tons of AI-driven templates to start your projects with a great spark of inspiration.
This AI writing tool has recently expanded its realm to embrace the art of longer-form content. Yes, you read that right. This sorcerer of words can now assist you in weaving mesmerizing blog posts that captivate readers and leave them begging for more.
In other words, it can help you create spellbinding content that will make your business stand out.
Features
Here are the marvelous features that make CopyAI a true gem in the realm of writing:
A free plan that's free forever and no credit card is required.
Plenty of free tools like an email subject line creator, an Instagram caption builder, and a business name generator (no sign-in required).
Over 90+ templates to help you create content quickly and easily.
User-Friendly Interface.
Automatically creating copies in different languages.
Resonates with your target audience.
The ability to generate product descriptions.
A long-form document editor.
Pricing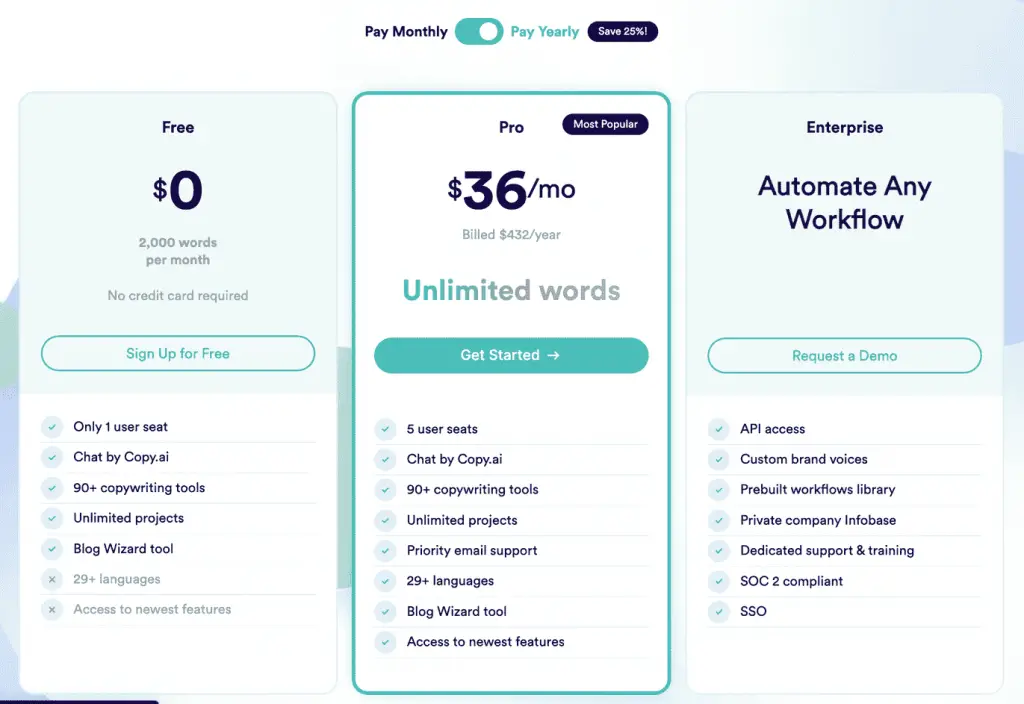 Free Plan: Embrace the wonders of CopyAI without spending a single dime.
Pro Plan: Priced at $49/month, you'll get unlimited words at your disposal.
4. Writesonic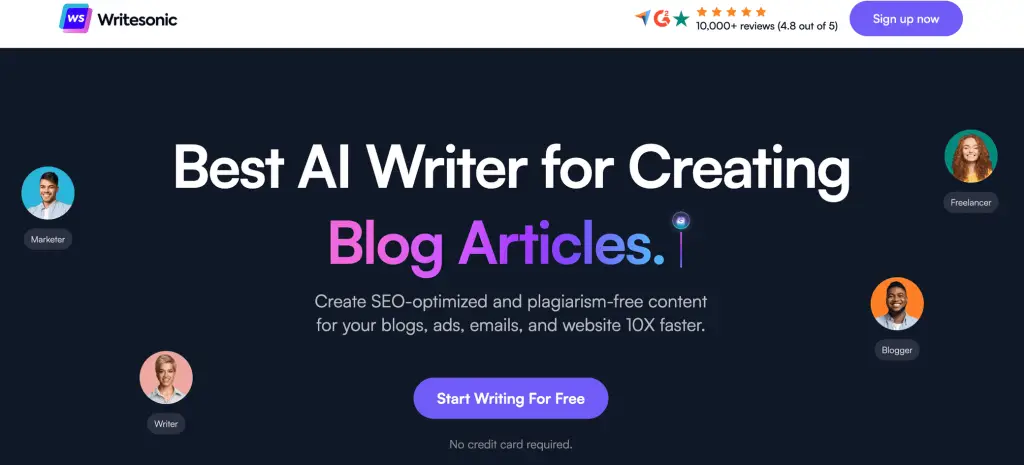 Prepare to be amazed by WriteSonic, one of the best AI writing tools out there that's ready to take your content creation to new heights.
WriteSonic has amazing versatility – from ads, product descriptions, emails, and landing pages to blog posts and long-form content – it can do it all. It's a true magician when it comes to creating a captivating copy.
And get this: the sheer speed at which it works is mind-boggling! With a flick of its metaphorical wand, WriteSonic can craft entire 1,500-word blog posts in as little as 15 seconds, leaving you awestruck by its sheer brilliance.
Features
Now, let's delve into the enchanting realm of Writesonic and explore the multitude of extraordinary features it brings to the table:
AI Article and Blog Writer: Writesonic generates entire articles or blog posts within minutes, making it an ideal solution for busy marketers who lack the time to write their own content.
Text Summarizer and Expander: Save time by summarizing lengthy texts or expanding concise ones to maximize the potential of your content.
Article Idea Generator: Stay ahead of the competition with Writesonic's ability to generate fresh ideas for compelling articles and blog posts.
Marketing Copy Generator: Fuel your business growth with high-converting marketing copy for ads, landing pages, product descriptions, and more.
Paraphrasing Tool: Enhance your content's uniqueness and make it stand out from the crowd with Writesonic's efficient paraphrasing capabilities, ensuring it remains plagiarism-free.
Quora Answers Generator: Engage with the vibrant Quora community and boost brand awareness by effortlessly generating answers to various questions.
Integration with Surfer SEO: Achieve higher search engine rankings with Writesonic's seamless integration with Surfer SEO, enabling you to create SEO-optimized content.
New Marketing Copy Templates: Simplify the process of crafting persuasive marketing copy for ads, landing pages, and product descriptions with Writesonic's collection of professionally designed templates.
Pricing

Free Trial: 10,000 words
Pro Plan: $12.67/month for 100,000 words
Enterprise Plan: Custom packages
5. Jasper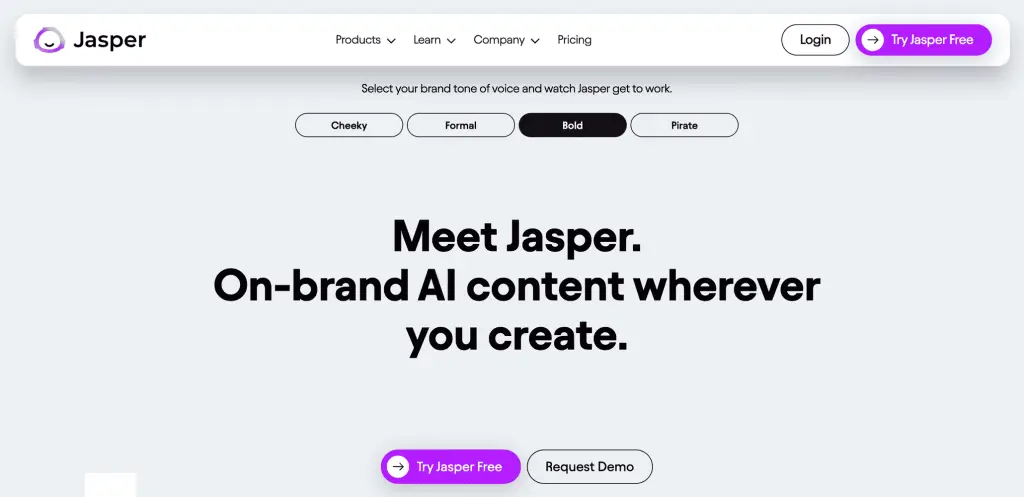 Jasper is an innovative AI writing tool that uses state-of-the-art language models to generate top-notch content. By harnessing advanced algorithms and a vast knowledge base, Jasper can produce captivating and informative articles, blog posts, product descriptions, and much more.
Its natural language processing capabilities allow it to emulate human-like writing, resulting in content that is not only coherent but also compelling.
No matter if you require content for your business website, e-commerce platform, or a personal blog, Jasper has got you covered. It excels at crafting well-organized paragraphs, emphasizing important features, and presenting complex ideas in a clear and concise manner.
With Jasper, you can effortlessly create content that resonates with your target audience and keeps them coming back for more.
Features
Let's explore the remarkable features of Jasper:
Natural Language Generation (NLG): Jasper's NLG capabilities allow it to produce content that reads like it was written by a human expert. This helps you maintain a consistent brand voice and establish credibility with your readers.
Topic Research: Jasper can delve deep into any subject matter and generate comprehensive insights and ideas. It can save you hours of research time by providing you with valuable information and statistics that can enrich your content.
SEO Optimization: One of Jasper's strongest suits is its ability to optimize content for search engines. By incorporating relevant keywords and phrases, Jasper helps your articles rank higher in search engine results pages (SERPs), boosting your website's visibility and organic traffic.
Plagiarism Detection: Ensuring originality is crucial in content creation, and Jasper excels at this. It can cross-reference multiple sources and detect any instances of unintentional plagiarism, giving you the peace of mind that your content is unique and authentic.
Content Customization: With Jasper, you have the flexibility to tailor the tone, style, and length of your content to suit your specific needs. Whether you require a formal, professional tone or a more conversational approach, Jasper can adapt accordingly.
Pricing
Now, let's delve into Jasper's pricing options: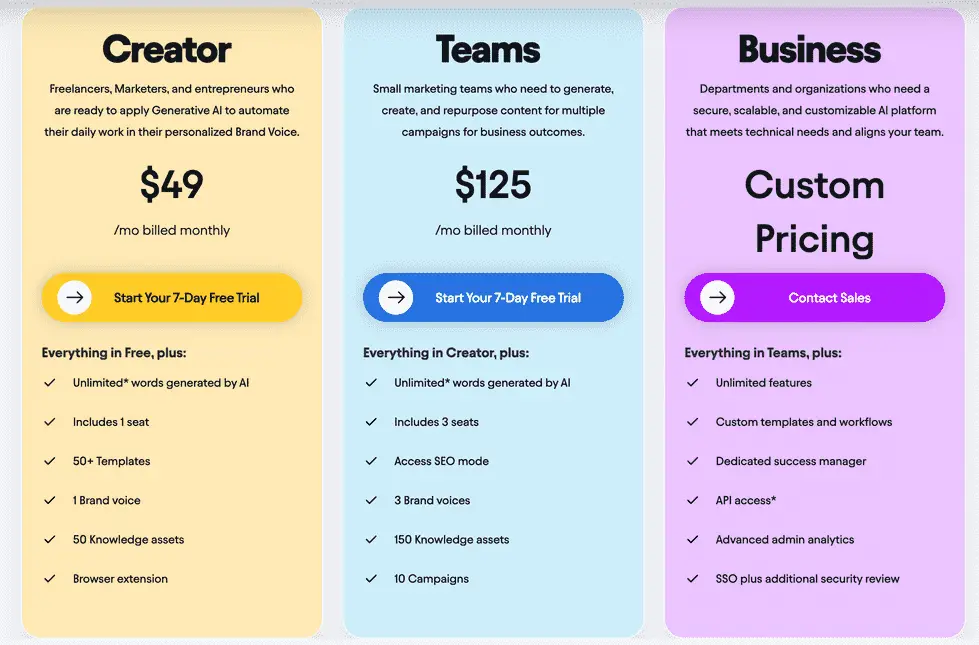 Creator Mode: For $49 per month, enjoy unlimited words and unlock Jasper's full writing potential.
Teams: The Teams plan, priced at $125 per month, offers unlimited words, along with 3 seats and 3 brand voices, perfect for collaborative projects.
Business: Custom pricing tailored to your specific needs.
6. Grammarly

Grammarly, with its advanced AI algorithms, is a game-changer when it comes to creating well-written and error-free content. Whether you're a professional writer, a student, or a business owner, Grammarly ensures that your written communication is polished, engaging, and impactful.
Its powerful grammar-checking capabilities, coupled with insightful suggestions, help you elevate your writing to the next level.
With Grammarly, you can effortlessly identify and correct grammar, spelling, and punctuation errors. The tool goes beyond mere surface-level corrections and provides suggestions to enhance clarity, conciseness, and overall readability.
Its intuitive interface seamlessly integrates with various writing platforms, including web browsers and Microsoft Office applications, ensuring that you can produce error-free content wherever you write.
Features
Grammarly is packed with an array of features designed to enhance your writing and streamline your editing process. Let's explore some of its notable features:
Grammar and Spelling Checker: Grammarly's sophisticated algorithms meticulously analyze your text and instantly highlight grammatical errors, including verb tense issues, subject-verb agreement, and more. It also catches spelling mistakes and suggests appropriate corrections, ensuring your content is error-free.
Writing Style Enhancements: Grammarly goes beyond the basics of grammar and helps you improve your writing style. It provides suggestions to eliminate wordiness, enhance sentence structure, and improve overall readability, enabling you to captivate your readers effectively.
Vocabulary Enhancements: With Grammarly, you can enrich your vocabulary and eliminate repetitive word usage. The tool suggests synonyms and offers alternative word choices, allowing you to diversify and elevate your writing.
Plagiarism Checker: Ensuring originality is crucial, and Grammarly helps you maintain it. Its plagiarism checker scans your content against billions of web pages, ensuring that your work is authentic and free from unintentional plagiarism.
Pricing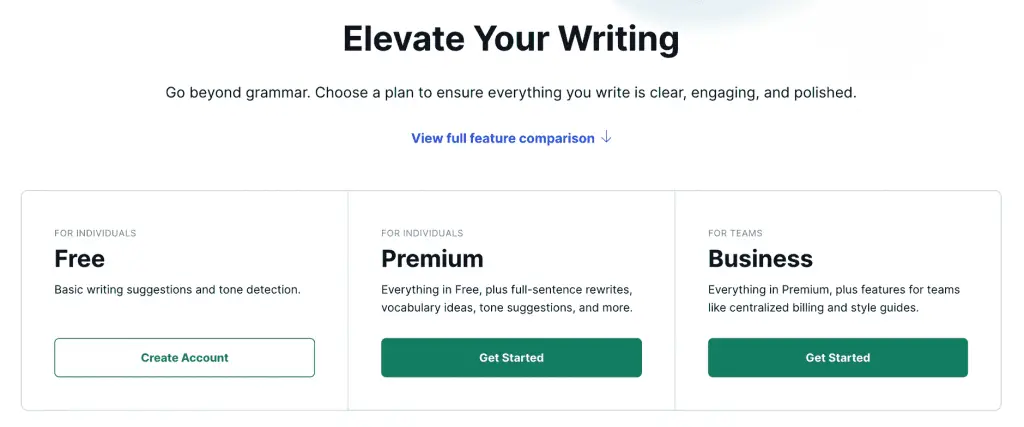 Grammarly offers three pricing plans to cater to different user needs:
Free Plan: The free plan provides basic writing suggestions and tone detection. It helps you identify and correct grammar, spelling, and punctuation errors in your text.
Premium Plan: The premium plan includes everything in the free plan, with additional advanced features. It offers full-sentence rewrites, vocabulary ideas, and tone suggestions to enhance the quality and clarity of your writing.
Business Plan: The business plan encompasses all the features of the premium plan, while also providing additional functionalities designed for teams. It includes centralized billing and style guides, enabling seamless collaboration and consistency across team members' writing.
7. Sudowrite


Sudowrite is like a friendly AI writing partner who is always there to support you. It doesn't judge your work and is always willing to read one more draft. Even at 3 am, it never runs out of ideas. Sudowrite is the perfect writing companion you've always wished for.
When you're struggling to find the right words, Sudowrite comes to the rescue. It's like a supercharged version of autocomplete. Sudowrite examines your characters, tone, and storyline, and then crafts the next 300 words in a way that matches your unique style. It even provides you with multiple options to choose from.
Features
Intelligent Writing Assistance: Sudowrite provides real-time suggestions and recommendations to enhance your writing. It assists in improving grammar, punctuation, and sentence construction, resulting in polished and professional content.
Contextual Word Suggestions: Sudowrite offers a rich selection of contextually appropriate word suggestions, helping you expand your vocabulary and find the perfect words to convey your ideas effectively.
Topic Expansion: With Sudowrite, you can explore new angles and ideas for your content. It assists in expanding on topics, generating related concepts, and offering fresh perspectives that enrich your writing.
Sentence Rewriting: Sudowrite can help you rephrase and restructure sentences, providing alternative phrasing options that improve readability and clarity.
Plagiarism Detection: Sudowrite includes a plagiarism detection feature that scans your content against a vast database, ensuring the originality of your work and helping you maintain academic or professional integrity.
Pricing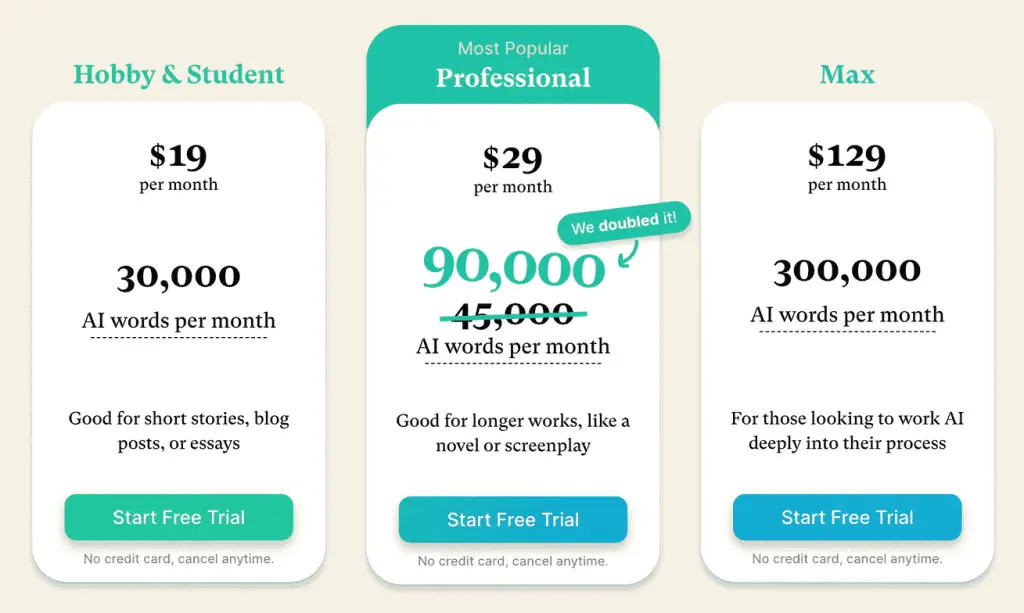 Hobby & Student: $10 per month, 30,000 AI words
Professional: $25 per month, 90,000 AI words
Max: $100 per month, 300,000 AI words
8. Anyword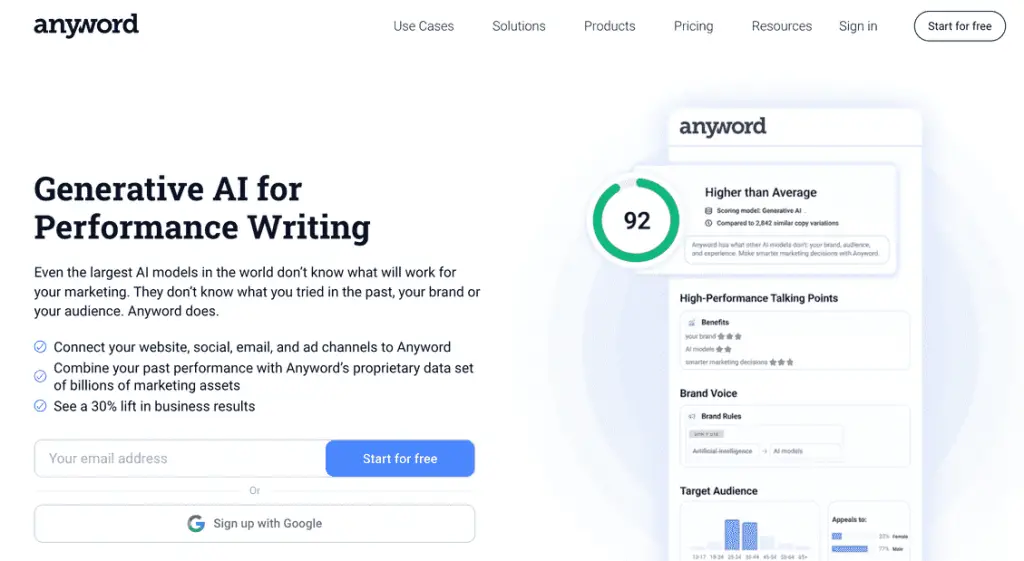 Anyword is an adaptable AI writing tool that enables you to effortlessly generate captivating and convincing content.
Its advanced algorithms and user-friendly interface elevate your writing skills, making it easier for you to create engaging blog posts, social media captions, ad copy, and other forms of content.
Through the power of AI, Anyword offers data-backed insights to optimize your content for specific objectives, whether it's boosting click-through rates, conversions, or overall engagement.
It assists you in producing content that deeply connects with your intended audience, enhances your brand, and achieves tangible outcomes.
Features
Connect Your Marketing Channels: Anyword analyzes your previous copy across various channels, including your website, ads, social media, and emails. This helps Anyword learn what works best for your marketing.
Define & Approve Your Brand Voice: Easily set brand rules and manage your messaging, tone of voice, and target audiences in one place. This ensures that all generated copy aligns with your brand guidelines.
Custom AI Models Trained on Your Performance Data & Brand: Utilize custom AI models that are specifically trained on your successful marketing campaigns and brand messaging. This improves overall performance across all your channels.
Data-Driven Copy Optimized For Your Goals, Channels & Audiences: Anyword generates multiple variations of copy and scores them based on predicted performance. Only the highest-performing variations are presented to you, ensuring you can select the best copy for your specific goals, channels, and target audiences before going live.
Pricing

Starter: $39 per month for unlimited words (1 seat)
Data-Driven Teams: $79 per month for unlimited words (3 seats)
Business: Custom pricing and custom number of seats
9. Copysmith


Discover the transformative capabilities of Copysmith's AI-powered platform, designed specifically for Ecommerce product content creators.
With its intuitive interface and advanced algorithms, Copysmith empowers you to create persuasive product descriptions, engaging ad copy, captivating blog posts, and much more.
Harnessing the power of advanced technologies like ChatGPT and OpenAI's GPT models, Copysmith takes advantage of their capabilities while tailoring them to perfectly suit your eCommerce copywriting needs and workflows.
This optimization ensures that every output from Copysmith is finely attuned to meet your specific requirements, enabling you to achieve outstanding results.
Features
eCommerce Copywriting: Create compelling product descriptions, bullet points, FAQs, titles, tags, and more effortlessly using Copysmith. From technical information to long-form product copy, Copysmith has all the tools you need to showcase your products effectively.
Product Content SEO: Improve your SEO rankings by optimizing and rewriting your eCommerce product copy. Copysmith allows you to enhance your product descriptions for better visibility without compromising your brand voice and tone.
Support Team Collaboration: Collaborate seamlessly with your team within Copysmith. Share product copies, review moderation, and even social media posts. By leveraging Copysmith's collaborative features, you can eliminate writer's block and efficiently scale your product content creation.
Bulk Content Generation: Say goodbye to generating product content one by one. With Copysmith's Bulk Product Content Generator, you can upload your entire catalog and generate SEO-optimized, accurate copy in bulk while maintaining the right tone and voice. This feature saves you valuable time and effort.
Third-Party Integrations: Copysmith's AI product content platform seamlessly integrates with a wide range of third-party tools and eCommerce platforms. These integrations include popular platforms like Shopify, Amazon, WooCommerce, Zapier, and BigCommerce.
Pricing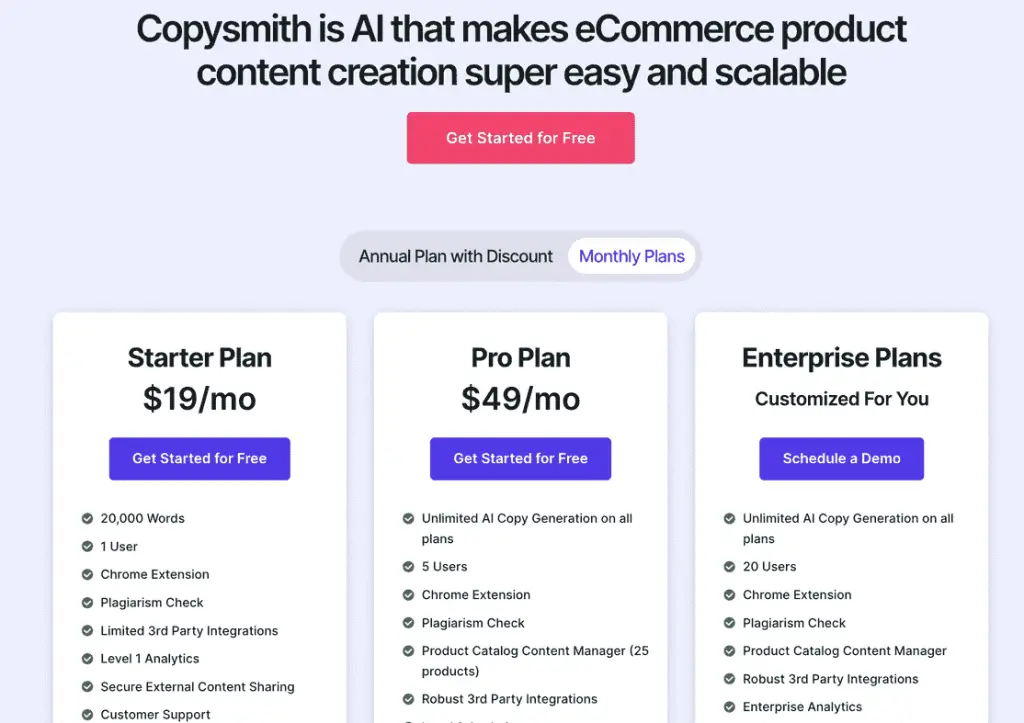 Starter Plan: $19 per month for 20,000 words – 1 User
Pro Plan: $49 per month for unlimited words – 5 Users
Enterprise Plans: Customize
10. ProWritingAid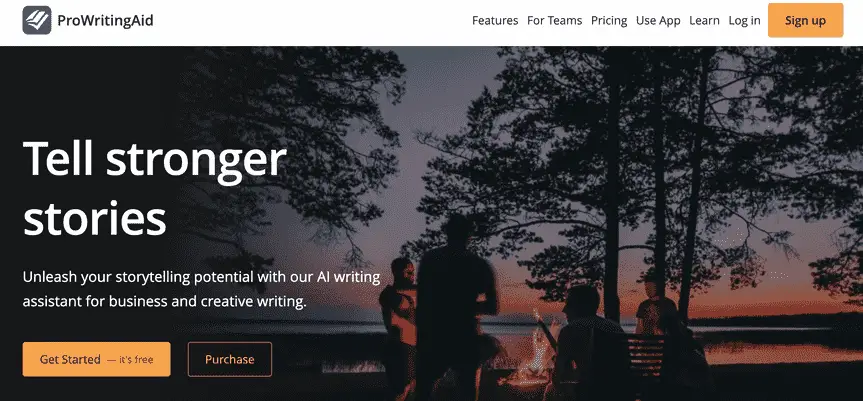 ProWritingAid is a comprehensive writing assistant that goes beyond simple grammar and spell-checking. It provides an in-depth analysis of your writing, offering suggestions and insights to improve your style, clarity, and overall effectiveness.
With ProWritingAid, you have the opportunity to unleash your storytelling potential through their AI-powered writing assistant, catering to both business and creative writing endeavors.
Features
Write Better and Faster: Enhance your writing swiftly and efficiently with thousands of real-time suggestions for grammar, spelling, and readability as you write.
Comprehensive Writing Reports: ProWritingAid surpasses other editing software with its extensive collection of writing reports. These reports highlight various aspects like repetitive words, unclear phrasing, inconsistent sentence lengths, excessive use of adverbs, passive voice, complex sentence structures, and more.
Enhance Style and Strength: Exceptional writing goes beyond grammar alone. Style suggestions provided by ProWritingAid elevate the impact and clarity of your writing. Our team of copy editors has meticulously developed numerous rules to address crucial style enhancements.
Learn While You Edit: ProWritingAid offers in-app suggestions, explanations, videos, and quizzes to foster skill development as you write.
Eliminate Embarrassing Errors: Spelling and grammar mistakes can quickly undermine a writer's credibility. Ensure your writing is clean and error-free.
Discover the Perfect Words: Utilize the Word Explorer and contextual thesaurus to find precisely the right words for your writing.
Pricing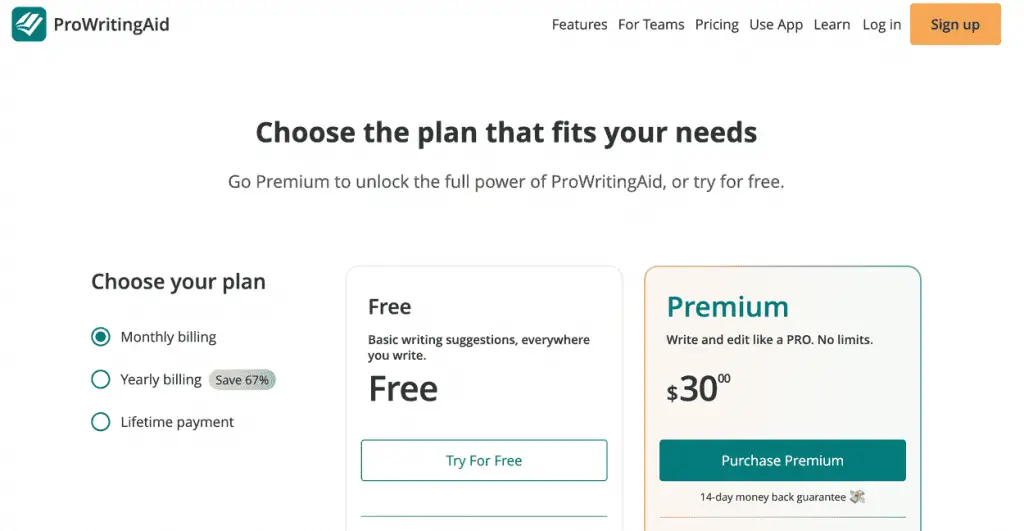 Free: 500-word count
Premium: $30 per month for unlimited word count
The Rise of AI Writing Tools: Friend or Foe for Writers?
Will AI take over my job as a writer? This question has been buzzing around ever since ChatGPT and other advanced language models entered the scene.
As AI progresses rapidly, it's natural for writers to ponder about their future.
But in my view, the emergence of AI writing tools doesn't necessarily spell doom for our creative pursuits. I see them as valuable writing companions.
Consider this: AI writing tools are like efficient brushes that aid artists in painting faster or fixing small imperfections. However, they cannot replicate the artist's imagination, passion, and personal experiences.
They cannot mimic the unique style or evoke the emotions that touch readers' hearts. These are the aspects where we, as human writers, hold the advantage.
So, to address the question, AI writing tools won't replace writers. Instead, they will continue to advance and become essential resources in our creative toolkit.
As long as we adapt, embrace new technologies, and nurture our storytelling abilities, we will always have a place in the writing world.
Ultimately, it is our creativity, passion, and human touch that bring our words to life.