The new age of digital printing has been a boon for entrepreneurs and small businesses.
The new crop of print-on-demand sites has revolutionized the way that companies can get their products printed.
These best print-on-demand sites fulfill a need for designers and manufacturers to sell their designs without going through the traditional production process.
In other words, they offer a suite of printing and shipping services that allow you to reach customers no matter what corner of the globe they're in.
Plus, they have all been ranked as some of the best in their respective categories by industry experts and satisfied customers alike!
Print-on-demand sites are a great way to make a profit by selling items of your choice. They also let you be in control of what you want to sell, which means that anyone can take advantage of this opportunity.
What's even sweeter is that, once your shop is completely up and running on these print-on-demand sites, it's going to be a nice passive income stream for you.
As a matter of fact, it was my first passive income that I am still earning to this day.
Heads Up: For the sake of transparency, this post might contain affiliate links. If a sale is made, I will receive a small commission (at no additional charge for you), which helps keep the lights on and helps feed my cats. Please read our disclosure policy for more information.
Introduction
Print-on-demand sites employ a process in which individual items are created and manufactured only when the order is placed.
A number of years have passed since this concept first came about, but now it has become increasingly popular. If you're not sure what this means or why you might need one, here's some information to help you understand.
What is a Print on Demand Site?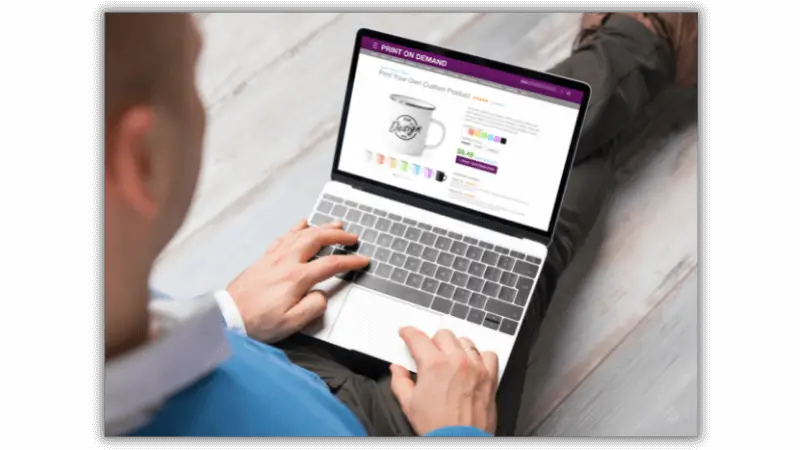 The most common idea of print-on-demand sites relates to how they produce items. A customer visits the site, finds what they want, and offers their credit card number.
The site will then print the design out on their desired merchandise right there on-site and then ship it out to them in the mail.
This saves time for both the company and the consumer because there are no upfront costs associated with printing more stock.
From the Artist's Point of View: You upload your very own designs, and the POD sites will handle the rest (printing, shipping, and after-sales services). When a sale is made, you get your artist's profit.
From a Consumer Point of View: You get to shop custom-made designs on your desired merchandise (T-Shirts, Mugs, Hoodies, Cap, etc).
Benefits of Print on Demand Sites
1) Easy to Set-Up
It is conveniently easy to set up your own shop with print-on-demand sites. All you need is to create a new account, customize your shop, and link all your social media accounts.
Once everything is ready, you may begin uploading your designs and choose the products on which they will be printed.
2) No Upfront Capital
There is no charge for creating an account on most print-on-demand sites. They are cost-effective for small businesses because they can use them without any upfront costs, unlike traditional printing methods which require a significant investment of time and money.
3) Eliminate Cost and No Risk
It's less risky to print the designs on demand instead of investing in a big stock. In other words, there won't be any need to take out a loan or use up all your savings while waiting for your products to sell.
As well as eliminating the cost of printing in bulk, you will also eliminate the risk of not knowing whether it will sell. It usually costs a company to have its stocks piling up on the shelves collecting dust.
4) Worry-Free Fulfillment
Tired of manufacturing and shipping hundreds of orders? Well, this is the task you get to cross off every time you make a sale. Most of the print-on-demand sites will handle this for you.
These print-on-demand sites streamline the order, payment, and fulfillment services. This frees you up to work more on growing your business while this company takes care of these aspects on their end.
5) No Equipment Is Needed
Print-on-demand sites are a great way to save some serious cash. You don't have to invest in costly printing equipment since print-on-demand sites handle everything for you.
7 Best Print on Demand Sites
For those of you looking to make a little extra dough from your creative side, these 7 best print-on-demand sites can help you do just that.
1. Redbubble
This is definitely my top pick. This was my first online earnings, as I mentioned at the beginning of this post.
Redbubble is a highly reputable print-on-demand site that has been around since 2006. They offer a large selection of products and an easy-to-use interface for both buyers and sellers.
Anyone looking to get their art, design, or photography work printed on apparel, home decor items, and more. Artists of all skill levels can upload their designs and start selling in minutes.
The website has a significant online presence with lots of traffic. It also offers products in the main marketplace, which means more exposure for your designs.
Feel free to use this ultimate guide on how to sell on Redbubble and start making money.
2. Printful
Printful is a printing company that has revolutionized the way entrepreneurs can create products, which are fulfilled by them. They provide inventory, order fulfillment, and even customer service.
The best part? You don't have to pay anything upfront – only when the product sells.

Printful's unique branding option allows you to design your own logo to go on the products that you sell. This can be a great way to distinguish your brand from others in the market.
If you are curious about how to get the most out of this site, then you'll want to check out their video tutorials.
3. Zazzle
Zazzle has become one of the best print-on-demand service providers online.
Upload your designs, set your royalty rates, and earn commissions on any purchase. There are no listing or monthly/annual fees to pay.
Your profit margins are also fully customizable to suit the need of your business model.
Similar to Redbubble, Zazzle will take care of all the fulfillment and customer service for you. Therefore, you can only focus on creating your artwork and collecting your earnings.
4. Society6
Society6 provides a marketplace for artists to create and sell their work to buyers who are interested in purchasing art.
One of the key differences between Society 6 and other marketplaces like Etsy is that sellers retain the rights to their work.
Sellers can control who can use the designs they post, how it is used, and what they can charge for them.
This gives creators full ownership of their work so they can share or not share it as they please with buyers or other third parties.
5. Teespring
Teespring has an intuitive and easy-to-use design interface. The best part is that there are no upfront costs.
Using Teespring's simple tools, you can upload your artwork or other images to be printed on a variety of apparel items such as t-shirts, hoodies, sweaters, jackets, and other fashion items to sell or gift to friends and family.
And with no upfront costs involved, there are never any risks associated with launching your shop on Teespring!
6. Shopify
Shopify is an e-commerce platform that allows you to own your own domain, customize your site design, and manage everything from one easy-to-use interface.
Starting from $29 a month, the company provides everything needed to get started, including design tools, themes, marketplaces, and more.
Shopify uses a simple point-and-click interface that even non-technical people can use.
In this day and age, the most successful online stores are those that offer a wide variety of products to their customers. Sites such as Shopify provide a platform with the tools necessary to create your own print-on-demand site, allowing you to have a say in your business.
You have access to a variety of templates and layouts that will all help you create a fully customized store.
Sign up for a 30-day free trial of Shopify and see what you think. They offer a full range of functionalities that will allow you to have your own print-on-demand site.
Now, if you wish to use Shopify, you may need to connect your site with services like Printful.
7. Threadless
Threadless is an apparel company whose designs are created by and chosen by an online community.
It was founded in 2000 by Jake Nickell and Jacob DeHart. This company has taken the world of apparel to a whole new level. It is the only outlet that allows its customers to design their own shirts.
Threadless believes that people who are best at designing are people who know what they want because they don't have any artistic training to hinder their creativity.
To start selling, you simply have to create your artist shop and start uploading your artwork.
To stand out among the designers, you are given the flexibility to customize your artist shop – upload your brand logo, set your brand color palettes, and you can even choose your layout.
Every year, Threadless creates over one million designs contributed by the community of designers. Each week about 1,000 designs are submitted online and put to a public vote.
The community of designers submits their designs to the site every week, with about 1,000 of those designs being chosen for voting by the public each week.
The designs are then voted on with the top 5 to 10% making it into production as t-shirts sold at threadless.com.
What To Consider When Choosing a Print-on-Demand Site?
When deciding which print-on-demand site to work with, there is a lot to consider. With lots of print-on-demand sites available on the internet, it is difficult to choose the right website for your printing needs.
There are a number of factors to consider when choosing a print-on-demand site:
1. Product Quality
It is important to consider the quality of the product. If you are looking for high-quality products then you should consider sites that have a high-resolution image of their products.
Let this sink in: You can have the best designs in the world, but if the quality of the products fails to meet expectations, it is almost impossible to maintain a repeat customer.
2. Affordable Product Costs and Shipping Rates
When choosing a print-on-demand site, it's important to look at the product costs and shipping rates. If the costs are higher, it means less profit for you.
There are some print-on-demand sites that offer low production costs and low shipping costs. However, low costs can translate into a lower quality product and slower shipping times.
3. Offering a variety of products
It is highly recommended that you put your designs on a variety of products. Do not limit yourself to just t-shirts. Yes, T-Shirts are generally the best sellers.
However, there are also other buyers who wish to have your design printed on the shower curtain, mouse pad, cap, duffel bag, and many more products.
Therefore, selecting a print-on-demand site that offers a variety of products is important as well.
4. Shipping Time
With the growing popularity of online shopping, customers are demanding faster shipping times. Waiting is not something anyone enjoys. Am I right?
Ordering things from the internet usually makes us eager to wait. Your customers are no different. Customers will consider the shipping time factor when making a purchasing decision. If it took longer than they anticipated, they'll consider other options.
That would definitely be a loss for you.
This is why selecting a print-demand site that can offer reasonable shipping time is vital too.
Conclusion: Find the Best Print On Demand Site for Your Needs & Start Selling Today
We are currently living in the age of digitalization, where the world has finally realized the importance of online presence.
It is not enough to have a physical store anymore – to be successful, businesses must have their products available for purchase on all popular channels including e-commerce sites.
Print-on-demand sites allow you to skip the entire printing process and produce your products whenever an order comes in.
Best of all, they offer the highest quality printing materials that will ensure that your customers are happy with what they get.
Print-on-demand sites are a great way to start making extra money.
You now have some idea of which print-on-demand sites to use to start selling your designs online, you can now begin making extra money.
Let me know in the comment if there are any print-on-demand sites that you prefer the most.
Signing off now, cheers!~