Last updated on 27th January, 2023 at 07:08 am
Are you considering leaving your current job and start pursuing any freelance job that is relevant to your current skills?
Would you consider yourself a good fit to start a new career as a freelancer?
Or maybe you have started freelancing but would like to ensure you are not missing anything that may enhance your success.
Whichever the case may be, It is always a good idea to search across the web for any freelance tips that could be helpful.
As a freelancer, it is appealing to think of yourself as your own boss.
The question here is, why don't more people step out there and give freelancing a go?
The brutal truth is, it's scary.
Enough said, let's go straight to the point.
PS: Too busy to read it all in one sitting? Save this pin on your Pinterest board and read it during your free time.
Heads Up: This post may contain affiliate links. This means if you decide to buy through my links, I may receive a commission at no additional cost to you. Please read our disclosure policy for more information.
What Is Freelancing?
The term "freelancing" refers to providing services as an independent company (self-employed). Most likely, you will be working with different clients on particular projects.
If that sounds like music to your ears, read on the 8 essential tips to kick start your freelancing career.
1. Discover Your Expertise
You might believe that you are competent enough to write any related topics, and have some graphic design skills and some video editing skills.
Regardless of what skills or abilities you possess, your potential clients always desire an expert.
This is why it is crucial for you to identify your area of expertise and focus solely on it.
But how are you going to discover what your expertise is?
Start asking yourself the following questions:
What do you have in hand? Write down the skills you are most passionate about.
Specifically, what has given you a tremendous amount of knowledge that exceeds what the average person has?
Would you be able to keep talking about this knowledge for the rest of the day?
Over the past few years, what have you learned that you are now capable of teaching others?
How does your skill set fit into solving other people's problems?
Based on your responses to all of the questions above, you will most likely be able to discover your expertise.
The most important thing to consider is to discover something that you enjoy doing all the time.
2. Decide What Tools To Use
To accomplish any particular task/project, you must decide what type of tools you will use.
Depending on your field of expertise, start searching for any suitable software, tools, or websites that you think might be useful to assist with the completion of your potential projects.
In other words, find the right tools to make your job easier.
Below is a list of useful tools you can use to accomplish your tasks more quickly and easily.
Scheduling Tools
When not organized properly, dealing with different clients and different projects each and every day could be overwhelming. Keeping track of the next appointment and project deadline is crucial for a freelancer to avoid chaos later in the day.
With that being said, having a proper calendar or scheduling tool is essential for a freelancer to keep things organized.
1. Google Calendar
Who on earth doesn't use Google? The majority of us own an account or even multiple accounts on Google. This is why every freelancer should leverage the usage of Google Calendar.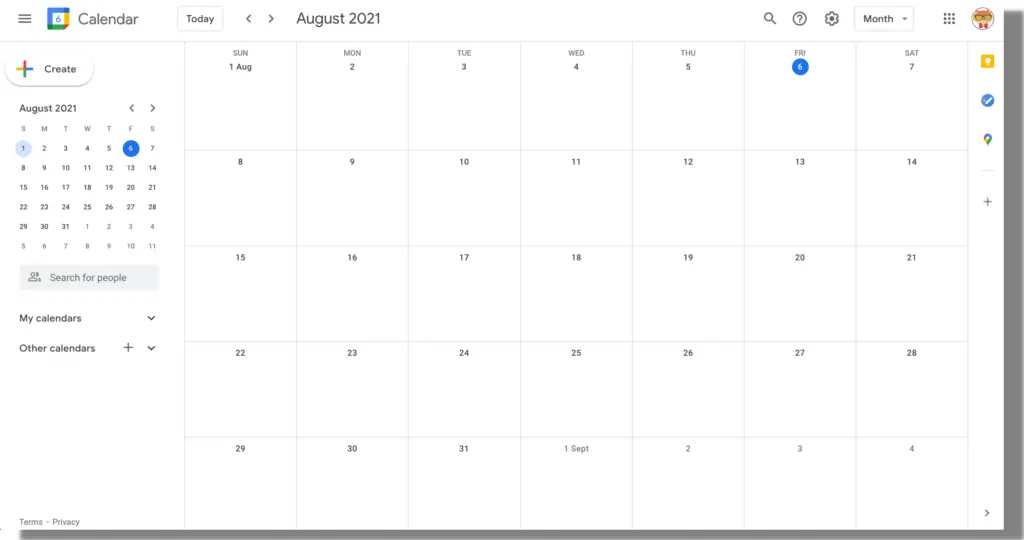 Some cool features of Google Calendar:
Ability to track time with a world clock
Allows you to create appointments and reminders
Adding specific meeting locations
Create a separate calendar (e.g for work and personal life)
Say you are working as a virtual assistant, you may find it useful to keep a separate calendar to manage multiple clients.
2. Calendly
Calendly helps you get more done by taking the scheduling off your plate.
Meetings and appointments can be scheduled more easily through Calendly in a time slot that is convenient for both sides.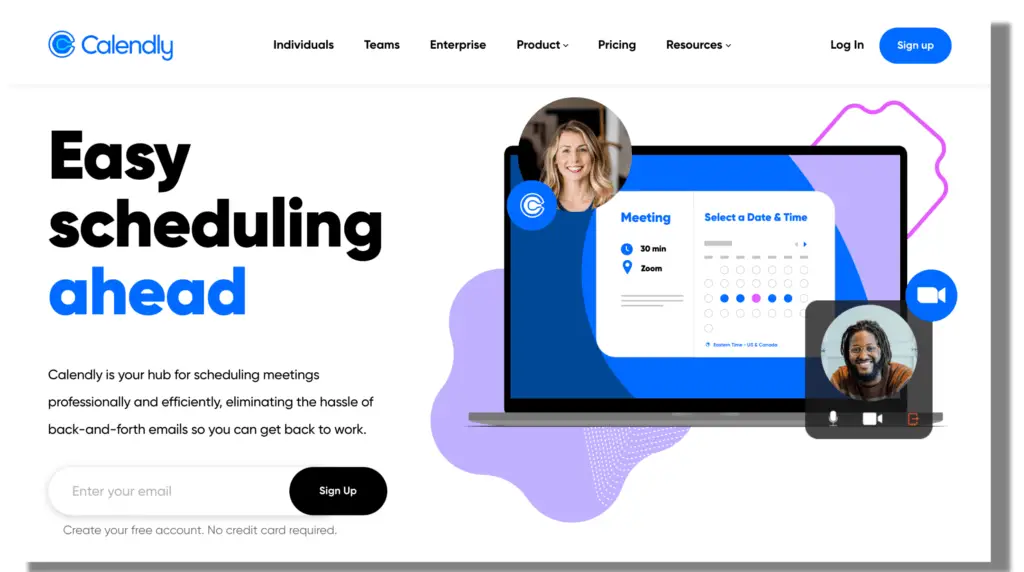 Neither you nor your client needs to exchange endless emails or chat messages to choose a convenient time.
Cloud Storage Tools
Do you remember storing all your valuable data on a Pendrive? Ranging from small to huge storage space, you can almost store everything in it.
Not until it suddenly stopped working and all your data was lost.
How tragic, right?
Well, those days are long gone. In these modern days, people are leveraging cloud storage, which lets us save files and data on the Internet.
Cloud storage has simplified the process of storing, accessing, sharing, and even collaborating on files in real time from any location with an internet connection.
The following tools are great for freelancers with cloud storage needs:
3. Google Drive
Besides being free, it is also by far the most popular choice of cloud storage by users worldwide.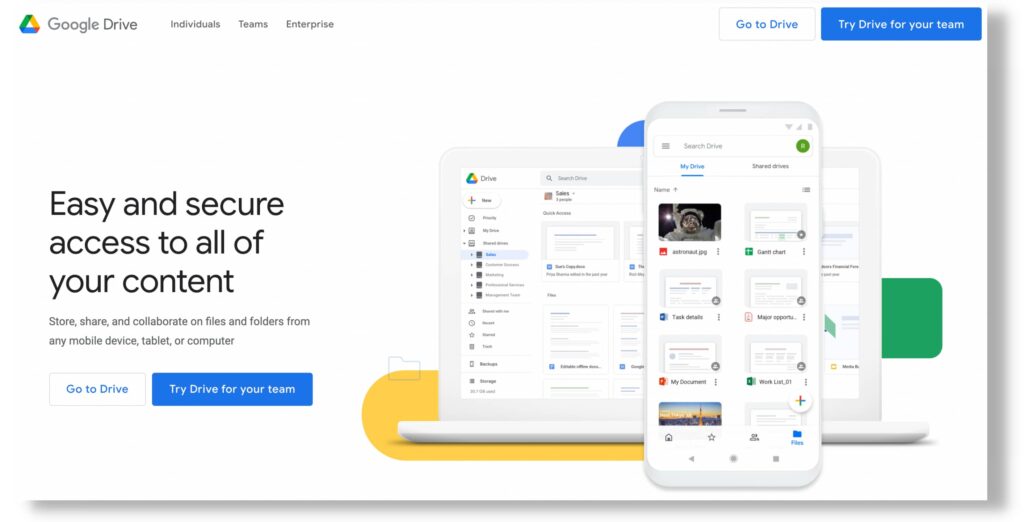 You can easily collaborate with your team in real-time with Docs, Sheets, and Slides, which integrate seamlessly with Google Drive.
It is also possible to sync all your important files and data online by installing Google Drive on your computer.
4. Dropbox
Dropbox is another cloud storage service available in the market that is a viable alternative to Google Drive.
With Dropbox, you can share files with anyone by uploading and transferring them to the cloud.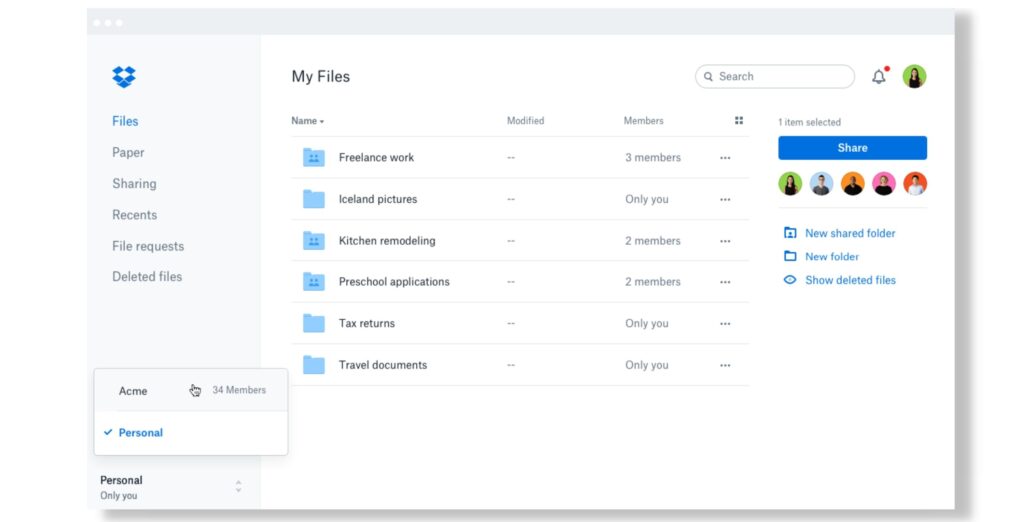 Your docs, photos, videos, and other files are backed up and synced to the cloud, where they remain accessible from any device.
Using the advanced sharing feature, you can share docs and send documents – large or small – to your clients around the world.
Graphic Design Tools
Regardless of your status as a newbie freelance graphic designer, you can still easily create simple yet attractive designs using several online design tools.
On the internet, you can find a wide variety of free and affordable graphic design tools.
Have a look at the following graphic design tools:
5. Canva
Does this require an introduction? As much as I love the website, I believe that every graphic designer does as well (maybe not all designers).
In case if you are living on a different planet, Canva is an online graphic design platform that can be used to create social media graphics, posters, presentations, Ebooks, and other visual content.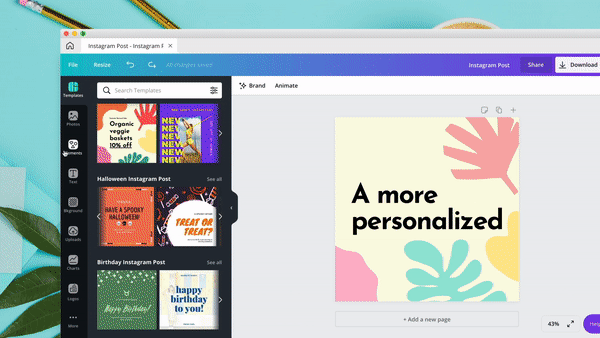 Canva offers a free plan that is sufficient to kickstart your freelance journey to creating visual content that will delight your future clients.
Related topics that you might be interested in:
6. Crello
Create professional-looking content quickly and easily using this free graphic design tool.
From its large selection of professionally designed templates, you can choose and edit them right away.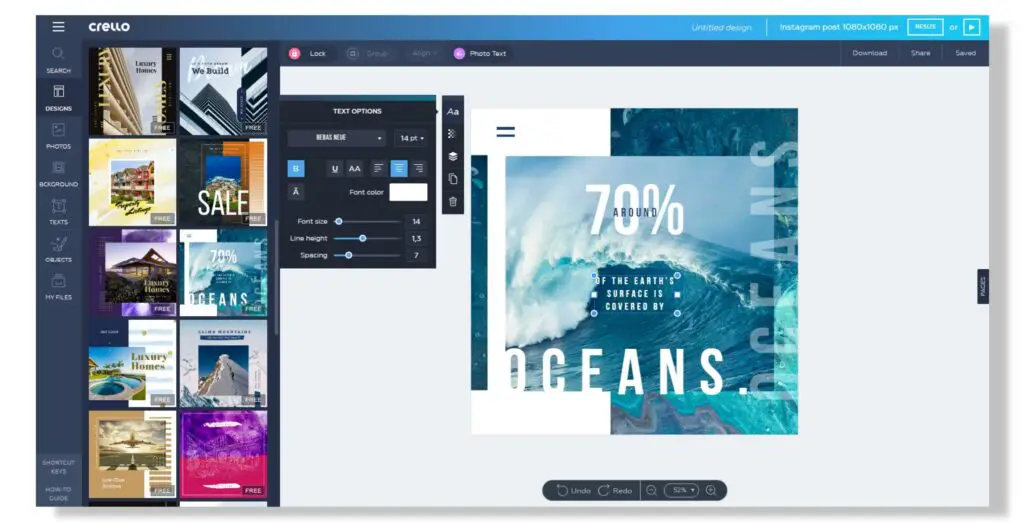 Similar to Canva, design skills are not required. Even a beginner finds it easy to create any visual content that they desire. So there's no need to sweat.
7. Adobe Spark
With Adobe Spark, you can instantly create a visually appealing, professional-looking graphic from your text and photo.
There is a wide variety of professional templates you can choose from and impress your clients just as there are with Canva and Crello.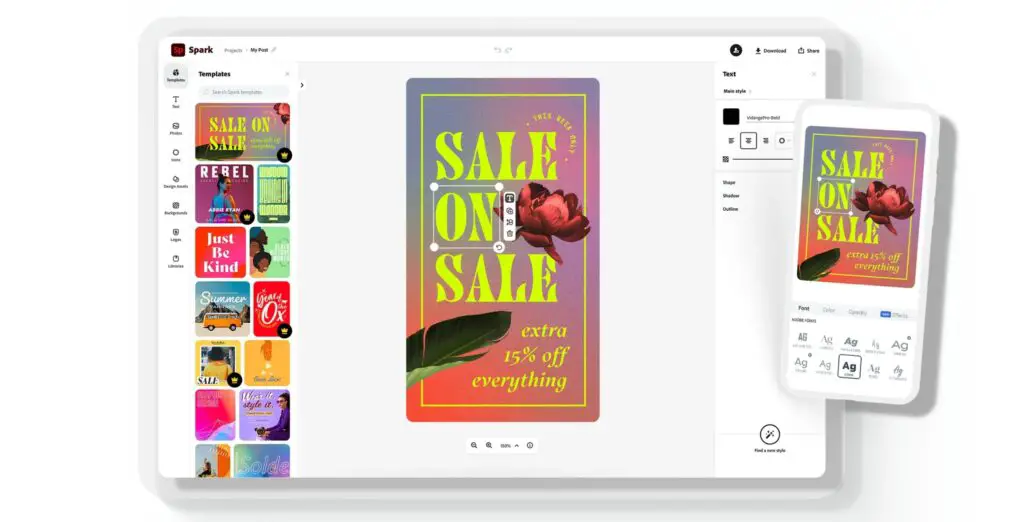 Adobe Spark is compatible with all devices, from desktops to iPads, handhelds, iPhones, and Android – practically everything.
Having the ability to work from any device is one of the greatest benefits for a freelancer.
Video Editing Tools
Despite the fact that Canva, Crello, and Adobe Spark have the capability to create and edit videos, it is advisable to search for specific video editing tools.
The reason for this is that those platforms do not provide sufficient video editing options.
Therefore, being equipped with the right video editing tools is essential for a freelancer.
8. InVideo
InVideo is an online video maker that offers you a seven-day trial and offers you the best editing tools that help you end up with professional videos.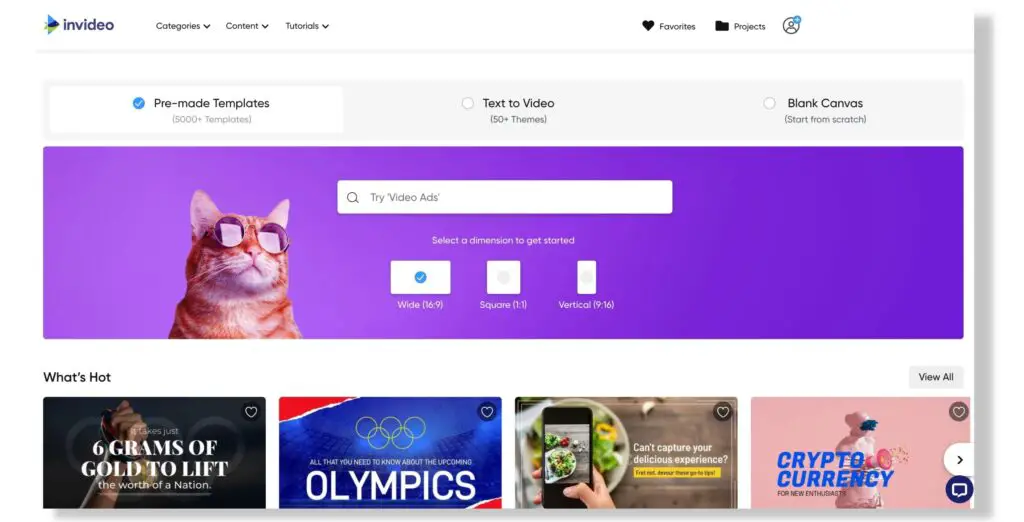 Even if you have no experience in video editing, you can create high-quality videos using an online professional video editor like InVideo.
It has never been easier to edit videos with dozens of easily customizable templates to choose from.
9. Lumen5
Lumen5 is a video creation tool that helps businesses and brands create social videos that engage customers.
You can create stunning videos in minutes with this tool, without prior training or experience.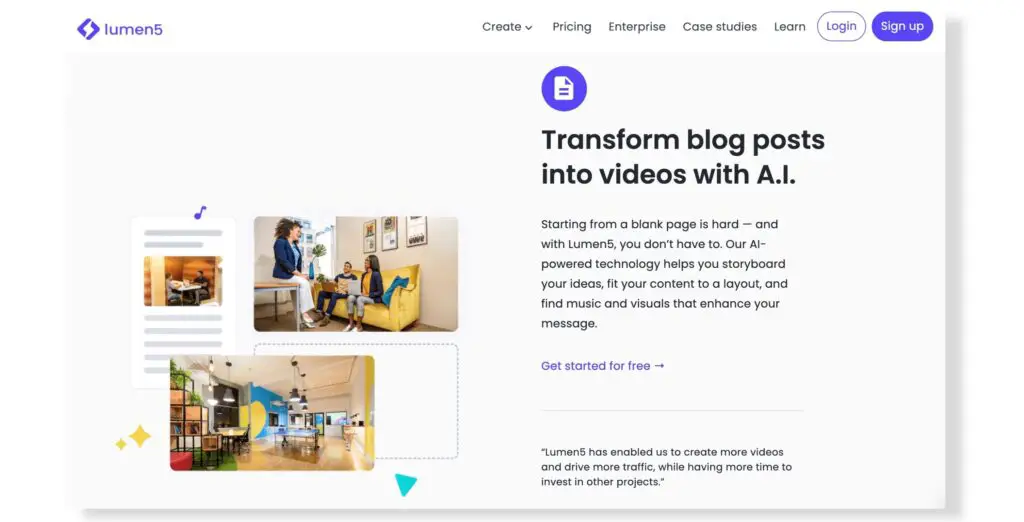 Millions of stock videos, photos, and soundtracks are available in their built-in media library. Therefore, you do not need to record digital assets externally or purchase assets.
Isn't that a great bargain?
Email Marketing Tools
Despite the widespread perception that email marketing is dead, it still remains one of the best ways to reach consumers today.
Although social media is becoming more and more popular, people still love receiving emails in their inboxes.
Email is part of the way you can reach out to your potential clients. It is an effective tool you can use to find your next big client.
Most freelancers use this method to write a pitch email to any clients they hope to work with.
10. ConvertKit
Made by a blogger for a blogger. Those of you who are freelance writers will find this tool handy.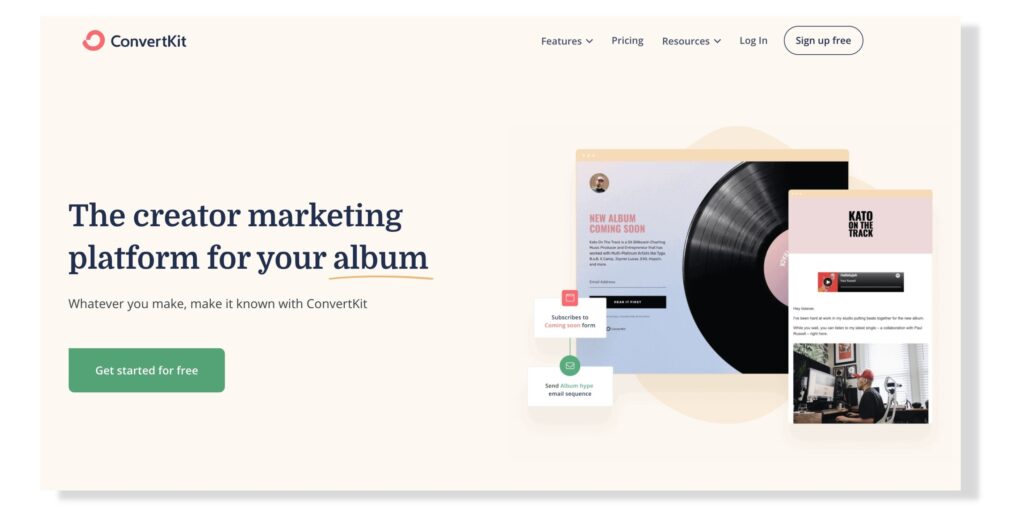 It is an amazing tool that offers the usual suite of features such as automation, detailed reporting, email list segmentation, and many more.
ConvertKit is easy to use due to the fact that it is built for creators and small business owners.
Who should use Convertkit? I would say freelance writers, content creators, bloggers, and podcasters.
To learn more about Convertkit, head over to their website for more information.
11. GetResponse
GetResponse email marketing service has some marketing automation capabilities geared towards small businesses.
A provider of email marketing services such as GetResponse comes with a number of powerful tools that far surpass what most would expect.
With Getresponse, you can also host webinars, create landing pages, and combine email marketing with sales funnels.

Visit their website and take a look at their cool features for yourself.
3. Create A Portfolio
It is essential for freelancers to showcase their work via a portfolio.
Keeping that in mind, an impressive portfolio is necessary for a freelancer to succeed in getting more clients.
Furthermore, this led to the saying "Let my work speak for me."
Start Your Own Blog
From my point of view, it is absolutely essential for freelance writers to have their own blogs.
With that in mind, start a new blog, and create valuable content or blog posts around your niche to build up your brand and gain trust.
If you are a complete beginner, you might want to download this free ebook step-by-step guide on how you can create your own blog.
You should consider starting your own blog if you intend to pursue (or already are) a career as a freelance writer.
Furthermore, you can earn some side income with Google AdSense by running adverts on your blog.
Social Media Presence
Social media, particularly platforms such as Facebook, Instagram, and Twitter, offer additional opportunities to market, especially by keeping an eye on trending topics.
While commenting on trending topics on social media platforms may seem counter-intuitive, doing so using the right strategy can help expose your business to a wider audience.
Your social media profiles will likely generate new business inquiries for potential projects when you optimize them with your blog information and business contacts.
This strategy would be extremely useful to freelance graphic designers who showcase their work on social media as their portfolio.
You may receive referrals for future projects by building your social media presence.


4. Create a Professional Email Address
It is important to make a good first impression.
Let me give you an example. You intend to pitch yourself to an organization to perform some work for them.
But…
Your email address looks like this: for4ever_cute@yahoo.com…
If you were the recipient of that email, would you even bother clicking to read it?
I bet you won't.
Therefore, it is essential to have a professional-looking email address (name@yourdomain.com) in order to get a positive first impression.
5. Determine Your Rate
Before you can start freelancing, you need to determine your rate.
It is important to set a price that fits your needs. Beginners should aim to start low (but not too low) and gradually increase their rate when they get reliable results.
Here are the two most common rates model you can use:
Hourly Rate Model – Freelancers usually set their own rates using this model. Because setting up the price with this method is quite simple. By taking this approach, you will be paid for the hours you will spend working on a specific project.
Project-Based Model – Instead of charging per hour, this model charges a fixed price per project. It is ideal for a wide range of freelancers, provided the deliverables are clear. One of the benefits of this model is your future client will know how much they will spend on that particular project.
To help you even further to determine your rate, start asking yourself the following questions:
How much money do I need to support my lifestyle?
Do other freelancers charge the same price for similar services?
How much are the expenses that I need to spend to support my service?
What is the value worth that I will provide?
6. Ways To Get Paid
The next thing you need to figure out is how you will accept payments from your clients. There are a few ways for a freelancer to get paid.
Checks
There are freelancers who prefer to be paid with checks. Reason being? There are no additional fees involved with depositing the money into your bank account.
When there's a good side, there must be a bad side too. Don't you agree? The only downside of receiving a check as your payment is the "waiting game". You have to wait for the check to arrive in your mailbox and wait for it to be cleared in your bank account.
PayPal
This is the most common way to get paid. This doesn't need any further introduction. You are free to open an account with PayPal, and your future client can pay you via your registered email address.
It usually takes a few days to be cleared in your bank account (if you wish to transfer it to your local bank).
However, the biggest downside of this payment method is the transaction fees. You have to expect to be charged the transaction fees based on the amount you receive.
The second downside is that it is not covered in all countries. Some of the freelancer's residual country does not support PayPal. This brings the 3rd payment method you can use to get paid…
Payoneer
You can get paid by companies and marketplaces worldwide using Payoneer's simple freelance payment options.
By using Payoneer, you can worry less about the process of getting paid and focus more on how to run your freelance business.
With their user-friendly platform, it allows you to view and manage your transaction history, including incoming payments, outgoing payments, withdrawals, withdrawals to your bank account, and fees.
7. Get A Deposit Upfront
Being a freelancer means you are on your own from the very beginning till the end of the project. It is quite tough out there.
As such, you want to make sure that you are getting paid for your hard work.
You should always secure an upfront deposit from your client before you begin your work on each project. It is always up to you to decide the amount of the deposit.
My suggestion: Get a 25% deposit for the upfront phase, 50% upon halfway completion, and lastly the remaining balance upon completion of the project.
Having a deposit upfront will make it easier to build trust between you and your client.
Upon completion of the project, there is a guarantee that you will be paid for the remaining balance.
This deposit will allow you to focus only on providing top-notch results and not worry about getting swindled.
Yes, there is a possibility that could happen. Sometimes life can be harsh, isn't it?
8. Collect Testimonials
Modern consumers live in a world in which social proof is a vital factor before they make a purchase of a product or a service.
In other words, they are the ultimate social currency.
Your reputation for providing good service will be determined by your testimonials. Having more testimonials increases your chances of getting hired.
It is also a way for a stranger to "trust" you and your work.
When I first started freelancing, I was too shy to ask for a testimonial. In my thinking, the client will naturally provide a testimonial without asking for them.
Oh boy, I was wrong!
It would have been nice if I had gotten a testimonial from a past client. It is regret that I did not do it.
You can get those testimonials by following the steps outlined below so that you never regret it too.
Step 1: Create a simple feedback form
It doesn't have to be a complicated form. Try to make it as simple as possible. This is to increase the chance of getting a good response from your client.
Some of the questions that you can include in the form are as below:
What is their overall view of your work attitude while working on the project?
Are they satisfied with the outcome of your delivered work?
Will they hire you again in near future?
Would they recommend you to other clients for a similar project?
Are they okay if you can use those feedback as your testimonial?
Step 2: Send a thank you email
Have you noticed that some E-Commerce sellers who sell goods in physical form always include a thank you note in the packaging?
Doesn't that make you feel very much appreciated? I'm sure you are!
Likewise, we can say the same for this. After you have delivered the final work, you should always consider applying that strategy.
Instead of sending a thank you card, you send them an email to thank them for trusting you to complete the job.
And most importantly, request your client to fill up the feedback form that you prepared earlier.
Step 3: Obtain the testimonials
Once you receive their response, review their input on the feedback form and turn it into a testimonial.
Should their response in the feedback form is too short, rewrite it for them and gain their approval before you can publish them.
Additionally, get permission to have their photograph included with their testimonials as icing on the cake.
There you have it! Those are the 8 essential tips you can use to kick start your freelancing career.
The Good & The Bad Side Of Being A Freelancer
Before we conclude, allow me to share with you the highs and lows of being a freelancer.
That is at least another way to assist you in deciding whether this kind of career is for you.
Let's begin with something good first, shall we?
The Good Side
1. Getting paid to do what you love
What's more precious to you than this? Doing something you love and getting paid for it.
There's nothing better than being a freelancer and being able to spend the whole day working on things you enjoy.
Love writing so much? Search for any freelance writing jobs or become a blogger or copywriter.
Do you enjoy designing art? Be a freelance graphic designer and sell your artwork on Redbubble.
2. Freedom to choose your client
Yes, that's right. You can have the freedom to choose who you want to work with.
In a typical office job, you are unlikely to have this freedom and ability to decide who you want to work with.
It's like you are stuck forever with any colleagues that you can't even get along with.
Freelancers, on the other hand, may reject a job if they feel like they can't really "connect" or maybe due to other personal reasons/preferences.
3. You are the boss
Most of us dream we will one day be our own boss at some point in our lives.
Simply put, you as a freelancer is in full control over every action you take.
You can simply reject jobs you dislike and accept those that fit your preferences. Nobody is telling you what you can do and what you can't.
4. Time flexibility
When you have your own responsibility to handle, this will be the biggest advantage to you.
Regardless of what you are working on, you will be able to choose when you want to start working.
You may choose to be at your desk during your kids' school time, during midday, or perhaps at midnight.
You have the complete freedom to decide.
5. Work anywhere
Working by the seaside while breathing fresh air sounds amazing, doesn't it? There is no doubt about that.
Depending on the individual, some people might prefer working outdoors, while others would prefer to work in the comfort of their own homes.
At home, you are free to set up your working space the way you like, listen to any music, take a break anytime you want, and even take a nap.
Despite working from home sounds comfortable, some freelancers prefer to work in cafes, public libraries, besides the pool or practically everywhere you want.
In general, so long as you have your laptop and an internet connection, you may work wherever you wish.
6. Controlling the workload
Freelancers will have the advantage to foresee the workload they have on hand. It is the ability to choose your own workload.
You can work as little or as much as you want and you can choose which projects suit your personal preferences.
It will be easy to reject any future project when you have your hands full.
The Bad Side
1. Full responsibility on your shoulder
Being a freelancer is considered running a business. You will have full responsibility to handle pretty much everything.
Responsibility to find clients, managing your clients, billing, keeping records of your account, and pay taxes.
When you decide to be a freelancer, most of the time you will be working alone. All the decisions are in your own hands.
You will suffer the consequences of any bad decisions you have made.
2. Unpredicted income
Unlike office workers, freelancers may have unpredictable incomes.
That depends totally on how many clients/projects you managed to secure. A job can't be guaranteed all the time.
You will have times when you are out of work for quite some time.
Your money flow should be closely monitored if you don't want to end up back in your 9–5 grind.
3. It can be lonely working alone
Having to spend most of the day by yourself can be daunting.
As opposed to office workers, you will not have colleagues to chat with, lunch partners, or even office events (e.g. birthday celebrations).
Working as a freelancer might not suit you if you are uncomfortable with being alone all the time.
4. Lack of employee benefits
Since freelancers are self-employed, they will not receive employee benefits such as health insurance.
Buying health insurance on your own can be expensive since small businesses cannot take advantage of volume discounts.
Another benefit that you won't have is sick leave.
In the event that you are unable to meet deadlines or serve your clients due to illness, you should develop a backup plan.
Final Say – Are You Ready To Become A Freelancer?
Freelancers nowadays are often called "Digital Nomads". It is a freedom to travel to different locations on a regular basis while working remotely.
It can be in a local cafe, in a hotel, in your caravan and it's practically anywhere. As long as you have your laptop and a stable internet connection, you are good to go.
This is such a fun way of earning money online. But.. It comes with a price.
Having unpredicted incomes can be scary to some people since we got bills to cover. This is due to the fact that you can't get jobs all the time.
Apart from that, you have to expect unexpected events such as family emergencies, relationship issues, etc.
So there you have it. Even though being a freelancer has its perks and its drawbacks, there's no harm in giving it a shot.
Although you might not have gotten any clients or projects, at least you have gained a new skill that may come in handy someday.
Let me know your thoughts in the comment below on your freelance journey.
Hopefully, you found this piece enjoyable and would consider clapping so that others, as well, can benefit from it.
Signing off now, cheers!~