Last updated on 24th October, 2022 at 09:13 am
Heads Up: For the sake of transparency, this post might contain affiliate links. If a sale is made, I will receive a small commission (at no additional charge for you), which helps keep the lights on and helps feed my cats. Please read our disclosure policy for more information.
Halloween is a holiday that is celebrated by people all around the world.
From kids to adults, everyone loves to celebrate this fun holiday.
However, there are some people who take things to the next level when it comes to Halloween.
These people are called "Halloween enthusiasts" and they are often not just celebrating the holiday but also profiting from it in some way.
Not only can you dress up and scare people for a night of spooky fun and games, but it's also a great way to make money on Halloween.
13 Wicked Ways to Make Money on Halloween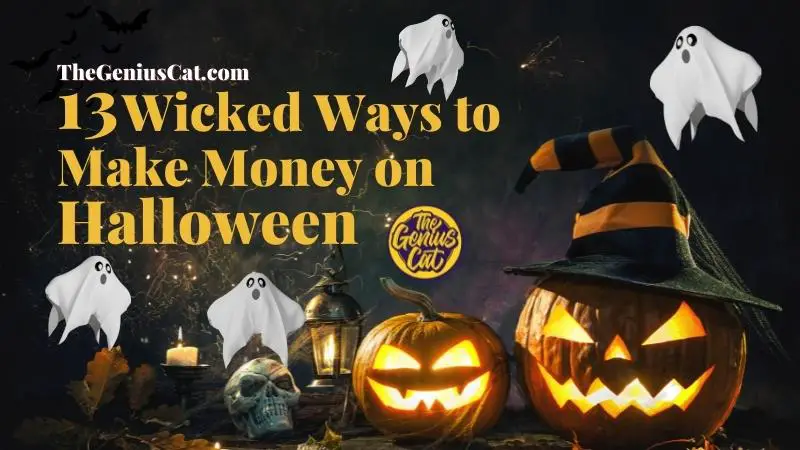 Without further ado, here are 13 wicked ways to make money on Halloween:
1. Scaring People
For many people, Halloween is the one time of year when dressing up and going door to door for candy is a blast.
For others, it's the one time of year when they're paid to go from house to house and scare people.
It is a possible career for people who want to scare people on Halloween.
But how can you make money out of it? You either start your own site, or you can use social media sites to send out targeted messages such as Instagram DM.
It might be worth advertising your services on sites like Craiglist and Facebook too.
2. Renting Your House Out for Halloween Events
Do you have a house that sits empty during the summer months? If so, you could make money by renting it out during Halloween. This opportunity is perfect for those who don't enjoy being scared and want to make some extra cash.
Imagine this…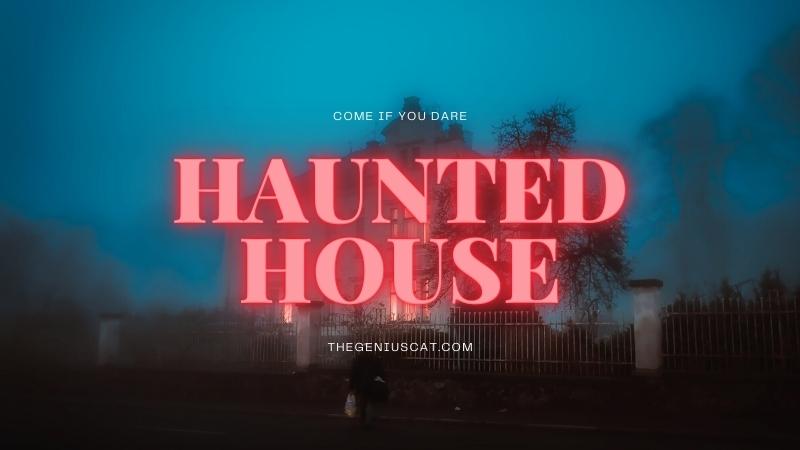 Lights flicker on the porch, and you can hear the sound of people talking and laughing in the other room. A young girl dressed as a princess walks out of a room and sees you. "Trick or treat!" she says, her voice echoing throughout your house.
You stare at her and ask "What?". "Trick or treat," she says again. But this time, you didn't answer her. She looks around with a huge grin on her face. And with a scary face, you ask her "You can see me?". That's when she runs away – scared for her life! You laugh.
I mean, it's Halloween, it's supposed to be that way, right?
Anyway, you get my point.
Now, one of the main questions that people often ask is how to rent their house and start making money. Here's what you can do…
Start taking photos and videos of your home
Sign up with Neighbor.com for free and click the "Become a host" button. On a side note, say you wish not to rent the whole house, you can just rent part of your home (think the garage, backyard, or basement)
Once people start responding to your listing, be sure to reply to them through the site and approve any requests that seem like they'll work out.
Start earning passive money!
RECOMMENDED

Become a Host
Get Paid to Rent Out Your Space
Neighbor is the Airbnb of storage. They help you transform the space you already have into cash.
3. Create a Costume or Other Product for Resale
With Halloween coming around the corner, everyone wants to make sure their costume is out of this world.
Whether you're crafting costumes from scratch or looking to DIY other Halloween products, check out these money ideas and DIY resources.
The money idea: You could make and sell a costume on your own or with friends, or you could create other Halloween-related crafts and sell them to make money.
Extreme DIY includes: making paper mache skulls, wrapping pumpkins in cellophane, and drawing on chalkboard art with sidewalk chalk to display on your porch steps.
Where should you sell your costumes? If you're looking to make more sales this Halloween, Etsy is the site to do it on – it's huge and your products can reach up to millions of potential shoppers.
4. Offer Pumpkin Carving Services at Home
Every year, people are looking for creative ways to make money on Halloween. One of the most cost-effective ways is to offer pumpkin carving services at home.
This way, you can carve pumpkins and sell them as a finished product or create Halloween-themed decorations.
I suggest you do this strategy because it's the best:
Create a brand new TikTok account and make a post about carving your pumpkin. Add some spooky background music for creepy vibes.

Publish a new short video of yourself every day where you showcase some of your tricks for carving pumpkins.
When you get to the very end of your video, don't forget to let your viewers know that they are able to buy the pumpkins you just carved or buy them from your Etsy page.
Bonus Strategy
When you have a sizeable following, do a Live session every day. Stop by and answer some questions from your followers or get a custom order for how they want the pumpkin to be carved. That way you'll be way more engaging and have a higher conversion rate which means you'll make more money on Halloween.
Doesn't that sound like a good plan to you?
5. Work as a Freelance Writer Promoting All Things Halloween Related
The Halloween season is just around the corner. If you're a writer looking for a side hustle with little work needed and high returns, you should try it.
We all know how popular Halloween is in the month of October – it's the one time of year when people are encouraged to wear scary costumes and get into some kind of mischief.
So there is a lot of demand for Halloween-themed articles this time of year.
In order to find clients, you have to have some way of marketing your services. You can post on forums or on Craigslist to find jobs, or contact companies directly if you already know someone in the industry with connections that could be helpful.
Maybe you can submit your own application to join HireWriter and try for a position as a writer.
There are usually tons of jobs available during the month of October since it's the Halloween season.
6. Host Spooky Events and Charge Admission
One way you can make money on Halloween is by hosting a spooky event and charging admission to it. Hosting this event could also be a good way to scare up some extra cash on Halloween.
I think this event will be a lot of fun. It's been pretty lucrative for some people, who have been able to charge customers and vendors an entry fee.
All you need is an empty space, chairs, and something spooky to do. You could host a ghost hunt in an abandoned asylum, have people come dressed up and take photos with the ghosts, or hire actors to dress up in costume.
7. Video Editing of Scary Videos Gigs
Video editing is a booming industry with lots of opportunities for aspiring and experienced editors.
With the popularity of Halloween, the demand for video editors has increased and we have all sorts of work available – from scary to hilarious.
The best way to break into the industry is by starting out with small projects, like editing a family video or creating a slideshow.
Once you have some experience under your belt, you can start looking for freelance gigs online that involve editing videos on specific topics – like this one!
Remember the "carved pumpkin" strategy I explained earlier? You can propose to be their video editor for the TikTok videos.
I recommend that you upload your video samples to TikTok. This will give you the exposure needed to get more clients.
I know the platform has been hot right now and it likely will be for some time because of its popularity.

Tip 1: You may have already heard about TikTok SEO. Now, you can input any keywords in order to find any related topics. So make sure to include some hot keywords in your video description so that you'll be easier for viewers to find later on.
Tip 2: Don't forget to add your website URL to your profile (if you have 1000 followers). But if you're not too established on that platform, feel free to link to your other social media profiles such as Instagram, YouTube, and Twitter.
8. Selling Treats
Most people know that one of the best ways to make money on Halloween is by selling treats on sites like Etsy.
You can decorate homemade brownies or granola bars or you can buy these treats at a low price and resell them. These snacks will sell based on their flavor, price, packaging, and how easy they are to transport.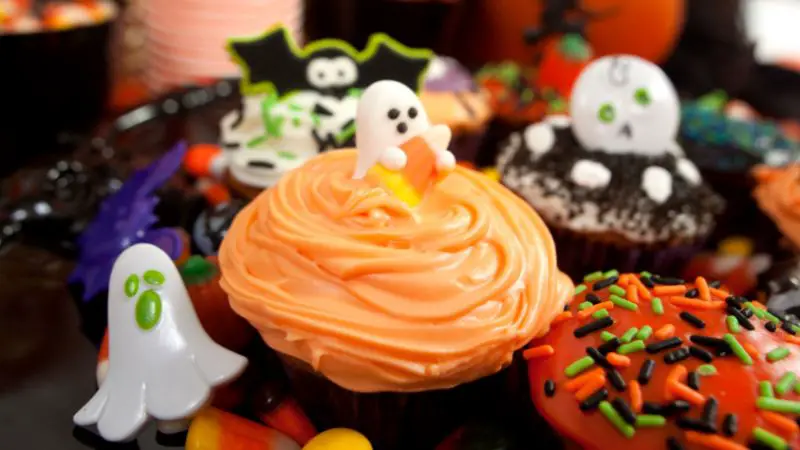 Side note: I always enjoy a Kit Kat bar mid-day to treat myself with some sugar and chocolate – but there are lots of other sweet options for you to choose from.
Maybe you should include plenty of other food items like cookies and pizza because people love those too!
Here's another way you can make money by selling treats.
If you let your kids go around trick-or-treating in all the houses in your area, then you're going to have a lot of candy by the end of the night. Make some money by selling your stash!
And if you are looking for a way to get rid of candy that you have too much of, especially if it is from other sources other than Halloween, selling it would be the way to go. It could probably go bad if it's not sold before Halloween starts again.
9. Take Busy Parents' Kids Trick-or-Treating
Halloween is almost here and a lot of people are looking forward to it. Kids will love trick-or-treating this year.
However, most busy parents will find it difficult to go trick-or-treating with their children this year. That's why you should make the most of this opportunity to earn more money in your free time.
As such, if you have time on your hands, consider looking for families in your neighborhood who might not be able to handle all their kids trick-or-treating themselves.
It might only take an hour or two but it would mean the world to them! That could easily net you between $25-$50+.
Caution: Be aware of your surroundings and avoid neighborhoods where there has been any recent crime or where nobody answered their door for trick-or-treating over the past few years.
10. Become a Halloween Make Up Artists
The holiday season is a magical time when ghosts and goblins come out to play. It's also a great way for you to make some extra cash without too much work.
Basically, all you need is the right equipment and expertise, which you can acquire by enrolling in a makeup artistry course that provides hands-on instruction.
The courses are often suitable for beginners as well as those with experience, so anyone can participate.
Once you get the hang of it, promote your Halloween makeup services in your neighborhood or on social media.
Want another one?
This business strategy is a great way to earn money, and you can do it by hosting a Halloween makeup class. Organize a get-together with 5-10 participants and charge them for it. But make sure that you are qualified enough to run this business so your customers stay satisfied.
11. Sell More Items by Hosting a Trick-or-Treating Yard Sale
As Halloween approaches, it's time to start preparing for the spooky holiday. Sell your unwanted candy and decorations for cash and make some extra money on Halloween.
This year, instead of buying new treats to hand out to trick-or-treaters, set up a yard sale where you can sell your old items and make some cash in advance of the big day.
It's easy to get your yard looking festive for this occasion. Put up some fake cobwebs and spiders, light up your porch with some orange lights and turn on a few of those spooky-themed songs.
Good note: If making money is not on your primary list, you might want to think about donating your old items rather than throwing them away. Doing this not only makes you feel good, but those who are in need will benefit from the items. Halloween is not just a day of fear; it's also a day of fun and making memories with your loved ones!
12. Petsitting or Babysitting Services for Parents
Petsitting or babysitting services for parents can be a great way to make money on Halloween. You'll need some experience working with animals or children, as well as the necessary equipment and training to ensure the safety of your client's animals or children.
It's a good idea to check with your local city zoning board to make sure you are allowed to provide your services within city limits.
Make sure you understand the regulations in your state and adhere to them, as well.
A number of websites offer online listings for those who want to find babysitting jobs or pet-sitting jobs. On these sites, employers can post their job openings for free and potential employees can browse the postings for hours that work well for them.
13. Becoming a Ghost Actor/Actress
How much money you can make as a ghost actor or actress depends on whether you are hired by a professional agency or you're going to post it yourself.
Halloween is the one time of year when people have an excuse to be spooked, and Americans love being scared. Around this time of year, most people are expecting a taste of the horror that they can enjoy.
This Halloween, why not give your friends and family members the scare they're looking for? Hanging out in the dark with flickering lights into autumn can be pretty terrifying.
Many actors and actresses look for jobs as ghosts during the Halloween season because it's their profession.
However, if you want to try this out for yourself there is still hope! You could post an ad on social media where your area so that people will know about your service and come find you themselves.
Final Thoughts – Make Money on Halloween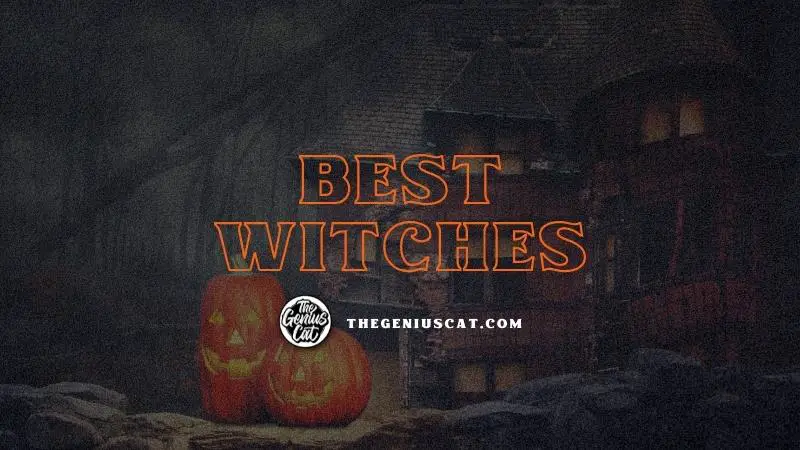 Halloween is one of the most popular holidays in the United States. It's a time when many people make money on Halloween: from costume designers to retailers, to those who sell items such as pumpkins and apples.
I hope these ideas will provide insightful guides and help steer you on the right course to make money on Halloween.
Like this post? Then pin it for your reference.