Last updated on 28th August, 2023 at 02:27 pm
Heads Up: For the sake of transparency, this post might contain affiliate links. If a sale is made, I will receive a small commission (at no additional charge for you), which helps keep the lights on and helps feed my cats. Please read our disclosure policy for more information.
If you have been wishing to grow your brand to achieve your goals, PPC and social campaigns are not enough. To create a profitable blogging business, unique content is the key. And in this case, you will require ways that can help convert readers to subscribers. And also change subscribers to customers.
Hence, this article aims to explain how you can successfully achieve this goal. Email marketing is the best way to help you build and capture leads of a big audience. Nevertheless, below are my top 3 picks for the best email marketing services for bloggers among the myriad options available.
To begin with, let's define what email marketing is.
What Is Email Marketing?
Email marketing is the art of sending commercial messages, advertising, and other promotional content via email.
An email marketing campaign offers a tremendous opportunity to reach wide audiences for very little cost. Email campaigns can be an effective way to engage and retain customers, promote a product or service and increase customer loyalty.
Email marketing helps someone to build a fruitful relationship with audiences. Furthermore, it also allows someone to increase their sales.
It's still essential to understand that fast success with email marketing will depend on email marketing services. They tend to be responsible for ensuring all your emails will get delivered to audiences.
Overall, email marketing plays a significant role in your website and can help you:
To save money on the marketing budget
Turn the casual visitors into loyal customers and readers
Build your credibility and brand
Boost your content engagement
Develop a fruitful relationship with the audiences
How to Choose the Best Email Marketing Services As a Blogger
There are many email marketing services out there that offer different features, so it's important to choose the right one for your blog. This is not as easy as it sounds, because not all email marketing services are created equal.
So how do you choose the best email marketing service for your blog? There are plenty of factors to consider when choosing an email marketing service:
Cost
What is your budget? Do you have funds set aside for marketing? What are you willing to spend on this service? Those are some of the things that you need to consider. In case your budget is limited, you might consider email marketing services that provide a generous free plan.
Simplicity
How much time do you have to spend on managing your blog and email marketing campaigns? Do you want a service that requires little work on your end or one that has more features and requires more time management?
The ease of use of these services varies, with some requiring more time on your end than others. Services with more features may take a little more time to navigate but often have a higher ROI.
Features
Which features are most important to you? Are there any "must-have" features that are not included in the service's package but would be valuable for you? You should always choose a service that has the features that are most important to you. If there are any "must-have" features that are not included in the package, it is worth considering them.
Email Deliverability
Does the email marketing services company offer deliverability guarantees or statistics about the success of their campaign?
Email delivery has been a massive issue for bloggers as the number of emails being sent has increased exponentially. The deliverability rate of an email is the measure of how many emails are delivered to a recipient's inbox rather than the spam or junk folder. Thus, selecting the best email marketing services that can combat this issue may help improves your campaigns.
Customer Support
One of the most important things to consider when choosing email marketing services is their customer support. Is there phone support available? How about live chat? Would there be an FAQ or tutorial available? It is imperative that you get an email marketing service that has excellent customer service in the event you need help.
7 Best Email Marketing Services For Bloggers
The following are my best picks for email marketing services for bloggers this year.
1. ConvertKit
This software is easy to navigate and use, as the company offers weekly live training for the users. The software helps you slide-in forms and landing pages and create impressive pop-ups, among others, to attract readers to subscribe. ConvertKit gives the user various options, including forms, subscribers, automation, broadcasts, and sequences.
Top Features:
Live and email chat support
Landing page templates
Email open rant tracking
Subscriber tagging & subscriber exclusion
Custom segment
Best reporting; you can quickly get op-in conversions and subscriber data directly from the dashboard.
Customizable landing page layout
Can integrate easily with a landing page, majority of eCommerce and membership site providers.
Drip email marketing
Drag & drop interface
Email scheduling with email sequences
Pricing Plan for ConvertKit
First, it is essential to note that the Creator and Creator Pro plans have a 14-day free trial for all customers. Plus, the plans are billed annually. And if you have 5,000 plus email subscribers, the migration team will help you to move everything right from your old email marketing service to this ConvertKit for free.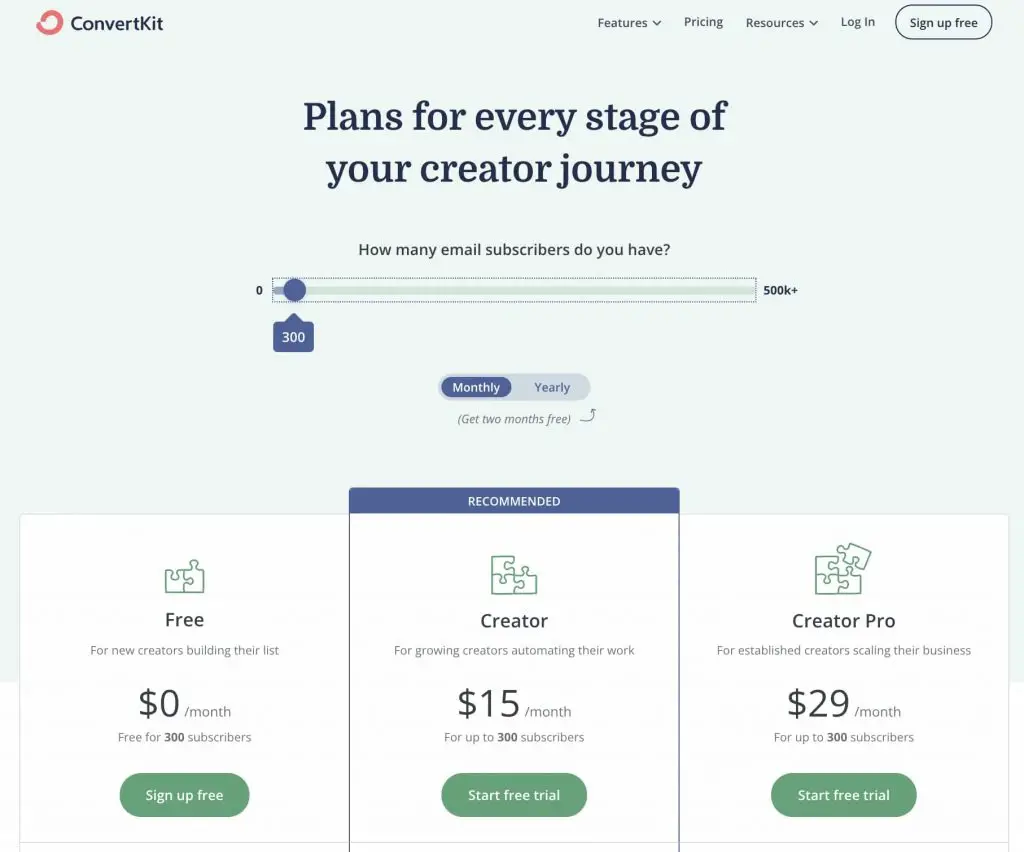 Click here for a more detailed review of Convertkit.
Pros of Convertkit
Easy to use
Comes with a lot of videos and tutorials. This can help you manage your list quickly.
Add the tags to your segments lists
The email delivery rate is excellent and fast
Great automation software to manage many emails
Perfect for bloggers
Cons of Convertkit
The reporting data is a bit limited
Pricing plans are billed annually and start at 25 dollars. Some people see it as a bit expensive compared to other related email marketing services.
2. GetResponse
With this software, you can build an email list, create landing pages, and conduct webinars and sales funnels. Further, you can perform A/B testing at very affordable prices.
GetResponse is easy to use with robust features. And you can access what is in the dashboard, including email marketing, contacts, automation, forms & surveys, landing pages, and CRM, among others.
Top Features:
Access time travel feature. This helps the user ensure their messages are timely delivered in a specific time zone.
Access to the webinars. This helps to collect leads, turning them into audiences.
Access to the signup forms that are responsive and pre-made
Access to workflows. This helps the users quickly turn the random visitor into customers and subscribers.
Access to automated cart reminders, even the abandoned ones with advanced eCommerce segmentation data.
Easy to use with 150 plus templates and drag and drop easy to handle the editor.
Integrations with Square, Stripe, PayU, PayPal, and BlueSnap accounts
Access to 100 percent responding landing pages
Access to a ready-made, wide range of marketing campaign templates with emails, landing pages, webinars, signup forms, and sales pages. Overall, this can quickly increase your email conversations.
Pricing Plan for GetResponse

Note: The above price plans will go up specifically as your email list does. You will also enjoy a 30-day free trial using all email marketing features without paying.
Pros of GetResponse
Incredible email deliverability
Easy to handle drag and drop to customize the emails
Many free templates with stock free images
Offers everything from webinars to landing pages to email broadcasts. This means it can be used even in one email marketing solution.
Cons of GetResponse
They could have a more straightforward interface, especially for the starters with zero technical skills.
The Click to confirm opt (emails are a bit low to arrive)
3. AWeber
AWeber is secure and straightforward. Reliable and user-friendly currently used by more than 1 million individuals worldwide. It is an excellent automation software in email marketing for many bloggers and marketers.
Top Features:
Comes with HTML templates
Free access to over 700 mobile-responsive and fast email templates
Automatically creates the email from the newest blog posts
Create automated email sequences
Free access to a quick, responsive signup form
Split testing to test the emails for a more incredible conversation
Excellent analytics like click-thoughts, open rates, etc
Industry-leading fast email deliverability rate
Pricing Plan for Aweber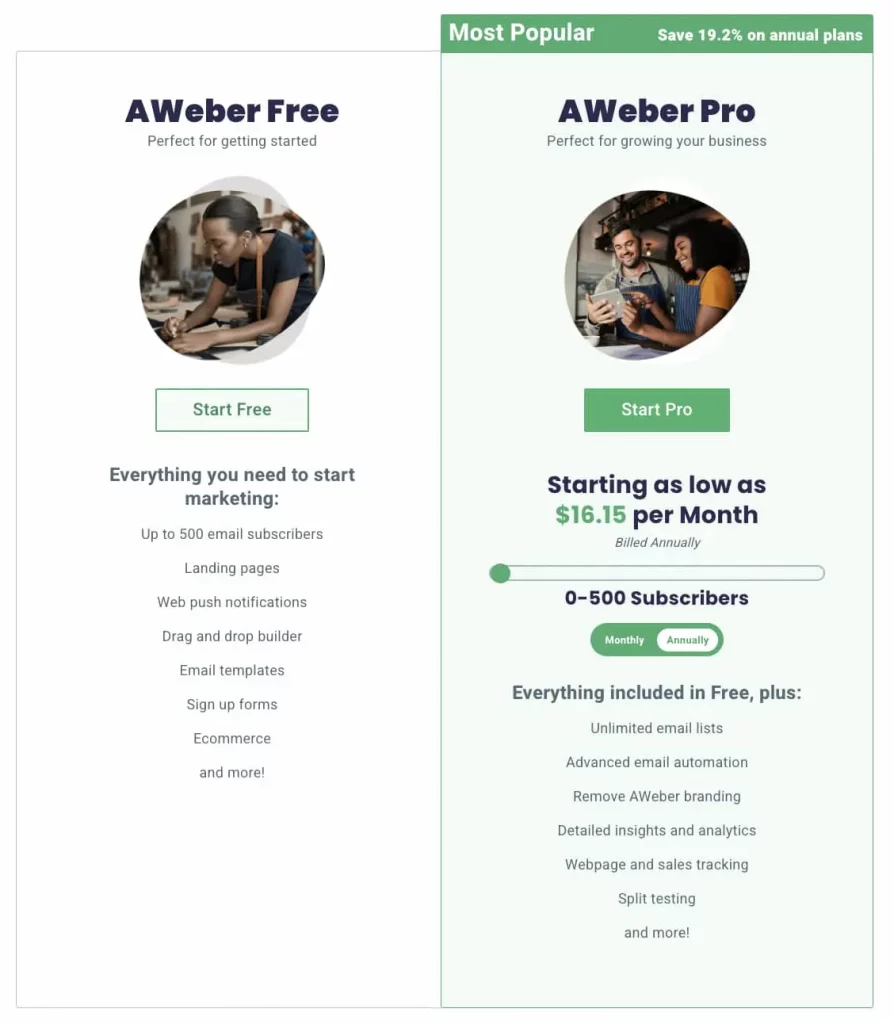 Pros of Aweber
Superior customer support
Excellent and faster email deliverability rate
Drag & drop builder, which easily customizes the emails
Pre-made option to quickly build the email list
Lots of integrations such as apps, payments, and so on
Powerful analytics
Built-in A/B testing
Access to the mobile apps
Easily automate
Cons of Aweber
The builder and landing page editor is not accessible
It seems like the prices are a bit high
4. Constant Contact
This email marketing software is not new in the market. It helps you stay connected and stay engaged with customers. It comes with several useful features that will allow users with their brand campaigns.
Top Features:
Newsletters and emails
Campaign creation
Create a subscriber list
Automation and email scheduling
Reporting and campaign tracking
Automated series
Integrations
Customizable landing pages
New integrations
Website builder
Pricing Plan for Constant Contact
This software comes with two plans based on your mailing list. This is Core and Plus. Both offer a 30-day free trial.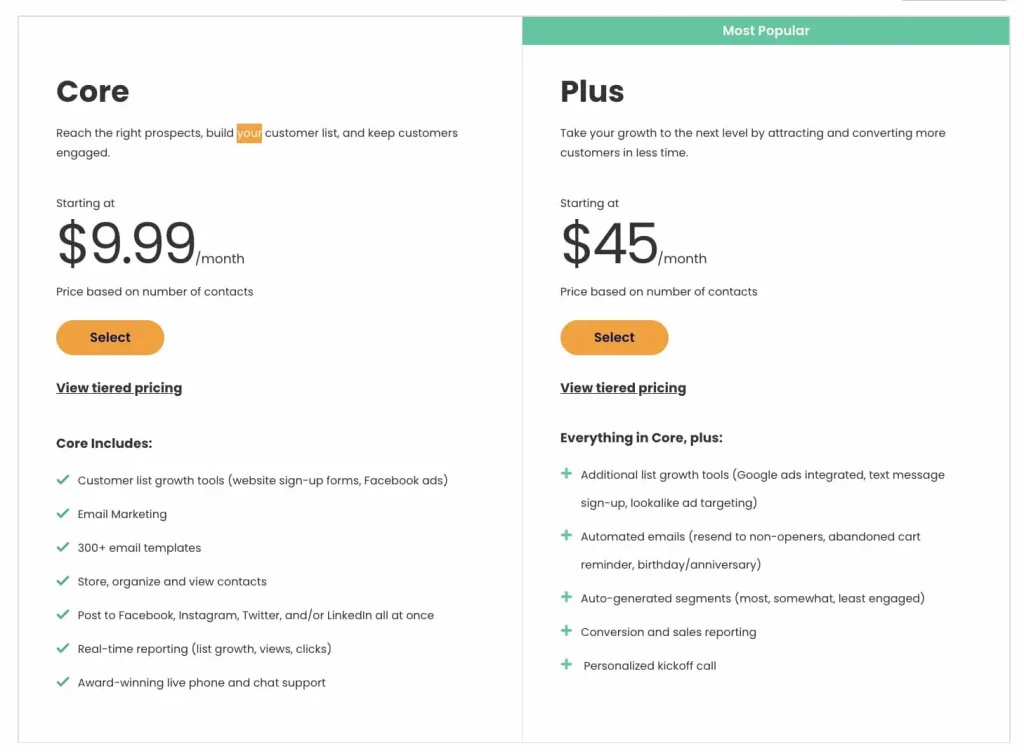 Pros of Constant Contact
Excellent delivery rate
User-friendly
List building support
Free stock images
A considerable number of valuable templates
Social sharing statistics
Great analytics and reports
Image editing tools
A lot of templates
Cons of Constant Contact
Challenging to import the legacy HTML templates
Manual removal of the un-subscribers
5. Sendinblue
This platform provides comprehensive solutions to all your e-marketing needs. And it is a highly competent and easy-to-use communication tool that offers numerous solutions for email campaigns, SMS marketing, and marketing automation.
Top Features:
Email templates
Automatic responses
Form builder
Drag and drop creation
Responsive design
Email scheduling
Capacity to create impressive landing pages
Click-through tracking
Pricing Plan for Sendinblue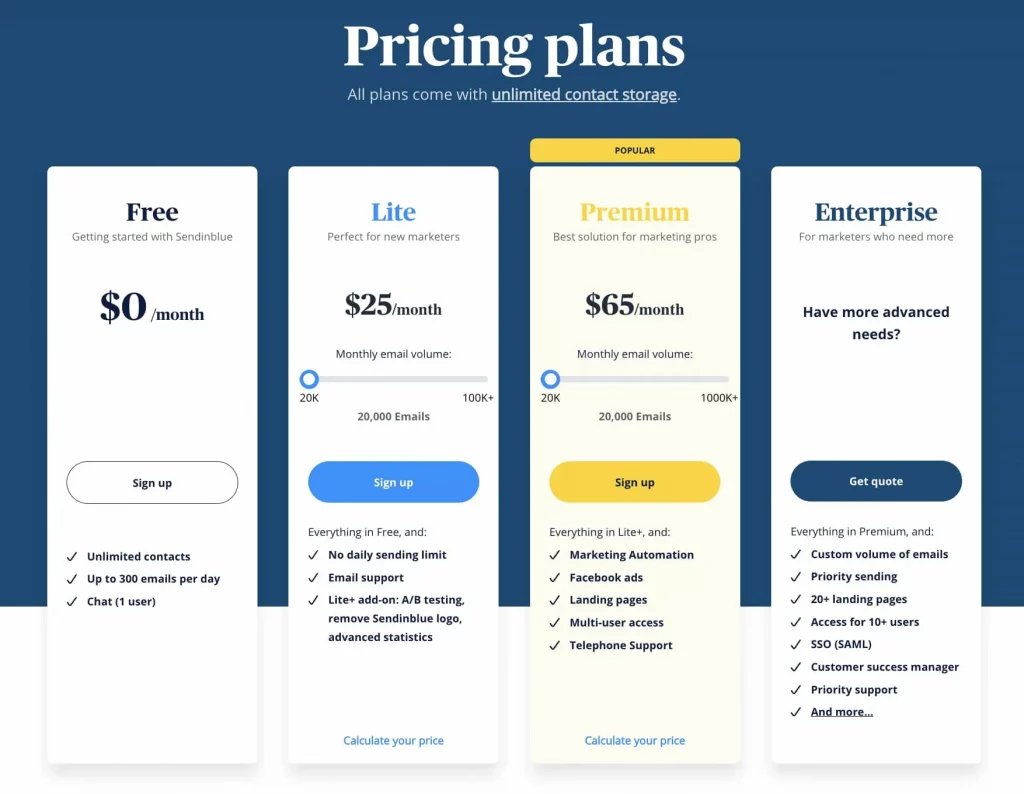 Pros of Sendinblue
Easy to navigate
Handy for the transnational SMS messages to audiences
Great savings
Useful for Magento, WooCommerce users, or Prestashop platforms via plugins
Availability of both autoresponder and transactional email options
Great aesthetics with faster responsive layout templates
Cons of Sendinblue
Limited integration with a third parties
Limited templates
6. Mailchimp
Many people use this service for two specific reasons. First, it is easy to handle, and it's a free plan interface. Furthermore, they provide a free account that can be used to manage up to 2000 subs for free (on our "free" plan). And the dashboard is also easy for beginners to use, and even those without any technical skills will be able to maintain it with ease.
Top Features:
Comes with ready-made segments
300 plus app integrations
One-click automation, which helps the user manage email marketing campaigns
It comes with a lot of pre0built templates.
Ability to promote your business across social, email, postcards, landing pages, etc
Access to analytics that helps to track your email clicks, and open rates, among others
Real-time performance for your campaigns
Pricing Plan for Mailchimp
Mailchimp offers a free plan, which allows the users to build an email list of up to 2000 subs. While the rest of the plans are as below:
The essentials plan starts at $11 monthly.
You will access features like custom branding etc., email templates, and A/B testing, among others. Further, you can even send up to 500,000 emails monthly. The Plan is also suitable for 500 email subs, and ten times send limit your audience size.
The Standard plan starts at $17 monthly.
In this Plan, you will access features like plus automation series, essential Plan, custom templates, and retargeting ads. In addition, you can send 1,200,000 emails monthly, appropriate for 2000 email subs. The monthly send limit starts from 12 times of user audience size tier.
The premium plan starts at $299 dollars monthly.
It is a bit expensive Plan but with unique features like multivariate testing, plus advanced segmentation, standard Plan, etc. In this Plan, someone can send 3,000,000 emails monthly and appropriate for 10,000 email subs. Also, it comes with a monthly send limit of 15 times the audience size tier.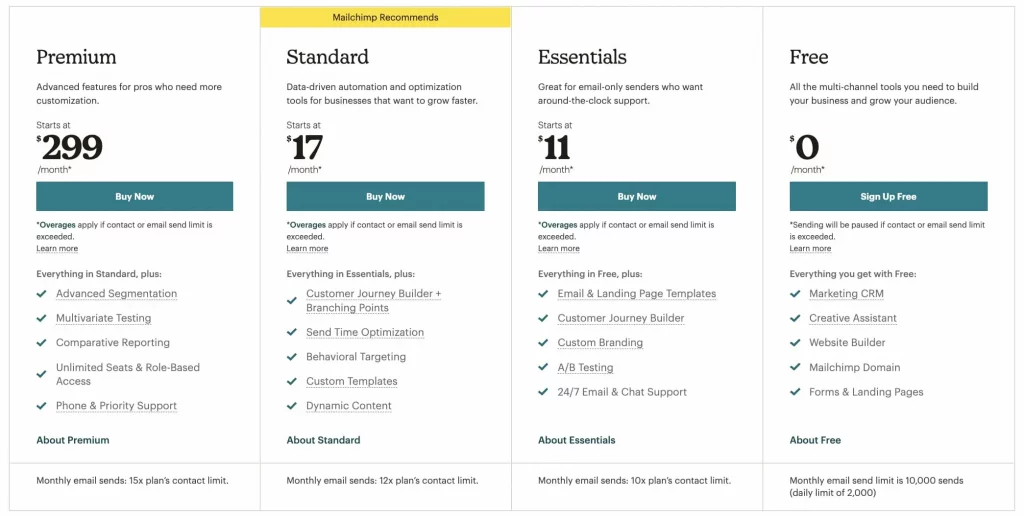 Pros of Mailchimp
Great analytics
Lots of integrations
Easily create types of the emails templates
Easy to use even for beginners
Cons of Mailchimp
It gets expensive as the user email list grows
With the free Plan, someone cannot send any promotional emails.
7. MailerLite
This software is user-friendly, which makes it great for online businesses and bloggers. And, it is more affordable as it offers more templates to design your email. Mailerlite provided everything bloggers expect from the email marketing software.
Top Features:
Click maps
RSS campaigns
User permissions
Email automation
Landing pages
Unsubscribe page builder
File manager
Open by location
Pricing Plan for MailerLite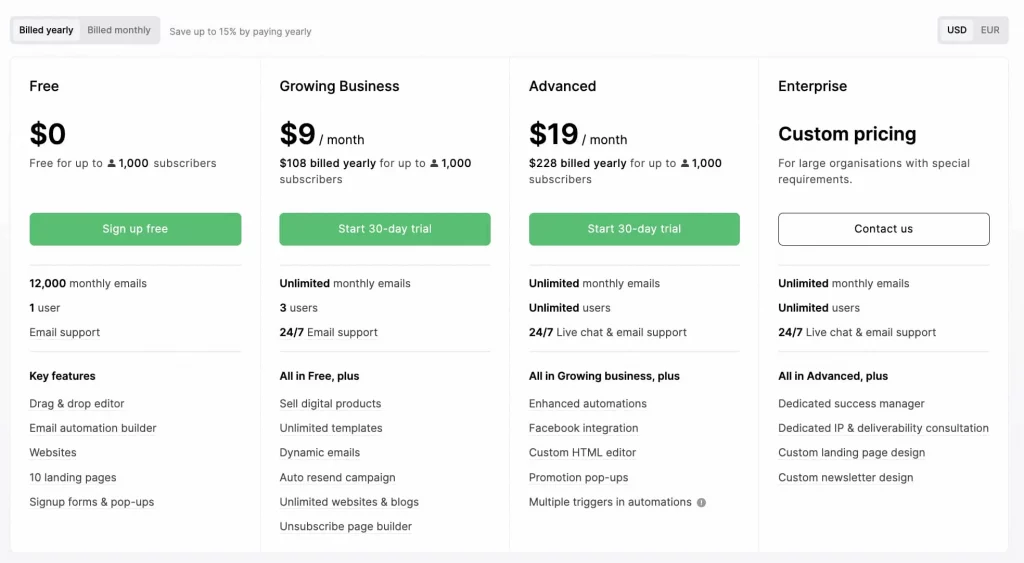 Enterprise plan – this is for special requirements, and you should contact the company for pricing.
Pros of MailerLite
Excellent customer service
Easy to build
Integrates with other marketing tools
Good value for the money
Intuitive software, which focuses on the simplicity
They have a helpful education program with simple webinars and articles
Cons of MailerLite
Deliverability could be more than it is
The top factors to consider when choosing your email marketing service
Easy of use
Fast deliverability
Great features
Good price
Best Practices in Email Marketing for Successful Blogging
Email marketing has been around for decades, it's still one of the most effective ways to reach your target audience and convert them into customers.
It is a powerful tool that can be used to promote your blog posts. It can also generate traffic from new readers who may not have seen your posts before. But if you're not careful, you might get flagged as spam and find yourself with high bounce rates and low open rates.
Here are some best practices in email marketing for successful blogging:
Build an engaged list of subscribers
Personalize emails with content that is relevant to readers
Write emails that are succinct, clear, and easy to read
Reply quickly to questions and disengage from outreach that isn't generating interest
Learn about the product, service, or business you're promoting. Then share with your audience  
Offer a variety of content options  
Ask for feedback on blog posts
Final Thoughts
In today's world, with the digitalization of nearly everything, email marketing has become one of the strongest and most effective tools for any business. That is why it's essential for bloggers to find the best email marketing services that fit their needs and make their job easier. This is why I have decided to put together this list in order to help you find what you need as quickly as possible.
I hope that you can start building your list of loyal fans and future customers with this list of email marketing services.