Last updated on 14th January, 2023 at 08:40 am
Heads Up: For the sake of transparency, this post might contain affiliate links. If a sale is made, I will receive a small commission (at no additional charge for you), which helps keep the lights on and helps feed my cats. Please read our disclosure policy for more information.
The internet has created many opportunities for those who are looking to make money online. It is not only adults who can make money from the internet but also teenagers like you. If you're reading this post, then chances are that you're a teen looking for tips and tricks on how to make money online as a teenager.
I know what it feels like when you want to start making your own income at an early age. You might feel like there is no hope or that it is impossible because of your age. But I want you to know that it is never too late to start.
Making money from home can be challenging, but it doesn't have to be impossible. If you're willing to put in the work, you can beat your challenges and make a full-time income working for yourself.
With that being said, let's get started by discussing these online money-making opportunities listed for teens below. 
1. Produce Faceless Youtube Videos
Did you know that you do not have to show your face on Youtube to make money? Yes, you can make faceless Youtube videos.
And, this may be a great option for you if you are not looking for the "fame and notoriety" that others are craving. Yet, you can use the extra "money" these videos bring in.
Simply put, there are ways that earn money online without appearing in a Youtube video.
How To Make YouTube Videos Without Showing Your Face
People are generally more likely to watch videos that are created by people they know. But what if you don't want to show your face?

There are a few ways that you can create a video without showing your face. The most popular way is by using stock footage videos. Let's take a look at the steps of this process.

Steps to make YouTube videos without showing your face:
Step 1: Choose the top trending niche
In order to get the most out of your content, you need to choose a niche that is trending. This ensures that you are able to tap into the most popular topics and generate more traffic and engagement.

Some of the top trending niches are finance, health, relationships, happiness, and psychology.
Also, remember, you do not have to guess or estimate which videos will perform their best. Instead, you can look for top-performing videos that are high up in the search engine and that are related to your niche.

Once you find these, all you have to do is make a model of what you see to help you get started. This is a shortcut to earning money early in your money-making ventures.
Step 2: Write the Video Script
When you need to create a video, the most important thing is the script. It will dictate how the video will be shot and what will be said in it.

If you have the skill to write the script yourself, then go ahead and create one. However, if you have no time or skills to do this, then an AI writer can help you out by generating scripts for youtube videos at scale.

I personally use Rytr.me to create an outline for my YouTube video script.
Step 3: Voice Over
A lot of people are not aware of the importance of reading their scripts out loud before they start recording their voices. It is important because it helps them get a feel for how the words will sound when they have spoken aloud and can help them choose how to pronounce words and phrases in the script.

Therefore, read the script out loud with your own voice. If you don't have a good voice, hire an artist to do it for you. You may hire the voice-over artists on Fiverr or Upwork.
Step 4: Edit Your Video
Editing is the process of selecting and preparing footage, the voice-over sound, music, and visual effects to create a final version of a video.

To save time, it's vital that you have a video editor on your team to help tailor the video for you. They will quickly transform the raw footage from unstructured chaos into beautifully coordinated content so that you can focus on other tasks in your business.

A good editor can spot mistakes you might not even know were there and make them disappear. They will also help you add in any footage or sound that was missed during the filming process.

If you want to save some money on hiring a professional video editor, you can use InVideo to edit your video. You may download stock footage videos from sites like Mixkit, Pixabay, Pexels, Videvo, and Storyblocsks.

One of the most important factors in making successful videos is editing your videos by following the guidelines of fair use. When you follow these guidelines properly, you will not have to deal with copyright strikes or other related issues in the future. 
Step 5: Create Thumbnails
The thumbnail is a visual representation of your video. It's the first thing viewers see and it has to be both eye-catching and relevant to the video's content.

If you're not a graphic designer, you can use Canva or other free design tools to create a nice thumbnail for your video. If you have a graphic designer, they will usually have some experience with designing thumbnails.

Alternatively, you can hire a professional graphic designer to make a thumbnail for you. They will be able to create something unique and visually appealing that also matches your brand identity.

That's it. That's how you can get started with your own faceless YouTube channel. Now take this teenage kid as an example- Matt Par runs 9 different YouTube channels and he is making over 7 figures from them.

Are you feeling inspired? Here is a free training by Matt Par (someone who has been there before) to get you started right away.
FREE TRAINING: How to Make Money on YouTube WITHOUT Recording Videos
…And Without ANY experience, technical skill, or a huge upfront investment!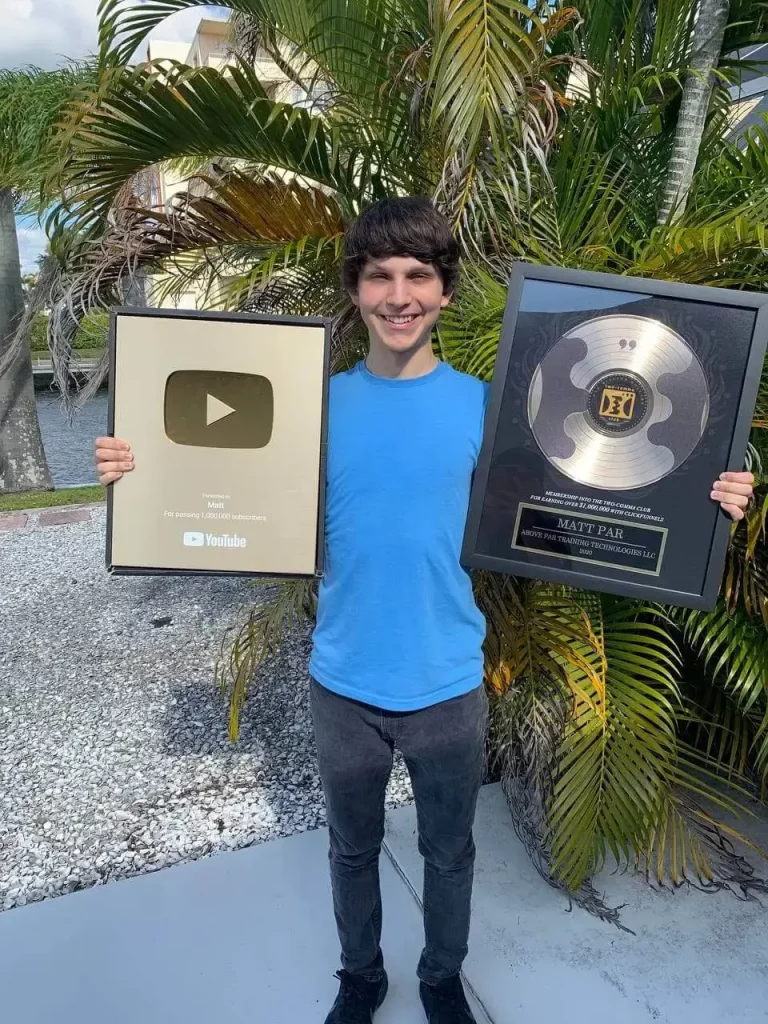 The new way of going about YouTube that doesn't require you to record videos
Choosing the right niche and generating videos quickly
How to take full advantage of the YouTube algorithm and grow super quickly
How to Monetize Your YouTube Videos
Monetizing your YouTube videos is not as complicated as it sounds. There are plenty of ways to generate revenue from your videos and I am going to list a few of them in this post.
There are three main monetization models for YouTube:
2. Run a Personal YouTube Channel
You don't need to be a celebrity to have a personal YouTube channel. In fact, YouTube is one of the most popular social media platforms that enables you to build your personal brand.
It's about creating an identity that you can use to identify yourself as an expert in your field. YouTube is a great place for this because you can showcase your skills and passions through videos, tutorials, and more.
For some people, this may take time, especially if you are uncomfortable talking in front of a camera. However, when you gain the experience that you need, these skills can be of great benefit to you.
How can you use this to make money? While there are a lot of different strategies for monetizing such a channel, you can basically use the same techniques and formats applied to faceless YouTube channels as mentioned before.
3. Affiliate Marketing
How to make money online as a teenager will also include signing up for an affiliate network. The ultimate goal of affiliate marketing is twofold: to make money and to help people.
In case you are wondering, affiliate marketing is a business strategy where an affiliate earns a commission from a sale, usually from online advertising. With this type of business model, the affiliate marketer would sign up for one or more affiliate programs, then promote those products as part of online advertising.
An affiliate can promote them on their website, in blogs or social media, or in paid advertising on other websites. The affiliate gets a commission or percentage of the sale they generate.
The company offers the commission to affiliates because they have already done all of the work by creating an ad and sending the traffic to the merchant's shop where their targeted audiences can purchase it.
Related Posts You Might Be Interested In:
How To Make Money With Affiliate Marketing
There are many ways that you can make money with affiliate marketing. Here are some examples.
4. Freelance Graphic Designer
There are many ways to make money as a teenager. One of the most popular ways is to start as a freelance graphic designer. However, it is not as easy as it sounds.
Bear in mind that you need a lot of patience. This will be a long-term process and will take time before you can see any profits or even break-even for that matter.
You also need to have the right set of skills in order to succeed in this field, so make sure that you have those covered before starting out on this path.
I have found that there are a few ways to make a profit as a graphic designer. You can offer your services on websites such as Fiverr or on freelance sites such as Upwork.
You could also take the time to design custom designs for businesses that need a logo, flyer, brochure, or maybe social media posts for their business.
The great thing about being in this field is that you can work anywhere in the world as well. You could be designing for a company in the United States and still make money through your work without having to move there.
But what if you don't have any design skills? Personally, I find that Canva is a good option as it does not require much work, but produces eye-catching graphics.
How To Make Money as a Freelance Graphic Designer
Let's say you are offering a service to design a YouTube thumbnail. Here's what you can do.
Go to YouTube and find any channel that you know or enjoy watching.
Keep an eye out for any videos on their channel that have fewer views.
Open Canva, design an eye-catching thumbnail that will catch the audience's eyes.
Let the YouTube channel owner know that you redesigned their thumbnails. A simple email will do.
You can offer that for free. You don't have to charge. If they like your design, don't forget to inform them that you can help them design thumbnails for their next upcoming videos.
As you are a teen just starting out, I've written an email outreach template that you can use to execute this idea. Don't forget to edit anywhere else you think is appropriate.
Subject: I'm a huge fan of [YOUTUBE CHANNEL NAME]
Hi [FIRSTNAME],
I am a huge fan of how creatively you deliver priceless value through your YouTube channel. It has been a pleasure to be a subscriber of yours for [DURATION] now.
I must say that your latest video upload [VIDEO TITLE] is amazing! I've shared it with my colleagues who I think could benefit from your channel. However, YouTube seriously needs to fix this video. There is a dislike button on it.
One thing I noticed is that the view count for one of your videos [VIDEO TITLE] isn't as high as your other videos. Perhaps this has something to do with the thumbnail.
As a way to show my gratitude for your hard work in delivering such valuable content on your channel, I took a few hours to help you design an eye-catching thumbnail for that video free of charge. Please take a look at the attached file.
It ought to catch your viewers' eyes and hopefully increase your click-through rate. Of course, if you want me to design a YouTube thumbnail for your upcoming video, I'll be happy to work with you. Let me know what you think.
Thanks so much for your time.
Regards,
[YOUR NAME]
5. Sell Your Knowledge – In the Form of Online Courses
Selling courses online is a great way to turn your knowledge into an asset. The internet has made it easier for people to learn and understand new things. You can take advantage of this by making your knowledge available to those who would like to learn from you.
No matter what your area of expertise is, there are people out there who want to learn from you and will be willing to pay for the privilege.
What Is an Online Course?
An online course is an educational program that provides teaching and learning resources for students, with the internet accelerating the availability of information.
These courses are essentially videos that you can watch at any time. You can also pause, rewind and fast forward to get through the material at your own pace.
There are plenty of courses out there for just about anything you can imagine. Interested in a course on how to teach others? There's a course for that. Want to be an entrepreneur? There's a course for that as well.
How To Make Money Selling Online Courses
These days, the best way to make money from a course is to have explicit upfront pricing. This means that people are clear about the cost of your course and can make an informed decision about whether or not it's worth it for them.
So, you want to create a course? Whether it's your passion, past-time, or profession, I'm here to help you start and make sure that there are no hiccups along the way.
The course creation process can be broken down into these four simple steps:
Step 1: Define Your Niche
A common mistake in starting a course is to try and make a course with too much content. The best way to start is by defining a niche. Once you've figured out the niche you're interested in, it's time to start narrowing down your focus and defining your audience.
For example, a niche for a course on photography might be how to use natural light as the main source of light in your photographs.
Step 2: Create Your Online Course
In order to create an online course, brainstorm your topic and plan the structure of your course. Brainstorming the topic for your course will help you narrow down your focus and plan the structure of your course.
Making sure your course topics are up to date with current research and trends in the field is a must! The scope of your course will be determined by the topic you select.
Step 3: Choose a Website for Selling
There are many platforms that offer the opportunity to sell your online course. Depending on your specific needs, there is a platform for you. Here are the top websites that you can use:
Step 4: Promote, Promote & Promote
The best way to promote your online course is to create content that will be shared by your target audience. Share the content on social media platforms, such as Facebook and LinkedIn, and promote it with a blog post or website.
Personally, I think the most popular way to promote your course is by blogging about it. Blogging reaches an audience that you may not have been able to reach before, which makes it a great marketing strategy! Start your own blog today with this step-by-step guide.
If you prefer to promote via social media platforms, I would suggest doing it with TikTok and IG Reels. Why? Because you stand a chance to go viral even without a massive following.
The Last Words – How To Make Money Online as a Teenager
It's no secret that the internet is a goldmine for anyone who wants to make money online. As a teenager, it can be challenging to know what is the best way to make money online.
Honing your skills and finding what drives you can be daunting. One way to explore and find what best suits you is by getting started.
I hope that this guide has helped you to understand how to make money online as a teenager.
Signing off now, cheers!~