I see you're looking for the perfect email marketing tools to generate leads, and you're left in a difficult position: GetResponse VS Convertkit.
GetResponse and ConvertKit are the two famous and reliable options.
Heads Up: This post may contain affiliate links. This means if you buy something through one of those links, you won't pay a penny more, but I'll get a small commission, which helps keep the lights on and to help feed my cat. :) Please read our disclosure policy for more information.
However, if you do not know what to look for or how you should go about it, choosing between them can be challenging.
This guide will help you understand more about each of these email marketing tools to help you decide with ease.
But first, let's do a quick comparison of both sides by side.
GetResponse VS Convertkit: Feature Comparison
| Features | GetResponse | Convertkit |
| --- | --- | --- |
| Free Access | 30 Days Free Trial | ✔️ |
| Email Marketing | ✔️ | ✔️ |
| Email Creator | ✔️ | ❌ |
| Email Templates | ✔️ | ❌ |
| Marketing Automation | ✔️ | ✔️ |
| Landing Pages | ✔️ | ✔️ |
| Webinars | ✔️ | ❌ |
| Conversion Funnels | ✔️ | ❌ |
| 24/7 Support Access | ✔️ (Via Chat) | ✔️ (Via Email) |
| Integrations | ✔️ | ✔️ |
Before you make your mind up, here are the features you should consider when trying to decide between GetResponse VS Convertkit:
1) Marketing Automation Tools
GetResponse
GetResponse has marketing automation tools making it a valuable feature.
If you have an existing contact list from a different marketing platform, you can import your contacts by integrating GetResponse with the provider or using CSV files.
After that, you can use GetResponse automation features to build email campaigns right away.
GetResponse includes features like e-commerce integrations, which means you can send abandoned cart sequences, transactional emails, and product recommendations just by using triggers.
There is an interactive tutorial for those who are new to marketing automation that teaches multiple ways to use conditions, actions, and filters.
A variety of pre-designed templates is available to choose from as well.

It's possible to design your workflows entirely from scratch too. For instance, if a customer leaves their cart, the marketing automation workflow will trigger an abandoned cart email to be sent to them.
ConvertKit
ConvertKit also has several marketing automation tools to simplify the workflow.
Like GetResponse, ConvertKit has a drag and drop feature that can help you create or improve your marketing campaigns and follow-up emails.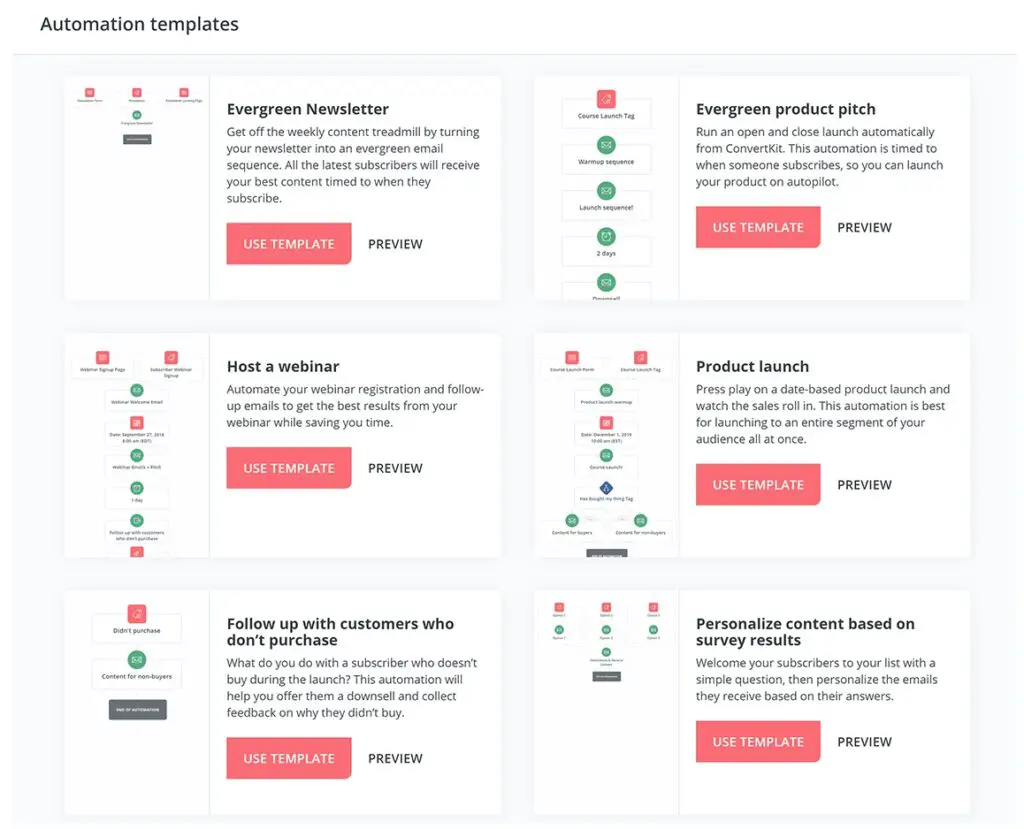 Remember, although ConvertKit and GetResponse have marketing automation tools, GetResponse has the upper hand because it has a conversion funnel feature.
2) Landing page capabilities
GetResponse
Using GetResponse's landing page creator, you can build one from scratch or customize the available templates.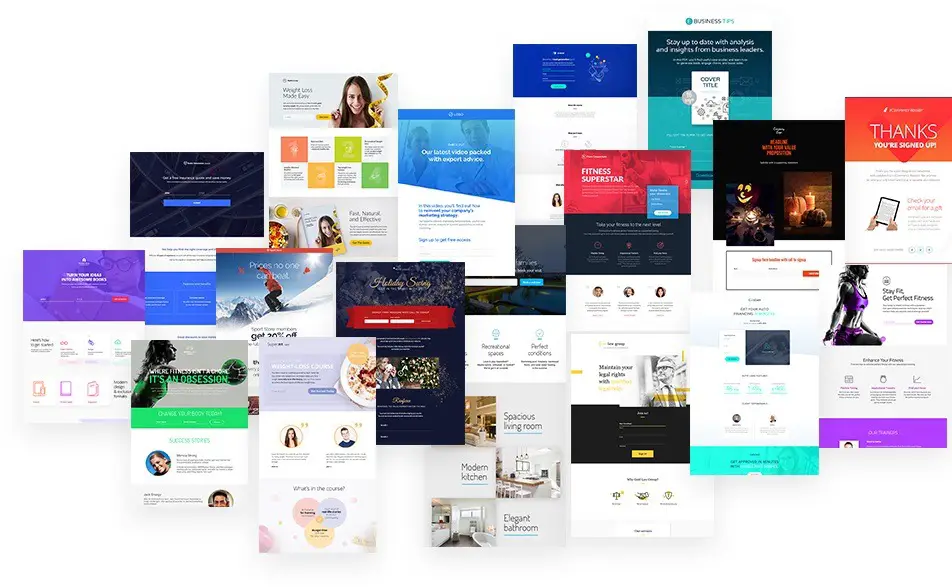 Using GetResponse, you can access the drop and drag editor to customize texts, images, CSS, HTML, and JavaScript.
The landing page creator can also help you in adding:
Sharing icons
Static and pop-up forms
Content blocks for texts, images, videos, and buttons
Custom code elements like CSS, HTML, and JavaScript
Webinar registration forms
Structuring the landing page with sections
Previewing the landing page to know how it looks on a mobile phone or smartphone
The landing page has been designed to be mobile responsive, and you can hide elements for mobile devices or show them on desktops.
Integrated with analytical tools like Google Tag Manager and Google Analytics, your page has a better chance of being found in search results.
Lastly, because the GetResponse marketing suite also includes webinar software, the landing pages integrate completely with them, enabling you to use them as a registration page for webinars and grow your subscriber list faster.
ConvertKit
Although ConvertKit also has a landing page builder, it has fewer customizable templates (18, unlike the GetResponse's 100+).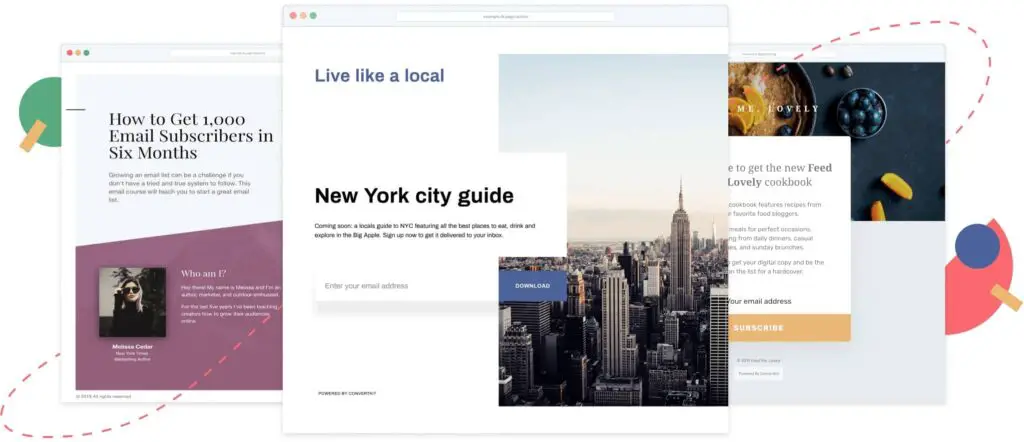 However, the templates are well-crafted. If you find one you like, all you need to do is edit the elements directly using tags and drop boxes — no coding required.
ConvertKit has a static editor that can help you edit parts like images, colors, and texts.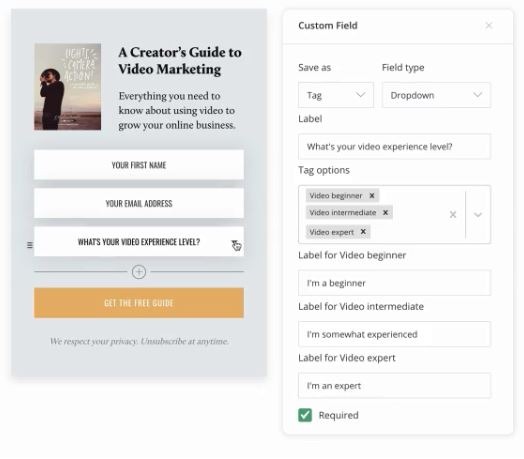 It doesn't matter if you don't have a website, you can still use these landing pages to build a list of contacts and sell products.
3) Email marketing capabilities
GetResponse
With GetResponse, it is easy to combine email marketing and automation to promote your products or services.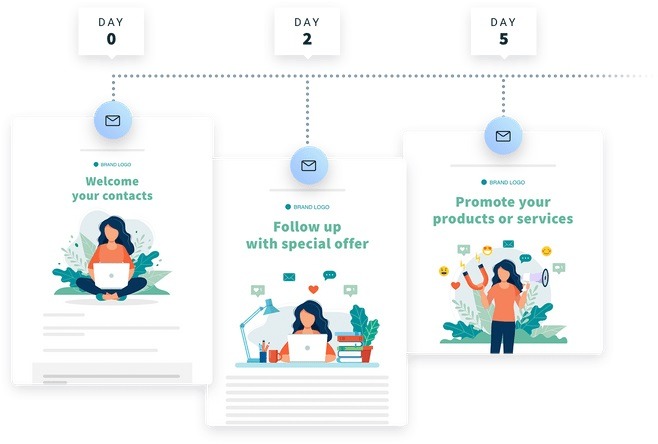 If you would like to create or customize ready-made templates, use the autoresponders to get it done.
First, create autoresponders, also called email drip campaigns. You can customize these campaigns using our built-in templates, and with the intuitive monthly calendar, you can visualize when these emails will reach your subscribers.
One of the most awesome things about GetResponse's email marketing solution is that it gets to know your contacts by their data.
In case you're not sure what time to send out your campaigns or for what time zone your contacts are in, GetResponse has a couple of features that will automatically adjust the send-time to correspond to the time zone your contacts are in or according to their past behavior.
ConvertKit
ConvertKit does not use email templates because you can only add images, texts, and GIFs.
According to them, fewer additions have better chances of getting more leads.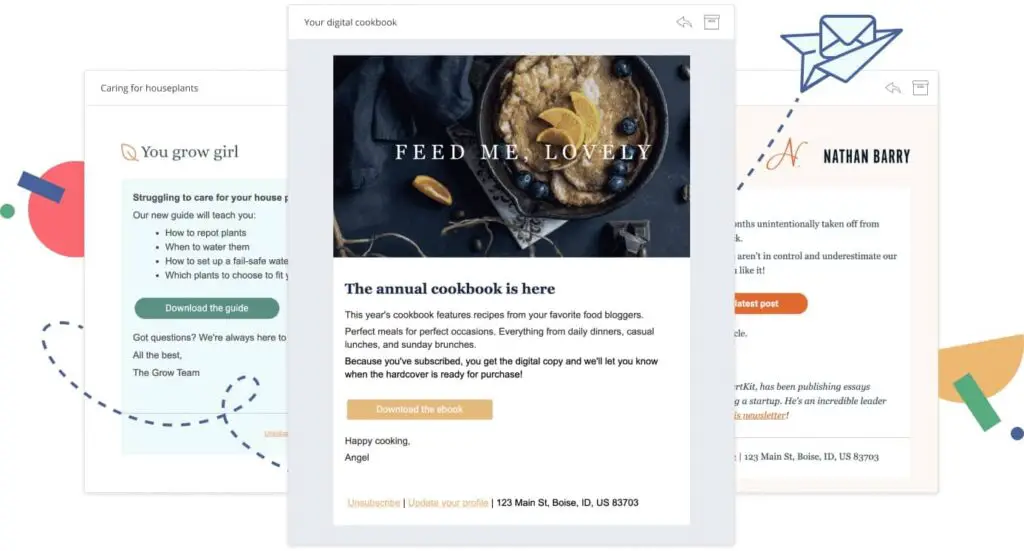 You can't drag and drop extra elements even if you wish to do so.

4) Conversion funnels
GetResponse
GetResponse has excellent conversion funnels with tools like;
Instagram ads
Facebook ads
Sales pages
Landing pages
Stores
Follow up emails
Payment processors
It all starts with picking a template, and it'll tell you what elements to add to each stage of your funnel.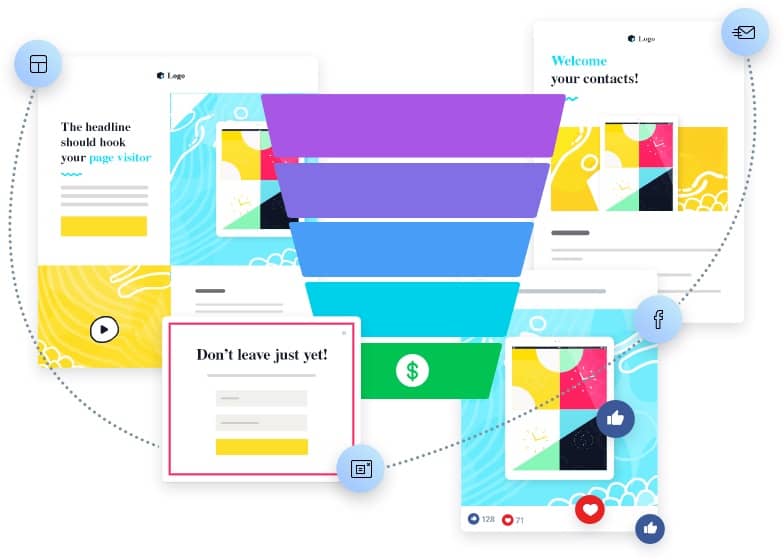 It's easy to create conversion funnel templates, and each step has templates for each step, so you can create a funnel that converts without having to spend a lot of time on it.
With conversion funnels, it is possible to track the customers' journey from when they clicked on your ad to purchasing a product.
ConvertKit
ConvertKit has an automated workflow without a conversion funnel feature.
5) Webinars
GetResponse
GetResponse is one of the primary email responders with the webinar software. If you are using GetResponse and activate the webinar, you will access the following:
Moderated chat
Interactive chat room
Design tools
Survey questions
Recording
Multiple hosts
Facebook & YouTube streaming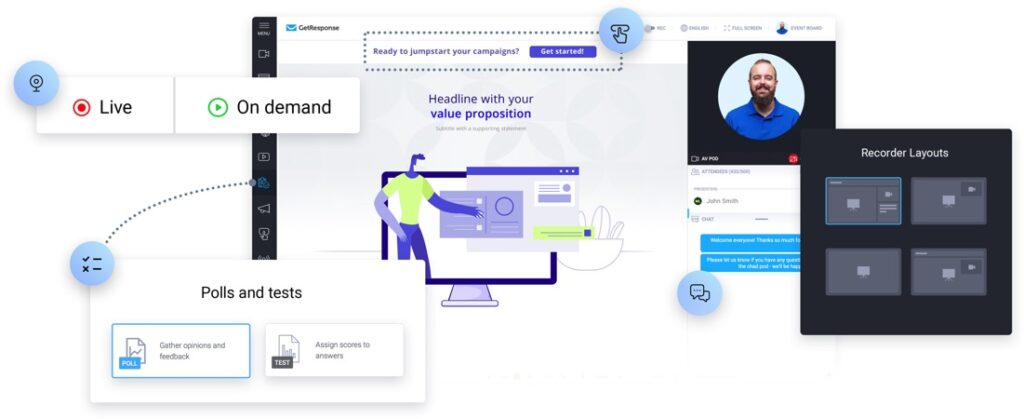 As soon as the webinar is ready, you only need to set up the webinar's URL, date, and time, and you are ready to go live.
And attendees can view your webinars on their devices regardless of their device platform.
ConvertKit
Since ConvertKit doesn't have a webinar tool, it relies on integrations such as CrowdCast, WebinarJam, and WebinarNinja.
6) Prices
GetResponse
With three different prices, GetResponse is an ideal choice. Here are the prices for each plan: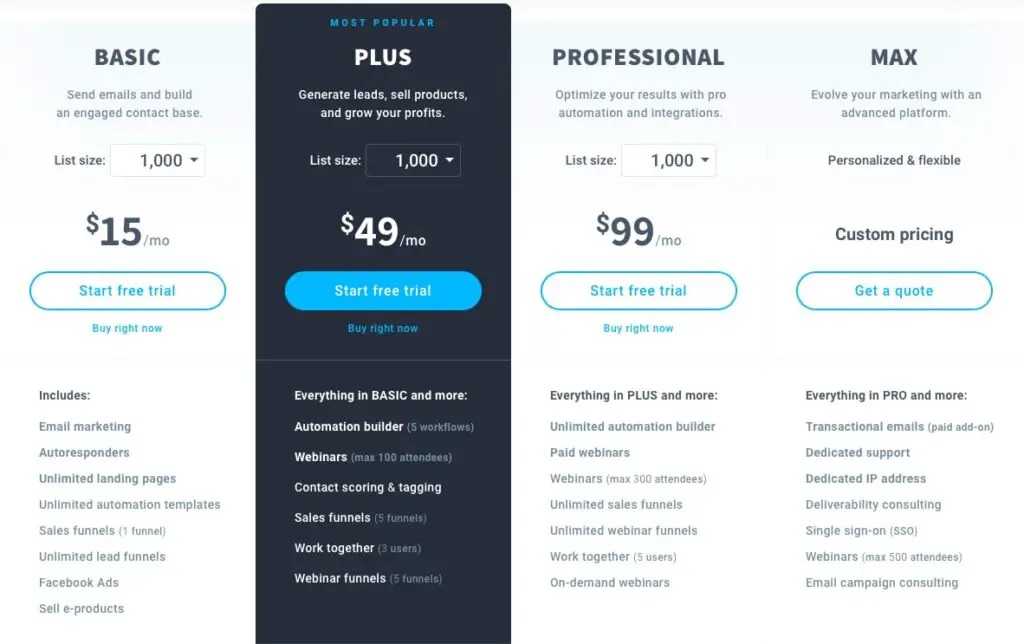 There's a max plan that needs customization depending on your needs. With a 30-day trial period, GetReponse is budget-friendly because users get discounts if they choose one or two-year plans.
ConvertKit
ConvertKit has a free version and a 14-day trial, but you need a paid plan if you need to access advanced features.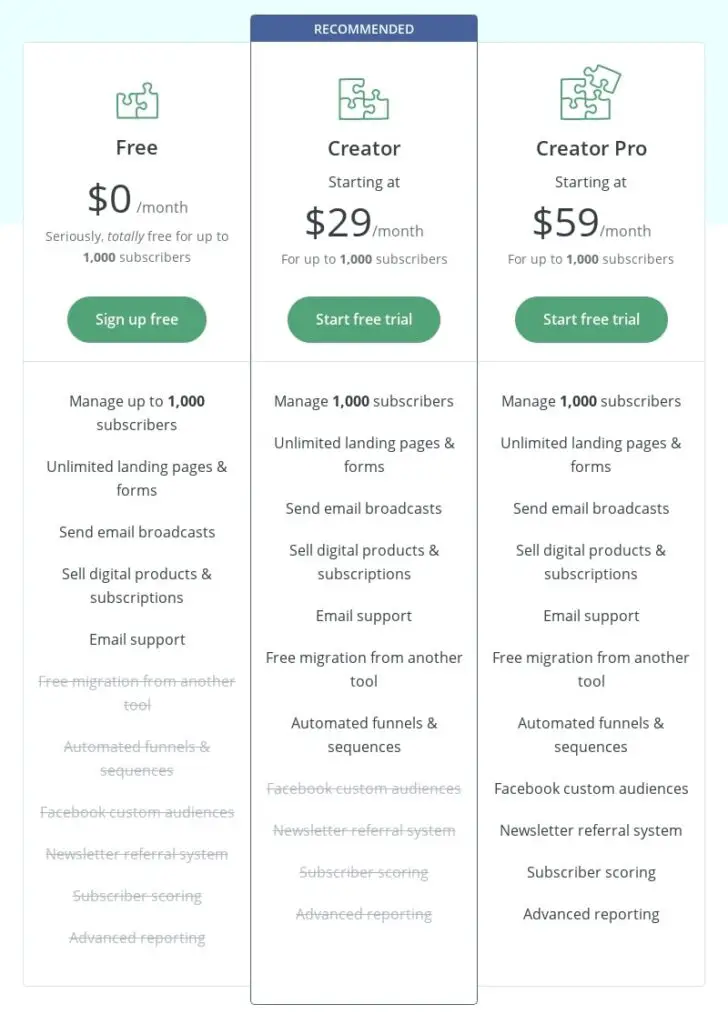 ConvertKit has three plans; the Free version, the Creator, and CreatorPro. These three plans have different features and prices.
If you are looking to save money, GetResponse is the ideal choice because it offers discounts when you buy annual or biannual plans.
7) Email Templates
GetResponse
GetResponse has numerous email templates for free with an additional email creator that you can use to create your own.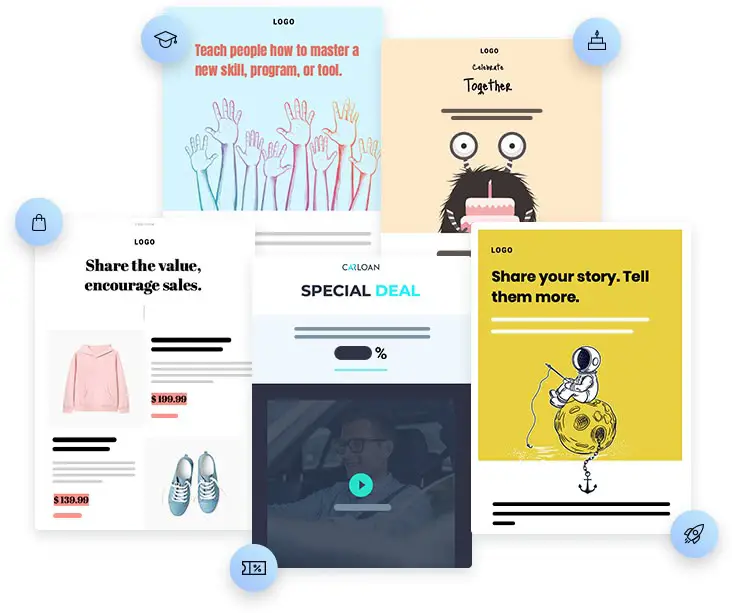 Even better, you can use any device to access or create these templates.
Here are some of the things you can do;
Add content for images, texts, and video
Structure emails
Spam check your inbox
Preview an email to know how it looks on any device
Save particular sections for future advertising campaigns
ConvertKit
ConvertKit does not use templates. Therefore, its email builder resembles a Gmail account or a Word processor.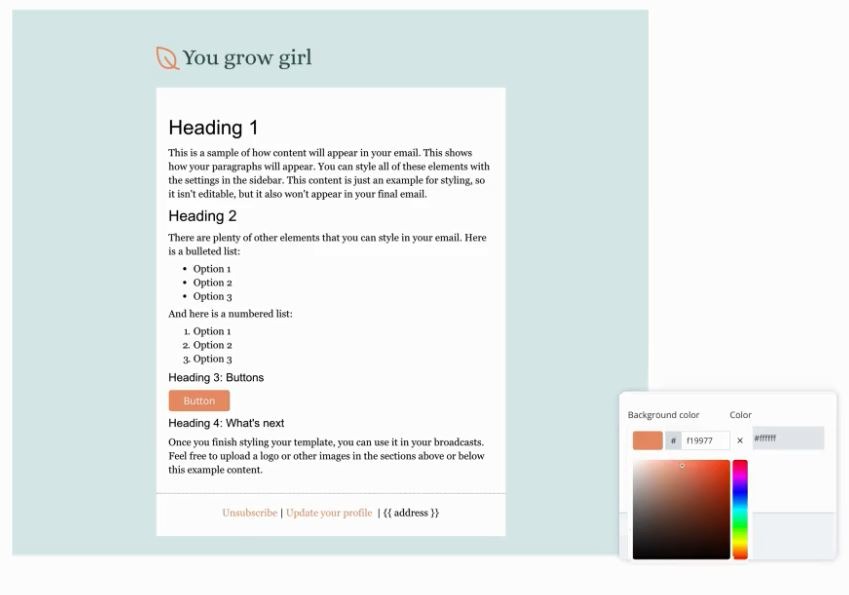 They believe that an email with too many elements will not reach its destination — your subscriber's inbox.
8) Blogger's priority
GetResponse
GetResponse has tried to be relevant for bloggers with its features. Some of the features include;
Web push notifications – to keep the audience updated
Social ad creator – to design posts for social media platforms
Facebook and Instagram ads
Sign-up and pop-up forms
Drag & drop email creator
RSS to email tool – to help you send posts from your news feed to the audience's email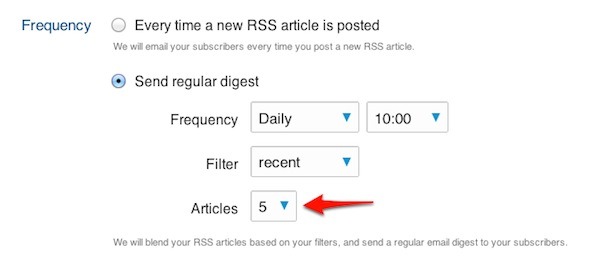 ConvertKit
The ConvertKit platform was developed by bloggers, so it's no surprise that it's best suited to bloggers.
If you are using ConvertKit, you can schedule the day and time to send your emails.
Although ConvertKit lacks conversion funnels, you can filter your email list with date subscribed, first name, tags, and segment.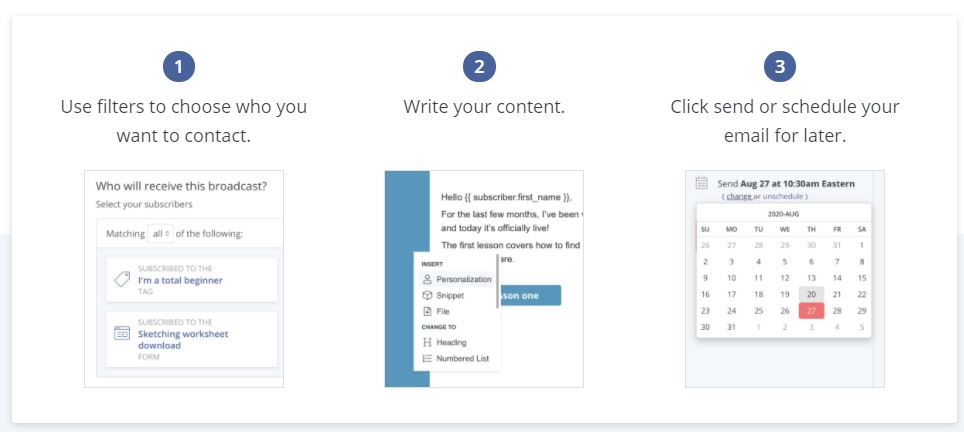 A key difference between the two tools is that ConvertKit only has 18 landing pages to choose from. If you need to choose from more options, this might not be enough.
9) Tagging subscribers
GetResponse
With GetResponse, you can tag and segment leads depending on their behavior. With such features, it is easy to target clients depending on their recent behaviors.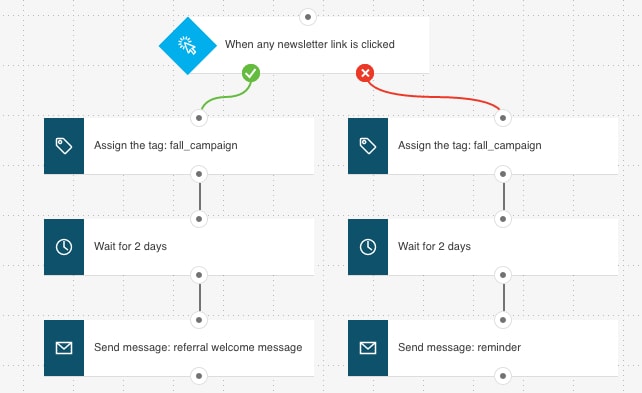 These segmentation levels help you maximize your chances of turning leads into customers by targeting them based on their behavior.
ConvertKit
ConvertKit helps users create rules for the subscribers. It is easy to determine who will access a specific offer depending on their subscription and recent activities.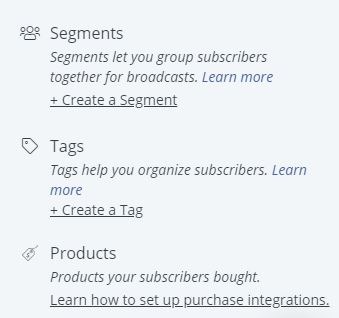 10) Workflow
GetResponse
GetResponse's visual workflow builder helps users to understand email automation with ease.
It is easy for the user to determine the people who attended a webinar but did not convert! If you would like, it is possible to create triggers for events like:
Abandoned carts
New subscribers
Email opening
Click on a link
Product upgrades
Purchased products
Visited URLs


The triggers can help you create and customize your onboarding sequences, reactivation campaigns, and cart abandonment campaigns, thereby boosting engagement and sales.
ConvertKit
ConvertKit has workflows that are related to triggers.
The events, conditions, and scenarios determine the triggers in ConvertKit. Therefore, the user can determine the triggers to follow when selling a product or offering a service to increase investment return.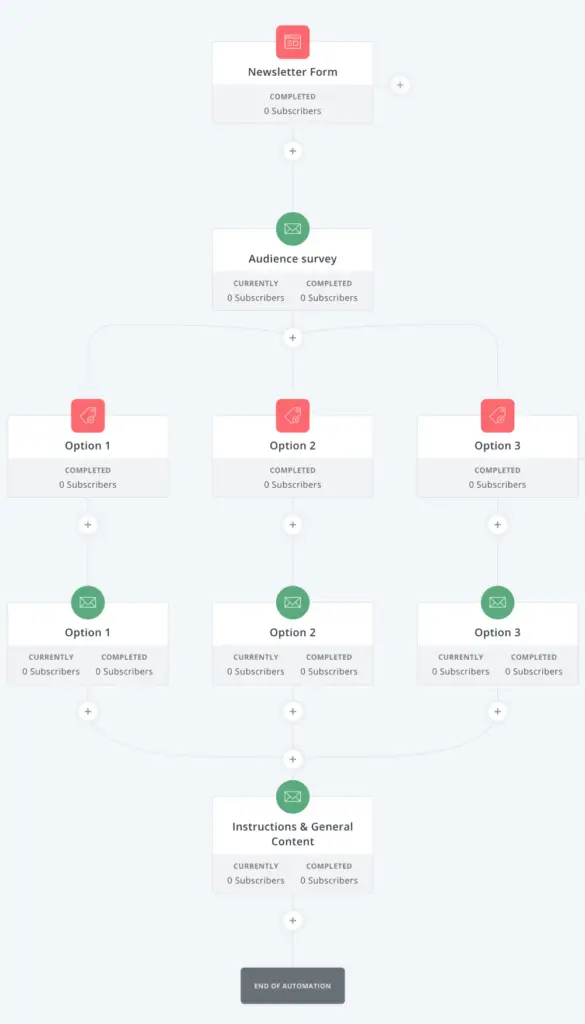 As an example, "event triggers" will send out an email at a certain time, regardless of where the subscriber is located, whereas "action triggers" are set off when a subscriber clicks a link or call-to-action.
Conclusion
Just like other tools that you spend your money on, you must do your research before choosing one that works best for your needs.
It's not just about the feature set of each tool; you need to find one that fits you, your business, and your budget.
In my opinion, GetResponse is more appropriate for high-level automation and workflow. And it is also for people who are already proficient in e-commerce for a while and would like to get into the nitty-gritty of the content.
Particularly if you are thinking about building Sales Funnel and Automation systems.
Meanwhile, on the other hand, Convertkit is an awesome tool for signing up subscribers to a professional blog for content creators.
It's ridiculously easy to use and you'll be communicating directly with your readers in no time.
Still not sure which one to choose? Why not sign up with both of them?
Both services provide free trials, so if you're still not convinced, you can try out both services and decide which is better for your business objectives.
I really hope that this guide will help you decide which email marketing platform that fits your business needs.