Heads Up: For the sake of transparency, this post might contain affiliate links. If a sale is made, I will receive a small commission (at no additional charge for you), which helps keep the lights on and helps feed my cats. Please read our disclosure policy for more information.
A Recession usually results in massive loss of jobs, lower wages and incomes, and generally loss of financial opportunities.
The great recession which began in December and ended in June 2009 was devastating to most Americans.
Many people were kicked out of their homes because of not servicing their mortgages and rent because of job loss.
15 years down the line, the United States is on the verge of going into a recession again.
All signs are pointing towards a recession and even top economists agree that it is just a matter of when, not if. If their predictions are right, then it means that a vast majority of Americans could lose their jobs.
While losing a job could be inevitable in case of a recession, there are some side hustles that you can engage in that will ensure your financial security is not affected during the economic downtime.
Having two or three recession-proof side hustles will ensure that you have constant and predictable streams of income that will cushion you in case you lose your job or get a pay cut.
If you have been searching for the best recession-proof side hustles, then today you have come to the right place.
I have conducted extensive research on your behalf and compiled a list of the 9 best recession-proof side hustles that you can start today.
Make sure you read until the end so that you don't miss any important information. Now, without further ado, let's get started.
What Is a Recession?
A recession simply means a temporary period during which economic activities, including trade and industrial activity decline resulting in a fall in Gross Domestic Product (GDP).
When a country's economic activity decreases for a certain period of time, it results in GBP contraction, lower consumer spending, and a higher unemployment rate.
This means that many people will struggle to pay their bills because of low economic activity.
What Are Recession-Proof Side Hustles?
As its name suggests, recession-proof side hustles are income streams that are not affected by the recession.
They are incomes stream that customers will pay for during a recession that allows them to generate income to sustain themselves and their family even when they lose their main job.
When you have recession-proof side hustles, then you don't have to worry about the financial crisis that is associated with recession because your income will not be affected in any way.
In fact, you may even record an increase in income during a recession.
9 Best Recession-Proof Side Hustles
Now that you know what recession and recession-proof side hustles are, let's now get to the meat of the article.
The 9 recession-proof side hustles that I have listed below have been thoroughly tested and proven to be reliable.
They are also easy to start and guarantee good income during a recession.
1. Become a TikTok Video Editor
On top of my list of the best recession-proof side hustles is becoming a TikTok video editor.
TikTok is a video-sharing app that allows users to create, watch and share short videos on any topic. This giant video-sharing app was launched in 2016 and has quickly risen up the ladder to become one of the most popular social media platforms in the world.
Its rise in popularity has also led to an increase in job opportunities, one of them being a TikTok video editor.
As its name suggests a TikTok video editor is simply a person who creates and edits TikTok videos to give them a professional look.
Some TikTok video editors post videos on their own accounts buy a vast majority of them edit videos then sell them to other TikTok users.
If you are a good video editor, then this is a great side hustle to start because it guarantees good and consistent income.
And since people will always be watching videos even during a recession, it means that your job and income will not be affected by the economic downtime that occurs during a recession.
Another good thing about this side hustle is that you don't require a lot of money to start. All you need to perfect your skill in editing TikTok videos and market your services to get clients.
2. Start a Pet Care Service
Another great side hustle to start that will not be affected by the recession is a pet care service.
If you have a pet, then you definitely know how much it costs to maintain it and keep it in good shape. Not only do you need to invest a lot of money in food, toys, and treats but you also need to her to the vet regularly for checkups.
A report released by the American Pet Products Association in 2021 revealed that Americans spent $123.6 billion on their pet in 2021, which is more than $90.5 billion of what they spent in 2018. Studies show that 1 in 5 households in America has a pet.
This just shows how lucrative a pet care service is.
With the number of people owning pets rising by the day, the demand for pet care services has increased tremendously.
And the good thing about pet care service is that it is not affected by the recession. This is because even during the recession, the pet owner will still need to be attainted to the needs of their pets which include feeding them, buying accessories, and attending to their medical needs.
So when you start a pet care service, you are guaranteed of decent income even during the recession.
3. Sell Etsy Printables
One of the best ways to ensure that you earn extra money even during a recession is by selling printables on Etsy.
If you are good at creating printable products such as wedding printables, wall art, home decor, and much more, then you can earn good money by selling them on Etsy.
They are incredibly easy to create and also a great source of passive income that could go a long way in ensuring that you stay afloat during a recession.
Unlike creating other digital products such as a spreadsheet that are quite complex to create, you don't need to have any special skills or experience in order to create and sell printables on Etsy.
Of course, you are wondering how much can you make by selling printables on Etsy. The amount you will make varies depending on various factors including your marketing strategy, experience, and much more.
But on average, you should expect to make between $10- $100 per week at the start.
As you gain more experience, you can earn up to $1000 per week. And like other side hustles that we have listed above, Etsy printables are not affected by the recession.
In fact, your income could increase during the recession because of increased demand for digital products.
4. Be a Pinterest Virtual Assistant
If you love Pinterest, then you can earn extra income by becoming a Pinterest virtual assistant.
It is indeed a great side hustle for people who want to work less and earn more money. The main role of a Pinterest virtual assistant is to help clients increase organic traffic to their website and sales page.
This side hustle is stable and is not affected by the recession.
Additionally, this side hustle pay well; beginners make between $15 and $30 per hour while experienced Pinterest virtual assistant can make up to $100 per hour.
The demand for Pinterest virtual assistants has increased tremendously, making it a lucrative side hustle. If you are good at creating pins, writing pin descriptions, and using schedule tools, then a Pinterest virtual assistant could be a great rescission-proof side hustle for you.
5. Become a Freelancer
You can also cushion yourself from recession by becoming a freelance on platforms such as Upwork and Fiverr.
During a recession, many companies look for ways to cut costs but still ensure that the work is done. One of the ways they do this is by hiring freelancers. This saves them from the cost of maintaining an office and other employer burdens such as benefits and payroll taxes.
Becoming a freelance is simple and straightforward, all you need to identify the services that you can offer then look for a reputable platform that will connect you to your target clients such as Fiverr and Upwork.
Depending on your skills, you could bring home between $20 and 100 per hour. And since you are a sole proprietor, you need to worry about registering your business.
If you are good at what you offer, you will get regular gigs that will earn you good money even during the recession.
6. Rent a Room Out on Airbnb
The demand for Airbnb has increased significantly over the last couple of years.
This is because they are cheaper compared to hotels, have access to household amenities, and also because of a convenient location.
A recent report revealed that an Airbnb host makes an average of about $924 a month, which is a pretty good side hustle.
And during the recession, most people usually look for ways to cut down on costs and thus tend to prefer Airbnb as opposed to hotels because they are cheaper. So, if you have an extra room in your house that is lying idle, you can convert it to an Airbnb to make extra money.
7. Take Surveys
You can also make extra money by completing paid surveys.
Despite the fact that you are unlikely to make much from an online survey, the little money you make will help you weather the recession's economic downturn.
Taking an online survey is easy. You don't need to have any special skills or experience in order to start. All you need to do is identify a good online platform that allows users to take surveys for money.
Currently, there are many online survey sites including Swagbucks, InboxDollars, Toluna Influencers, Life points, and much more. Identify a survey site that has favorable terms and conditions then start working to make extra money.
Online survey gigs are recession proof and you can make between $1 and $20 per hour.
Related Topic: Paid Surveys: 10 Legit Online Surveys for Money Sites
8. Become a YouTube Script Writer
The demand for YouTube videos has increased significantly over the last decade.
This demand has also led to an increase in demand for YouTube scriptwriters. As its name suggests, a YouTube script writer is an individual who produces well-crated scripts that are entertaining for the target viewers.
If you are good at writing Youtube scripts, you can make between $20 and $100 per hour by writing YouTube scripts for your clients.
One tip that I can share with you is to leverage the usage of AI tools such as Rytr.
What Is Rytr?
Rytr.com is an AI-driven blog generator that can be used for the creation of blogs, articles, and even simple blogs. This tool is good for beginners who want to learn about blogging without having to go through all the trouble of formatting and laying everything out.
I personally use this tool to create my own YouTube script. But I wish to be transparent here.
Even though there is no specific use case of "YouTube script" on this tool, we can still use the "Blog Idea & Outline" and elaborate on all the ideas.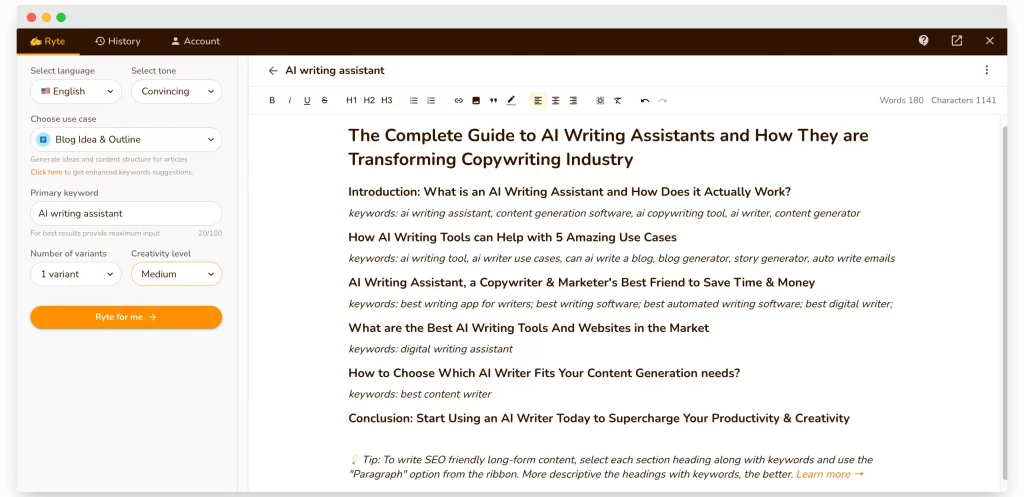 At least you can have the base of a script in a matter of minutes. But I strongly suggest you perform a manual edit and add in whatever words you feel fit in.
Related Topic: How I Made $100 on YouTube as a Beginner
9. Become a Graphics Designer
Another great recession-proof hustle to try out is graphic design.
Graphic design jobs are always in demand even during the recession. If you are good at creating visual communications such as adverts, publicity material, branding, and magazine layout, you can make good money by starting your own graphic design business.
The good thing about graphics design is that you don't have to open a physical shop somewhere downtown. You can offer your services remotely.
More so, you can work with all sorts of different mediums and also different types of projects thus guaranteeing regular income.
Software-wise, you don't have to start with all those expensive graphic design software.
Simply use Canva (a free online graphic design software). It is designed to be easy to use by anyone and comes with a variety of templates for those who are new to graphic design.
One of the things that I've seen a lot of graphic designers doing right now is sharing their artwork on TikTok.
They created a short video behind the scenes showing how they create specific artwork for their clients. (e.g logo designs, posters, banners, infographics, etc). Sometimes they would share tips and tricks about how to come up with unique designs.
In response, their audiences began interacting with the artists and demanding designs for themselves.
This free marketing is definitely worth your while, as you won't have to spend a dime on advertising.
Therefore, if you are considering starting with this side hustle, I strongly suggest you do the same.
3 Reasons Why You Should Start a Recession-Proof Side Hustles Now
In the current era of economic recession, it is hard for people to find a job that pays well.
The unemployment rate is also high and the jobs that are available are not as stable as before. Consequently, many people have had to turn to side hustles in order to make ends meet.
The side hustle has become an essential way of making money for some people who are struggling with their finances during this recession. It can provide them with a sense of relief and security when they need it most.
For others, it can be a way of building up their savings or even just supplementing their income from their day job.
Whatever your reason may be for starting a side hustle now, here are three reasons why you should do it:
1. Extra Money
It is always good to have an extra source of income. Side hustles are not only for people who are unemployed but for those who want to make some more money on the side.
2. Economic Recession
In this time of economic recession, it is difficult to make a living. The key to financial security is diversification. A side hustle can be a great way to help you get out of this recession by providing you with an additional stream of income and more control over your schedule.
3. Get Out of the Rat Race
It's not always easy to find a new job, especially in the current economy. If you feel like you're stuck in your job and that there's no way out, starting a side hustle might be the answer for you.
Many people who start side hustles end up quitting their day jobs altogether because they love it so much. You may be surprised by how much time and energy you can put into a side hustle with just a few hours of work each week.
How You Can Start Your Own Recession-Proof Side Hustle Today
It is possible to start a recession-proof side hustle today. You don't need to be a millionaire or have an MBA.
There are many ways you can start your own recession-proof side hustle today and make money from it.
Now I want to share with you my 3 step process on how you can start your own recession-proof side hustle today.
Step 1: Find the thing that you are passionate about and enjoy doing.
The first step is to identify your passions and skills.
What do you like doing?
What do you find yourself doing even when you're not getting paid?
What skills do you have that are in demand?
These are great starting points for determining what type of side hustle to create.
For instance, if you are passionate about cooking, consider starting a food blog or recipe site. If you have excellent time management and organizational skills, look into a project like becoming a virtual assistant or organizing your friends and family team.
Step 2: Figure out how to monetize this passion and interest into a service or product.
The second step is to identify the right business model for your passion and skillset. There are many different ways to make money from your passion, so take some time to figure out the best way for you.
For example: If your passion is painting, you can sell your paintings online, or you can sell them at local art shows. You could also use your talents to teach people how to paint, which would make for some steady income.
In other words, you can create an online course and start selling it passively.
Step 3: Start marketing your services or products in order to find customers who will pay for them.
Finally, find a platform where you can market your service. As mentioned earlier, I would strongly suggest you start with TikTok or Instagram Reels.
These are the platform that gives you a chance to beat the algorithm. It is still possible to go viral even if you don't have a large following.
Tip: Always try to be consistent. Maintaining consistency can be challenging, but I believe that one day you will reap the benefits if you put that extra effort into it. knows, you might be able to quit your day job and just work from home and have more time to spend with those who matter most to you.
Final Thoughts: Recession-Proof Side Hustles
One of the best ways to ensure that you don't struggle when a recession hits is by having stable side hustles that are recession-proof.
The recession-proof side hustles that I have listed above are not only the best at the most but also pay well. They are also fun to do and will not take much of your time.
If you have an idea for a side hustle that will work for you, get started.
Get your finances in order: You don't need to be poor to want more money. Make sure that you are taking care of your finances and that they are in order before starting out on the path of becoming richer.
It is never too late!