Last updated on 15th February, 2023 at 08:16 am
If you are on the lookout for affiliate marketing tips, consider yourself at the right place. In this article, I shall be taking you through this affiliate marketing for beginners: 10 simple tips to succeed.
Heads Up: This post may contain affiliate links. This means if you decide to buy through my links, I may receive a commission at no additional cost to you. Please read our disclosure policy for more information.
Don't have time to read it now? Don't worry! Consider saving this pin to read later!
However, before that, what is affiliate marketing?
"For starters, affiliate marketing is performance-based marketing whereby a business rewards affiliates to enhance their business through clicks, views, or purchases."
In layman's terms, an affiliate showcases a product of the business he or she is connected to and gets a commission based on the company's agreement.
This means that for a more excellent commission, the affiliate has to play a significant role.
To help you with that, here are the top 10 affiliate marketing tips for a beginner;
Top 10 Best Affiliate Marketing Tips For Beginners
1. Look For The Best Affiliate Product
The first step to becoming a successful affiliate marketer is to look for the best affiliate services and products that are ideal for promotion.
The best way you can find the best affiliate product is by thinking about services and products you tend to use on a day-to-day basis.
Therefore, understanding this makes the whole process pretty much more accessible.
However, looking for a reliable and reputable affiliate brand to work for can be relatively challenging, especially when starting your affiliate marketing journey.
As a result, you should consider doing online research and also join affiliate groups. This is a vital tip you should keep in mind before becoming an affiliate marketer.
2. Understand Your Target Audience
To become a successful affiliate marketer, you will need to know your target audience and promote products that will meet the needs of your target audience.
When you promote a service that aligns with your target audience's wants and needs, there is no reason for them not to take action and engage.
It would help if you kept in mind that, as an affiliate marketer, you will only get paid when the target audience goes the extra mile and purchases your product or subscribes to your service rather than clicking on your link or viewing the post.
Before you make a final decision on the type of affiliate products to market, you will need to answer the following questions;
What attracts the target audience to your blog?
What makes them join your email marketing list?
Why do they love the content on your blog?
What do you offer that your audience is looking for?
It would help if you considered choosing services and products that offer a solution to your targeted audience's problems.
3. Look For A Niche And Stick To It
When choosing a niche, you should consider going for one that you are familiar with and that best suits your needs.
For instance, if you love fashion, you should dedicate your blog to fashion, and you should not put up technological product ads.
Since your target audience wants to remain updated on fashion trends, they will not be searching for technological devices when they visit your website.
Therefore, always go for the niche you love and stick to it. Working on an exciting niche makes the whole process pretty much more manageable and fun.
As a newbie affiliate marketer, advertising affiliate products that are far apart, you will end up losing credibility with your audience.
The secret to success as an affiliate marketer is advertising relevant ads; the more relevant the ads are, the better your chances of making money through sales.
Related topics you might want to read:
4. Be Trustworthy
In today's world, the target audience has grown to become tech-savvy.
This means that your audience can tell with utmost ease whether or not it is an affiliate ad.
As a result, it becomes vital that you choose the right products with utmost care. You should avoid promoting less durable products you do not believe in or a product that is not worth purchasing.
When your audience finds out that you are taking advantage by attracting them to your blog and then lots of ads, they will leave and probably never return to your blog.
Therefore, if you need to gain your audience's trust, consider promoting high-quality products that are also relatively affordable.
And it would help if you remembered that your blog is what it is due to your audience.
As a result, you need them to trust you along with your recommendations. This will undoubtedly place a huge responsibility on your shoulder, allowing you to make every move with extreme caution.
5. Using Affiliate Ads Appropriately
As a newbie affiliate marketer, you will need to use affiliate ads as a value-adding resource.
This means that your affiliate ads should add compliments to your content rather than devaluing it.
Ensure that your content has value for your audience; to achieve this, you will need to make your content informative, helpful as well as very useful.
Affiliate marketing is not just about adding links to services or products without any reason.
You will need to ensure that you create top-notch content that is capable of speaking for the affiliate services and products with ease.
For instance, when writing a post on the best fashion trend, creating a list along with affiliate links on every product is never enough.
It will not bring you and your audience any good. However, you will need to create a top-notch review on every product and attach affiliate links; this will point your target audience in the right direction.
As a result, it will make your recommendation very difficult to miss.
6. Always be honest about your affiliate relationship
Since your target audience can identify affiliate ads with the utmost ease, being honest about your affiliate status is essential, especially for a newbie affiliate marketer.
The last thing you want to do is lie or hide your affiliate relationship; this is never a smart move.
Being honest with your target audience will not only impress them but also trust your product of choice.
In addition to that, you will also be impressed with the commission you get from all your affiliate sales.
Being open about your affiliate relationship means that your audience will support you by clicking on your affiliate links, and as a result, it will help you get loyal followers.
Usually, most successful affiliate marketers give their target audience bonuses such as discount codes for purchasing products via their links.
You might as well consider doing the same, allowing you to stand out from the rest and increase your affiliate sales significantly within a short period.
7. You Can Change From One Affiliate Program To Another
This affiliate marketing tip is pretty helpful when you are stuck with no sales after a few days of running an offer.
When you find a particular affiliate program is not working for you while it does for others, you should consider looking for a new one as fast as possible.
It would help if you never gave up; by simply changing to a different affiliate program, you can grow your sales significantly within no time.
Affiliate programs differ significantly, each offering a unique service and product and following a distinct payment structure.
Due to this, some affiliate programs tend to have better marketing and sales strategies than their counterparts.
In fact, the best approach to follow as a newbie is testing an array of affiliate programs; this makes it easier to find one that will best suit your needs along with your audience.
In addition to that, you should consider being on the lookout for any new service or product that you can give a try and then add to the portfolio.
8. Make Timeless Content
As an affiliate marketer, you will be able to benefit significantly by creating timeless content.
The content you posted on your blog a month or a year ago will still provide your audience with the same value if they read it today.
There are visitors who love going to the bottom of the blog, and when they find outdated content, they might not spend a minute again on that blog.
This is often because relevant content and information change with time, making it relatively challenging to develop content that offers similar value after two or even six years.
Therefore, what should one do? Should you delete your old content every time?
The answer is NO! you should not delete your old content; however, add links to your updated content on the older blogs.
This will make it timeless, and as a result, it will ensure the following of traffic for several years to come.
9. Remain Updated
If you decide on dedicating your blog writing to advertisers via affiliate programs, you will need to track their offerings.
Usually, they update their tools, ad units, and advertisers to offer a chance to boost visibility and have an enhanced user experience.
In addition to that, you should upgrade your strategies; this will prevent you from lagging.
You need to be up on trends and look for better opportunities.
At the same time, constantly add new and relevant services and products to your portfolio. This will allow you to earn more money.
10. Always Have Patience
You cannot become rich as an affiliate marketer within a few days- you will require patience.
There are affiliate programs that are designed to provide lifetime payouts.
Therefore, when you maintain active referral links on your older blogs, you will be able to earn good money for several years to come.
In addition to that, you will continue earning a commission by referring a visitor to your advertiser's website even if the visitor does not visit your website.
With affiliate marketing, you will be able to earn passive income from all your blog posts.
All that is required of you is being consistent, patient, and relevant. The seeds you sow today will definitely grow and offer you fruits in the near future.
With that in mind, your number one goal should have a content marketing strategy.
This is vital since your content will always come first. Failure to create top-notch content makes it significantly challenging to succeed in the field of affiliate marketing.
You should consider using affiliate ads to boost your platform's and content's value rather than create content that just caters to affiliate program requirements.
Final words
Becoming an affiliate marketer is relatively easy; however, to become a successful affiliate marketer, you will need to incorporate all the vital tips discussed in this article.
Once you become a successful affiliate marketer, you will be able to earn from your blog for years to come.
This is why I would highly recommend you start your own blog and start promoting affiliate products within your blog.
It is an ideal method of earning passive income.
As a new affiliate marketer, some of the best affiliate marketing websites you should consider working with include:
Canva Pro – Canva is an online design and publishing tool to design anything and publish anywhere.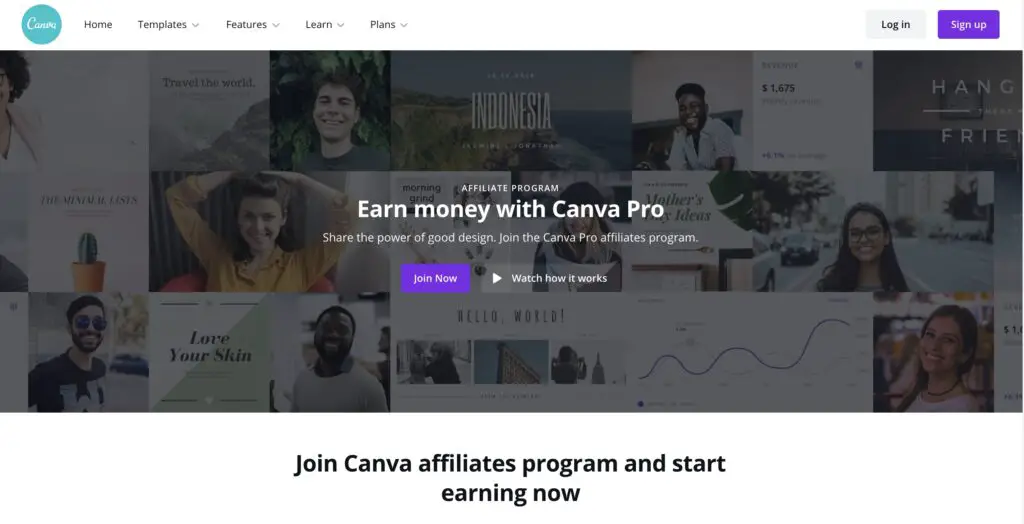 Bluehost – Bluehost is one of the largest website hosting providers and powers millions of websites.


Convertkit – ConvertKit is an email marketing platform for building email lists, sending email campaigns, automating sequences, creating segments, and creating landing pages.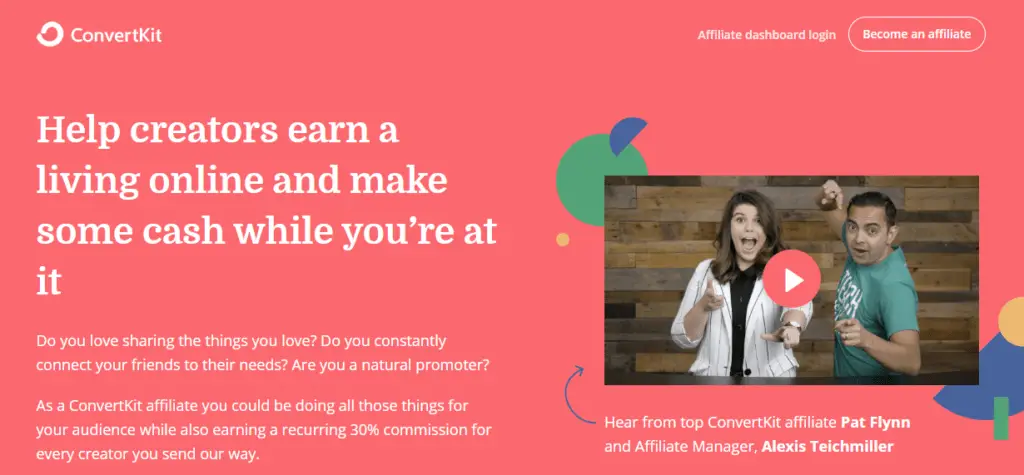 Getresponse – GetResponse is an online platform featuring email marketing, landing page creation, webinars & more.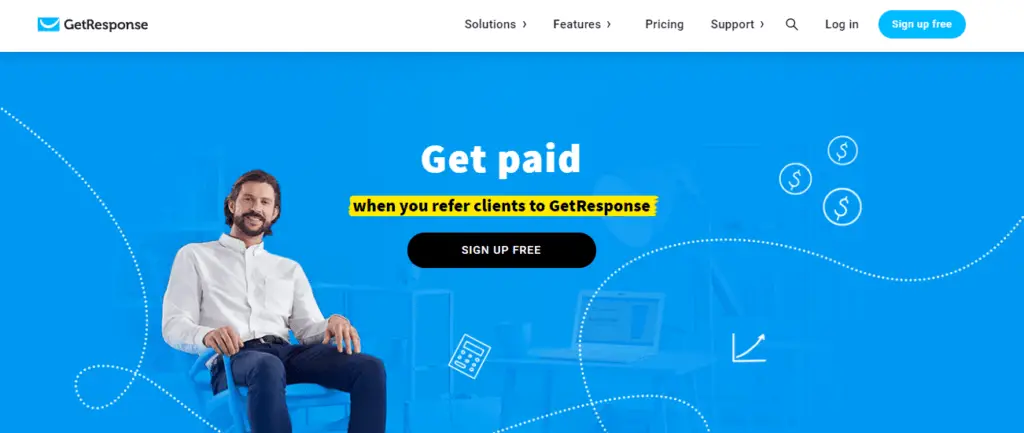 As you start your affiliate marketing business, you should never forget to incorporate all the 10 affiliate marketing tips for beginners discussed in this article.
I hope that you have found this article beneficial.
Let me know what you think in the comment section below, and if you would like to share this with others, I would appreciate it immensely!